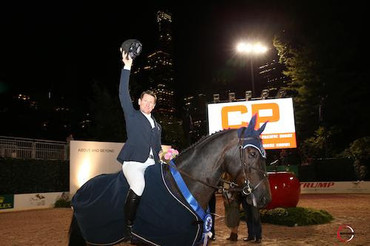 McLain Ward and HH Carlos Z. Photo (c) Sportfot.
Thursday was deemed "Canadian Pacific Day", as competition highlighted the $40,000 U.S. Open Canadian Pacific FEI Speed Class, which saw a win for McLain Ward (USA) aboard HH Carlos Z. The evening's competition also featured the $50,000 Engel & Völkers Puissance, where Ward and Andrew Kocher (USA) tied for victory by clearing the impressive wall in four rounds, and jumping off at 6'9" inches. The $25,000 U.S. Open Hollow Creek Farm Under 25 FEI Grand Prix was held on Thursday as well, with a win for Daniel Coyle (IRL) aboard Fortis Fortuna.

The course designer for international show jumping competition in Central Park is this year's Rio Olympic Games designer Guilherme Jorge (BRA). In the $40,000 Canadian Pacific Speed class, which was held in a faults converted format, Jorge saw 34 horse and rider combinations that included some of the world's very best.

Two-time Olympic Team Gold Medalist and Rio Olympic Team Silver Medalist McLain Ward was the winner in a blazing fast time of 58.63 seconds aboard the 14-year-old Zangersheide gelding HH Carlos Z (Chellano Z x Voltaire). Ward and 'Carlos' have won in some of the greatest destinations and biggest competitions in the world and led the victory gallop for the first time this year in the world-famous Central Park event.

Conor Swail (IRL) won the class in the first two years of RCPHS competition, but settled for second place this year, with a time of 60.26 seconds riding Ariel and Susan Grange's Cita. Hardin Towell (USA) and Evergate Stables' Lucifer V finished third in 60.45 seconds. Emanuel Andrade (VEN) and his own Hardrock Z placed fourth in 64.77 seconds.

Commenting on two victories in one night, Ward noted, "For me, it is a good comeback, because my record here is not so good. I think my best score is 16 and I think I have fallen off twice, so I was actually having a little nervous laugh about that on the way down to the ring tonight.

"Carlos is a great campaigner for me," Ward stated. "He just does every job at the horse show - other than the Puissance. If he is in form, he really is tough to beat against the clock, and I was thrilled with the way he handled the evening. It is a unique atmosphere and some horses handle it better than others, so I was thrilled that he handled it well, and I think I have a nice set up for tomorrow night.

"Remarking on his second place finish, Swail detailed, "I think right from the start Hardin put up a very good time. It seemed that it was going to hold quite well throughout the class, but there are a lot of world-class competitors here this year. McLain went in, and he is a very fast rider and he has a very fast horse, so I think everything came off very well for him.

"It was a little bit the same for me," Swail continued. "I was trying to etch out somewhere that I could maybe leave out a step that no one else did. Even my turn to the last fence, I thought I could try something a little different just to try and pip McLain, but I did not quite get it."

Swail started riding Cita this time last year and was happy with the mare's performance Thursday night. "She is an extremely careful horse, and she has proven to be a very good jumper," he praised. "I was very pleased with her tonight. She did everything I asked of her, and second place was a good result for us tonight."

Though his time did not hold up for the win, Hardin Towell had a great experience with his mount Lucifer V and feels confident in his horse heading into Friday's grand prix competition. "The last place I showed was Spruce Meadows, and this is definitely a lot different jumping," Towell noted. "I knew it was going to be a fast class, and my plan was to be quick. I hoped to be top three, and I could not have done anything different at the end. Maybe I could have been a little smoother, but I know my horse, and I was happy with how he jumped."
Final Results: U.S. Open $40,000 FEI Canadian Pacific Speed Class (Faults Converted)
1. HH CARLOS Z: 2002 Zangersheide gelding by Chellano Z x Voltaire MCLAIN WARD (USA), Double H Farm: 58.63

2. CITA: 2006 Holsteiner mare by Casall x Pik Ramiro CONOR SWAIL (IRL), Ariel and Susan Grange: 60.26

3. LUCIFER V: 2006 Westphalian gelding by Lord Dezi x Grandeur HARDIN TOWELL (USA), Evergate Stables LLC: 60.45

4. HARDROCK Z: 2003 Zangersheide stallion by Heartbreaker x Carthago Z EMANUEL ANDRADE (VEN), Emanuel Andrade: 64.77

5. CORONA 93: 2004 Hanoverian mare by Cordalme Z x Lenz XX MARILYN LITTLE (USA), Raylyn Farms Inc: 64.84

6. PJOTTER VAN DE ZONNEHOEVE: 2001 Dutch Warmblood gelding by Plato x Gmillion MOLLY ASHE (USA), Louisburg Farm: 64.98

7. SPECIAL LUX: 2004 Irish Sport Horse gelding by Lux x Coille Mor Hill JONATHAN MCCREA (USA), Candy Tribble: 65.32

8. UPPIE DE LIS: 2001 Netherlands Riding Horse by Andiamo x Landsieger I ANDREW KOCHER (USA), BTS Entertainment & Sales: 65.60

9. SUNSHINE: 2006 Belgian Warmblood gelding by Diamant de Semilly x Hardi JOS VERLOOY (BEL), Axel Verlooy & Eurohorse Bvba: 66.11

10. LADY MARIA BH: 2006 Holsteiner mare by Cartani x Corrado I AMANDA DERBYSHIRE (GBR), David Gochman:66.57

11. BULL RUN'S FAUSTINO DE TILI: 2005 Belgian Warmblood stallion by Berlin x Darco KRISTEN VANDERVEEN (USA), Bull Run Jumpers Five LLC: 68.28

12. CROWN 5: 2005 Holsteiner by Cassini I x Lord GEORGINA BLOOMBERG (USA), Gotham Enterprizes LLC:68.57
---
Source: Press release from Rolex Central Park Horse Show // Picture © Sportfot