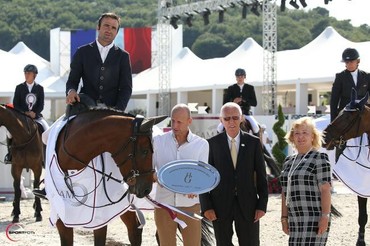 Olivier Perreau and Dolce Deceuninck won the CSI2* Grand Prix in Valence. Photo (c) Sportfot
The CSI2* Grand Prix in Valence was full of surprises. On the eighth riders to go in the jump-off, the national expert Michel Robert was probably the most likely expected for the win. Yet, local rider, Olivier Perreau, created the surprise and beat the odds after a fast jump-off with Dolce Deceuninck (Toulon x Cartier van de Heffinck). He was himself surprised to hear he was the winner but it was with a shy smile that he went back on his weekend: "I'm more than satisfied with the three horses I brought to Valence. I came here with three 8y-old and they all behaved perfectly. So I'm very happy! I'd like to thank Sadri Fegaier to organize such a fantastic show. If I can come back next year, it will be with pleasure!" Careful and respectful of his horses' work, Olivier Perreau has indeed done a great job this weekend at the Jumping International of Valence and leaves with numerous rankings points earnt.
And it was all French on top in Valence as Perreau was followed by Jean Charles Grandmontagne riding Univers de Maugre (Calvaro x Umour du Fenaud) and Catherine Offner with Freestyle Lady (Nagano x Garanco) finishing in second and third respectively, while the final top five placings went to Jean Xhemal with Reine de Maucourt (Robin II Z x Nidor Platiere) and Clement Frerejacques riding Tellement Bel Z (Toulon/Wogenbrecher).
---
Source: Press release by ©Agence RB Presse / J.Rodrigues // Photo (c) Sportfot.