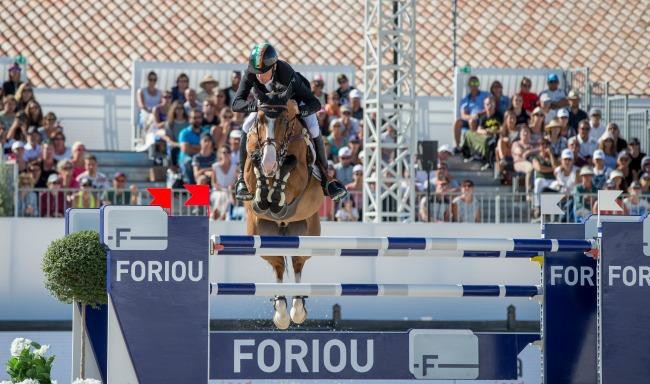 Shane Breen and Laith en route to victory in the CSI3* Grand Prix Axeria / SFAM of Valence. Photo (c) R&B Presse.
Jumping International de Valence 2017 ended with Shane Breen (IRL) – runner-up in the five-star Grand Prix at the same event last week – on top of Sunday's CSI3* Grand Prix at Haras de Grillons.
As Team Ireland made history on Friday night when winning the team gold at the European Championships in Gothenburg, Shane Breen on his side prepared for the Grand Prix Axeria / SFAM where only four clear-rounds were produced before the riders battled it out in the jump-off.
In order to win today, riders had to jump clear over a technical track set by Italian course designer Uliano Vezzani. In the end, Thierry Rozier (FRA), Yannick Gaillot (FRA), Romain Potin (FRA) and Shane Breen were the only ones to make it to the jump-off. Against the clock, only Breen and Gaillot managed to repeat their clears with the Irish rider being 0.72 seconds faster aboard the 10-year-old stallion Laith (Lord Z x Weinberg). Potin finished third, and Rozier fourth.
"I've spent two wonderful weeks at Jumping International of Valence," said Breen. "I was already here last year and loved the show, so I was more than happy when I heard the organization confirmed my presence this year. I'm very pleased with my horses, first Vendi that ended two times third and one time second, and Laith that ended second in the Grand Prix last week and really deserved to win today".
---
Source: Press release from R&B Presse // Picture © R&B Presse