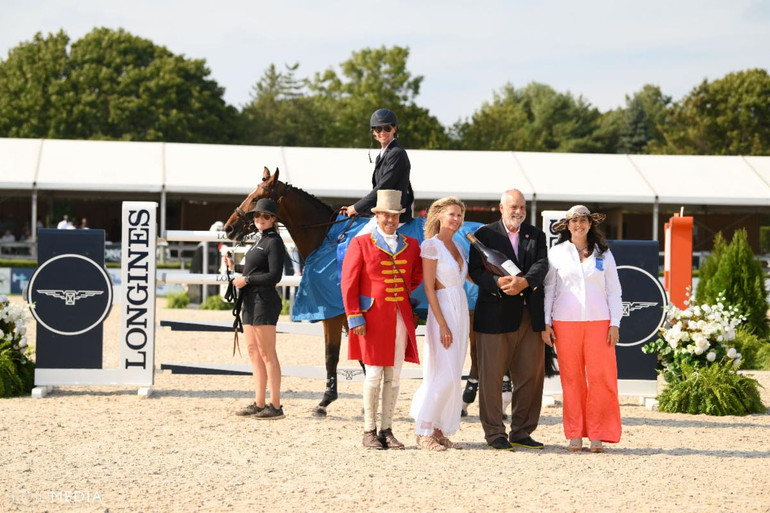 2022 Hampton Classic Grand Prix champions Karl Cook and Kalinka Van't Zorgvliet hope to defend their title this year. Photo © KindMedia.
Edited press release from Hampton Classic Horse Show
---
Defending Hampton Classic Grand Prix champion Karl Cook heads an impressive list of international entries set to compete in the 48th annual Hampton Classic Horse Show. The Hampton Classic returns to its beautiful Bridgehampton showgrounds August 27-September 3.
Each year approximately 50,000 people come to watch the nation's best equestrian athletes compete at the Hampton Classic. The Classic is rated USEF 'Premier-6' for both hunters and jumpers with FEI 2* and 5* classes. Ireland's Alan Wade serves as Grand Prix Ring course designer.
The Hampton Classic features more than 200 competitions in six spectacular show rings, the Agneta Currey Boutique Garden with more than 70 vendors, and a wide selection of dining options, all on its world-class 60-acre showgrounds. Offering more than $1 million in prize money, the Classic is highlighted by the $425,000 Longines Hampton Classic 5* Grand Prix on Sunday, September 3.
Looking to defend his 2022 Grand Prix title against Olympic veterans and other top international competitors from 16 countries is the USA's Karl Cook. Cook returns to this year's Classic with last year's winning mount, Kalinka Van't Zorgvliet, alongside other horses he has entered in both the 2* and 5* competitions. Last year, Cook made his first visit to the Classic one to remember as he swept top honors in the Douglas Elliman 5* Grand Prix Qualifier, Hampton Classic 5* Grand Prix and Longines Rider Challenge. Cook's international record includes competing in three FEI World Cup Finals (2013, 2015 and 2017), and earlier this summer, he helped the U.S. team win the bronze medal in the Nations Cup at Falsterbo, Sweden.
Among those joining Cook at the Classic is five-time U.S. Olympian McLain Ward, who has won the Hampton Classic Grand Prix a record seven times. Always a top contender on the international stage, Ward has earned four Olympic medals (team gold in 2004 and 2008, team silver in 2016 and 2021) and competed in four World Equestrian Games (WEG), earning team silver in 2006, team bronze in 2014 and team gold in 2018. He has won two Pan American Games gold medals (2011, 2015) and was the Longines FEI World Cup champion in 2017. That World Cup win came aboard HH Azur, who will be officially retired at this year's Classic as part of Sunday's Grand Prix opening ceremonies.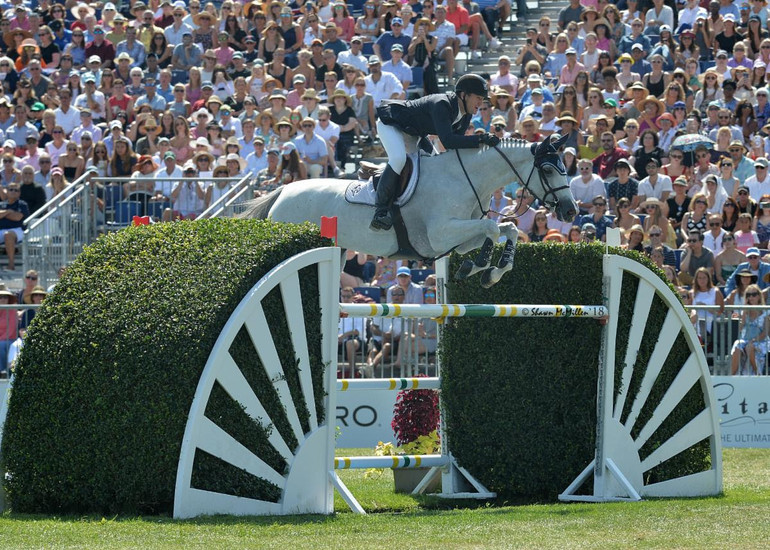 McLain Ward and HH Gigi's Girl on their way to victory in the 2018 Hampton Classic Grand Prix. Photo © Shawn McMillen.
Israel's Daniel Bluman and the U.S.'s Kent Farrington also hope to reclaim the Hampton Classic Grand Prix title. Bluman won the title in 2017 and 2021, while Farrington won it back-to-back in 2012 and 2013. Bluman has competed in two Olympic Games, three FEI World Equestrian Games (WEG), and two Pan American Games. Farrington's championship appearances include one Olympic medal (team silver in 2016) and two Pan American Games medals (team gold in 2011, team bronze in 2015).
Three-time Canadian Olympian Mario Deslauriers, who won the Classic Grand Prix in 2019, will not make things easy for his fellow athletes, including his daughter Lucy Deslauriers who placed second to him in 2019. Deslauriers is a three-time WEG and two-time Pan American Games competitor and remains the youngest rider ever to win the FEI World Cup Final, a title he won in 1984 at age 18. Lucy helped the U.S. win a team bronze medal at the 2019 Pan American Games.
Among the other international veterans set to compete in this year's Hampton Classic is Brazil's Rodrigo Pessoa, one of the most decorated riders in show jumping history. Among Pessoa's achievements are six Olympic Games (winning team bronze in 1996 and 2000 and individual gold in 2004), six WEG (including individual gold in 1998), and 13 FEI World Cup Finals (including three consecutive titles, 1998-2000). He is the only rider to win the World Cup Final three consecutive years.
Two-time Canadian Olympian Tiffany Foster will bring her international experience to the Classic. Along with the 2012 and 2016 Olympic Games, she has competed in three FEI Nations Cup Finals (earning double silver medals in 2014), the 2014 WEG and 2022 FEI World Championships. She also helped Canada bring home team gold at the 2015 Pan American Games.
Three-time Olympian Beat Mändli of Switzerland also brings many Grand Prix titles to the Classic. His career spans three WEG, nine FEI World Cup Finals, and five European Championships (including team silver in 1999 and team bronze in 2003). He won the World Cup Final in 2007.
Other Olympic veterans include Nayel Nassar of Egypt (2021), Darragh Kenny of Ireland (2021), and the USA's team silver medalist Jessica Springsteen (2021). Many more Americans will challenge them for the Hampton Classic's prestigious titles this year, including 2018 WEG team gold medalists Devin Ryan and Adrienne Sternlicht, plus Lillie Keenan and Brian Moggre, both of whom rode on the U.S.'s World Championship team in 2022.
The Hampton Classic's FEI competition begins Thursday, August 31, with the $10,000 Citarella Open Jumper CSI2* and $39,000 Flecha Azul 5* Speed Stake and continues throughout the weekend with eight 2*/5* classes. FEI competition also includes Friday's $39,000 Wölffer Estate 2* Jumper Classic, $78,000 Douglas Elliman 5* Grand Prix Qualifier, Saturday's $39,000 Open Speed Class CSI2*, and the $78,000 The Agency 5* Speed Stake, and culminating with the $78,000 Hampton Classic 2* Grand Prix and $425,000 Longines Hampton Classic 5* Grand Prix on Sunday, September 3.