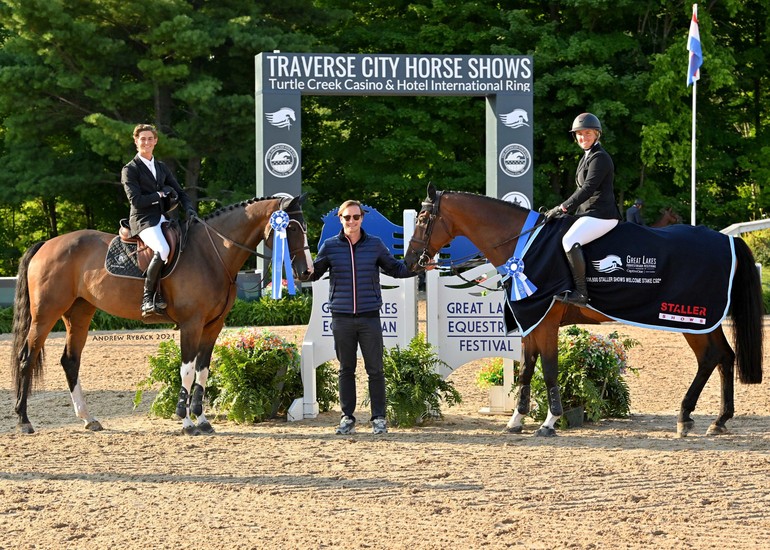 Dominic Gibbs and Samantha Schaefer with Arturo Ferrando of Staller. Photo © Andrew Ryback Photography.
Press release from Great Lakes Equestrian Festival
---
Passing the halfway mark during the Great Lakes Equestrian Festival, presented by CaptiveOne Advisors, Week IV saw an exciting field of show jumping competitors take to the Turtle Creek Casino & Hotel International Ring for the $36,600 Staller Shows Welcome Stake CSI2*. A competitive field of 84 horse-and-athlete pairs representing nine different nations put their best foot forward, each determined to nab a spot in Sunday's $72,000 North Face Farm Grand Prix CSI2* for a chance to vie for week's the top prize. After a valiant fight to the finish, it was an unprecedented tie for first place between Samantha Schaefer (USA) and Dominic Gibbs (USA).

Course designer Manuel Esperaza (MEX) set forth a 15-effort track to whittle the field down to those who would qualify for the jump-off. Only 15 pairs managed to navigate a fault-free round, leaving just two pairs out of contention for the top prize due to time faults. Setting the stage with a seven-fence jump-off, Esperaza offered multiple chances for riders to slice and dice their way through the track in order to save time. Many took advantage of this opportunity, with the lead exchanging hands three separate times throughout just the first half of the order-of-go as one athlete after another found new ways to take seconds off of the clock.
Thursday's $36,600 Two-Phase CSI2* winner, Hunter Holloway, sat comfortably in the lead for the majority of the jump-off aboard Pepita Con Spita (DSP Con Spirit x Come On) on a time of 32.30 seconds, with those to follow knocking rails on course attempting to unseat her. The first to be successful in slipping into the first place spot was Schaefer and Frasier (Carambole x Padinus), an 11-year-old Dutch Warmblood gelding. Proving a strong partnership between horse and rider is a key to success, the two moved effortlessly throughout the ring together, putting on a show for the audience as they cut just over six-hundredths of a second off of Holloway's time to finish in 31.64 seconds.

Gibbs and Amazing (Baltimore 1178 x Talexis van't Vorhof), a nine-year-old Swedish Warmblood mare owned by Mountain King Ranch LLC, entered the arena just three pairs later, determined to snatch the win away from Schaefer and mark the duo's first CSI2* win together. Showcasing grit and finesse throughout the difficult track, Gibbs laid down a strong round. In a shocking conclusion, his time matched Schaefer's exactly, as he crossed through the timers in 31.64 seconds. Though uncommon, the two would sit tied for first place as just one more rider contended for top honors. Though the United States' Hardin Towell would try to round out the class with a win, he was not quite quick enough to match the two skillful leading athletes, ultimately lending him the third place finish on a time of 32.08 seconds. Gibbs and Schaefer would share the winning title as they both walked away with a blue ribbon.
Though Gibbs' and Schaefer's joint win would earn valuable points to place them on the CaptiveOne Advisors Open Jumper Rider Bonus Leaderboard, Australia's Katie Laurie continues to maintain her leading position with a total of 42 points she garnered after a successful Traverse City Spring Horse Show series. Karl Cook (USA) sits in the second place position on a total of 37 points after multiple grand prix wins during the Traverse City Spring Horse Show and GLEF. After consistent top placings throughout the first three weeks of the GLEF series thus far, King moved his way up the leaderboard to sit on a total of 28 points. Offering show jumping competitors the chance to accumulate points throughout the 12-week Traverse City Horse Shows series, the bonus is awarded to the athlete with the most points at the conclusion of the 2021 $230,000 American Gold Cup Grand Prix CSI5*, presented by CaptiveOne Advisors. The CaptiveOne Advisors Open Jumper Rider Bonus is a highly sought-after prize among the field of international competitors that attend Traverse City Horse Shows.

Show jumping competition during Week IV of the Great Lakes Equestrian Festival will continue Saturday, July 31, as hunter competitors and equitation stars take to the Turtle Creek Casino & Hotel International Ring for the Dudley B. Smith Equitation Championship and the $25,000 Platinum Performance USHJA International Hunter Derby, presented by Copper Fox.
FROM THE WINNER'S CIRCLE
Samantha Schaefer – $36,600 Staller Shows Welcome Stake CSI2* winner

On the jump-off:
"After I saw Hunter [Holloway] go I thought there was no chance and that I was going to ride for second or third today. I caught a really good distance at [the Mejier fence] and [Frasier] really helped me and I just kind of took it from there. After the [JustWorld International fence] I turned and he turned way quicker than I thought – he was just with me the entire way. I would say he is not typically the fastest horse, but the last couple of weeks here he has really found his stride. He loves this ring and so I thought he was right with me the whole way. It was exciting."

On tying with Dominic Gibbs:
"I think there were close to 90 horses in this class and to have 16 clear, I think the jump-off was about as exciting as it gets, especially with the result! It was exciting and I was happy to be sharing the top placing. It is awesome to be sharing with Dominic [Gibbs]."

On Frasier:
"The horse I rode is named Frasier. He belongs to a group of clients in our barn under Bonne Vie LLC and he was a horse that I went to ride at McLain [Ward]'s one afternoon in Florida and I kind of fell in love with. I took him to Ocala to be sold and just kind of did a few classes on him. I just had a great bond and partnership with him and at the end of Florida we were able to put together a partnership and group to own him for myself. It has been so much for me and for the owners – everyone is really enjoying it. He is really growing and is really starting to learn me, and I understand him and every class we go in I see an improvement, so we are building on that. When I started my partnership with Frasier, Kate Conover, who I work with as Shadow Ridge [Equestrian], said I think this is a horse that wants to have a person and a partnership with. I think that has made a huge difference with the horse. We really understand each other and day-to-day I don't ask too much of him and he always comes out and wants to please and fight for me. So, I think it does ring true, especially with this horse where he does his best with somebody that he connects with."

On showing at the Great Lakes Equestrian Festival:
"For me, it is the highlight of my summer – I love it! The show is obviously amazing, I love the town and I love the weather, even when it's raining – I don't care! It is one of my favorite shows. I came for the first time last year and I have been excited to come back ever since."

Dominic Gibbs – $36,600 Staller Shows Welcome Stake CSI2* winner

On the jump-off:
"I thought that this jump-off was well suited for a big strided horse like [Amazing], so I was really just aiming to do one less [stride] than everyone else or match the strides and just be quick, and that's exactly what I did. I had a great turn after the [JustWorld International fence] and found eight strides going forward. Then, with [Amazing's] ginormous stride, I was able to do nine [strides] flying to the last fence."

On tying with Samantha Schaefer:
"It is out of this world to even be winning a class like this. I am just now moving up to the CSI2* classe and it is a great confidence booster to have a top result. I think the horses really appreciate [the weather] too!"

On Amazing:
"My horse is called Amazing. We call her Maizie in the barn and it is a pretty new partnership for us. I started riding her at the Kentucky Spring Horse Shows and she really just fell into my lap. I was looking to move up into the grand prixs and she had been a sale horse with my barn and trainer, and she really shined in the lower divisions and now she is moving up as a green horse. We schooled her huge at home and found out she has a lot of jump and was a diamond in the rough, so we are going to make her into a great horse!"

On showing at the Great Lakes Equestrian Festival:
"I absolutely love Traverse City Horse Shows. The showgrounds are amazing, the management is amazing and I look forward to coming here every year. This is my third summer here and just like [Samantha Schaefer] said, the weather is fantastic. I came straight from Devon where it was dreadfully hot and sticky every day, so to come here and have it be 70 degrees and cool and crips in the morning is just great."