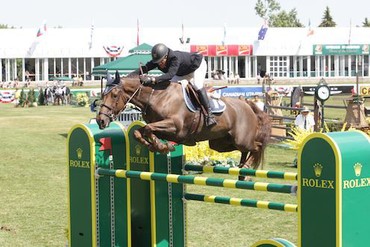 Sameh El Dahan of EGY riding Suma's Zorro. Photo © Spruce Meadows Media Services.
The 2015 'Canada One' Tournament at Spruce Meadows concluded on Sunday, with an electrifying jump-off in the $126,000 Imperial Challenge and a win for Egypt's Sameh el Dahan riding Suma's Zorro. The pair topped an eight-horse jump-off, last to go, with a courageous gallop to the final fence. Shane Sweetnam (IRL) and Chaqui Z finished second; Olivier Philippaerts (BEL) and Armstrong van de Kapel placed third.
Also competing on Sunday, Juan Pablo Gaspar Albanez (MEX) jumped to victory in the $34,000 West Canadian Cup 1.50m with his mount, Puertas So What.

Concluding the week, course designer Peter Grant (CAN) saw 35 starters in Sunday's $126,000 Imperial Challenge. He yielded eight clear rounds to continue on to the tiebreaking jump-off where five competitors also cleared the short course without fault.
First to go in the jump-off, Eric Navet (FRA) set the pace with a clear round in 43.84 seconds aboard Signe Ostby's Jonkheer Z, to eventually finish fourth. Maggie McAlary (USA) followed with a steady clear round in 47.84 seconds riding Double H Farm's HH Ciske van Overis to place fifth. Olivier Philippaerts upped the pace in 43.68 seconds with Ludo Philippaerts' Armstrong van de Kapel next. Shane Sweetnam was faster, with a time of 43.62 seconds aboard Spy Coast Farm LLC's Chaqui Z. Last to go, Sameh el Dahan and Suma's Zorro set the final mark in the winning time of 42.39 seconds.

Owned in partnership by Joanne Sloan-Allen and Sameh el Dahan, Suma's Zorro is an 11-year-old Irish Sport Horse mare sired by VDL Douglas. A small chestnut with a big heart, Suma's Zorro carried her rider to one of the biggest wins of his career on Sunday. This was El Dahan's first 4* grand prix victory.
"I have won a couple of 2* grand prix, but this is definitely one of the biggest wins of my career, especially at a place like Spruce Meadows," El Dahan stated. "I think everybody as a kid watched Spruce Meadows on TV and wondered if they would ever get a chance to jump here and I have been lucky enough to do it two years in a row. I was here last year and I had a very good season. I did not have any grand prix wins, but I was always in the prize giving. This year, I think I was lucky to be in this position and win one of the biggest grand prixs in my career."

"I did not see anybody go," El Dahan said of the jump-off. "I just had Joanne at the ring watching for me. She came to me just before I went and said I had to get the nine strides from the combination to the water tray oxer. It worked out really well for me because I was a little slow from jumps one to two because the mare was slipping a little bit. I got the nine strides up there and then Joanne said I had to go as fast as I could down to the last fence. She said, 'Be brave, your mare is careful and she is going to go over it.' That is what I did and I think it paid off today."
El Dahan has ridden Suma's Zorro for four years and knew she would give it her all to clear the final obstacle. "I know her really well and I know I can trust her," he stated. "I have been riding her since she was seven years old and she is such a fighter in every way. Whatever I ask from her, she never lets me down. She has a great heart."

Shane Sweetnam was a very close second with his mount, Chaqui Z, but was happy with his round on a young horse and also happy to see Dahan get his win. "I thought the course builder did a great job," Sweetnam said of the competition. "I thought the course was quite big when I walked it, but the time was nice today. Eight is a good number to have clear and I thought it was an exciting jump-off. Obviously I was on the wrong side of a second, but I have a young horse and I was very happy with him. Sameh is a great guy and it was a great win for him."
Gaspar Albanez Wins Big at Spruce Meadows
Beginning Sunday's competition in the Meadows on the Green, the $34,000 West Canadian Cup 1.50m saw 23 entries, with a five-horse jump-off. In his first time ever at Spruce Meadows, 17-year-old Juan Pablo Gaspar Albanez (MEX) jumped to an exciting victory aboard his 11-year-old Dutch Warmblood gelding, Puertas So What (Quattro x Iroko).
"This is my first time here and this win was a very big thing for me to do with some very good riders in the jump-off," Gaspar Albanez stated. "The course was tough for me. It was my first 1.50m competition, so it was a big challenge."

Quentin Judge (USA) and Double H Farm's HH Memphis were first to qualify for the jump-off, and finished the short course on four faults in 47.79 seconds to place fourth overall. Gaspar Albanez and Felipe Gaspar's Puertas So What followed with the winning clear round in 45.08 seconds. Beezie Madden (USA) jumped next with a clear round in 45.64 seconds to finish second aboard Abigail Wexner's Breitling LS. Brianne Goutal (USA) and Remarkable Farms LP's Rebeca LS followed with the third place round in 47.77 seconds. Last to go, Luis Larrazabal (VEN) had one rail down in 48.94 seconds to place fifth aboard Gustavo Mirabal's G&C Close Up.
"I bough Puertas So What a little over one year ago," Gaspar Albanez said of his mount. "I am very proud of him. He is fantastic; I think he is my horse of a lifetime."
"I knew I was competing with the best riders in the world, so I knew I had to give it all or nothing," the rider said of his jump-off. "I went and I did everything I could and finally won. It feels fantastic to win here. Last week I was second in the 1.45m, so I was close and I thought it would be fantastic if I could win one. If not, I still would have left happy with this experience, but now it is even better."

Spruce Meadows' Summer Series continues next week with its 'North American' Tournament CSI 5* on June 30 – July 5. For a complete tournament schedule and full results, please visit www.sprucemeadows.com.
Final Results: $126,000 Imperial Challenge 1.55m
1. $41,580 SUMAS ZORRO Irish Sport Horse / M / 11 Vdl Douglas x Unknown SAMEH EL DAHAN (EGY) BALLYCLARE Joanne Sloan-Allen & Sameh El Dahan: 0/0/42.39
2. $25,200 CHAQUI Z Zangersheide / S / 9 Chacco Blue x Quilana Z SHANE SWEETNAM (IRL) WELLINGTON, FL Spy Coast Farm: 0/0/43.62
3. $18,900 ARMSTRONG VAN DE KAPEL Warmblood / S / 10 Quasimodo Z x Farn OLIVIER PHILIPPAERTS (BEL) MEEUWEN-GRUITRODE Ludo Philippaerts: 0/0/43.68
4. $12,600 JONKHEER Z Zangersheide / S / 13 Jetset D x Skippy II ERIC NAVET (FRA) ENCINITAS, CA Signe Ostby: 0/0/43.84
5. $7,560 HH CISKE VAN OVERIS Belgian Warmblood / M / 13 Celano x Darco MAGGIE MCALARY (USA) AMHERST, NH Double H Farm: 0/0/47.84
6. $5,670 SIMON Dutch Warmblood / G / 16 Mr Blue x Polydox BEEZIE MADDEN (USA) CAZENOVIA, NY Abigail Wexner: 0/4/43.93
7. $3,780 ASD FARFALA / G / 12 Unknown x Unknown JOSE MANUEL IBANEZ (CHI) NUNOA Americo Simonetti: 0/4/44.61
8. $3,150 ZILVERSPRINGS Dutch Warmblood / G / 11 Unknown x Unknown ELIZABETH GINGRAS (CAN) EDMONTON, AB B Gingras Equestrian Ltd: 0/4/45.03
9. $2,520 SOUTHWIND VDL Dutch Warmblood / G / 16 Baloubet de Rouet x Ahorn TIFFANY FOSTER (CAN) SCHOMBERG, ON Tiffany Foster & Artisan Farms LLC: 4/86.36
10. $2,520 BISQUET BALOU Warmblood / S / 10 Balou du Rouet x Polydor NICOLA PHILIPPAERTS (BEL) GRUITRODE Frans Lens: 4/86.51
11. $1,260 SRI ALADDIN Dutch Warmblood / G / 10 Quasimodo z x Burggraaf MEAGAN NUSZ (USA) HOUSTON, TX Amalya Investments: 4/86.82
12. $1,260 CAT BALOU Warmblood / G / 8 Cassini II x Lacantus MOLLY ASHE (USA) WELLINGTON, FL Louisburg Farm: 4/87.34
Final Results: $34,000 West Canadian Cup 1.50m
1. $8,500 PUERTAS SO WHAT Dutch Warmblood / G / 11 Quattro x Iroko JUAN PABLO GASPAR ALBANEZ (MEX) ZAPOPAN, JALISCO Felipe Gaspar: 0/0/45.08
2. $6,800 BREITLING LS Warmblood / S / 9 Quintero x Accord II BEEZIE MADDEN (USA) CAZENOVIA, NY Abigail Wexner: 0/0/45.64
3. $5,100 REBECA LS Studbook La Silla / M / 9 Rebozo LS La Silla x Cassini I BRIANNE GOUTAL (USA) NEW YORK, NY Remarkable Farms LP: 0/0/47.77
4. $3,400 HH MEMPHIS Irish Sport Horse / G / 9 Armitage x Cruising QUENTIN JUDGE (USA) WELLINGTON, FL Double H Farm: 0/4/47.79
5. $2,380 G&C CLOSE UP Dutch Warmblood / G / 8 Eurocommerce Wastington x Cobra LUIS LARRAZABAL (VEN) WESTON, FL Gustavo Mirabal: 0/4/48.94
6. $1,870 BRIANDA Dutch Warmblood / M / 10 Lupicor x Landeur ALI WOLFF (USA) NEW ALBANY, OH John Wolff: 1/74.14
7. $1,360 SF ARIANTHA Dutch Warmblood / M / 10 Corland x Emillion ANDRES RODRIGUEZ (VEN) WELLINGTON, FL Olivia Cox-FillL: 1/74.47
8. $1,020 CHARIELLE Oldenburg / M / 9 Chacco Blue x Argentinus RODRIGO LAMBRE (BRA) MONTERREY Mario Onate: 4/69.46
9. $1,020 BIJZONDER Dutch Warmblood / G / 9 Acodetto x Quite Easy SHANE SWEETNAM (IRL) WELLINGTON, FL Sweet Oak Farm: 4/72.23
10. $850 DARLING Westphalian / M / 11 Cornet Obolensky x Gralshuter AINSLEY VINCE (CAN) MILTON, ON The Darling Group: 4/73.51
11. $850 WITH WINGS Dutch Warmblood / G / 12 Larino x L Ronald KAREN POLLE (JPN) NEW YORK, NY Karen Polle: 5/74.25
12. $850 COUSCOUS VAN ORTI Belgian Sport Horse / G / 13 Unknown x Unknown SAMUEL PAROT (CHI) WELLINGTON, FL Luc Van Der Steichel: 8/70.56

Source: Press release from Jennifer Wood Media Inc.