Press release from Thunderbird Show Park
---
Following the awards presentation for the CSI3* ATCO Cup Grand Prix 1.50m Sunday at Thunderbird Show Park, you might not have recognized the class winner. Equine America Ivanhoe GPH (Marome NV x Indorado) could be found standing still as a statue as a young child reached up tentatively to stroke his muzzle. "He's very sweet. He won't bite you," his rider, Matthew Sampson (GBR) told the child.
Just a few minutes prior, Sampson and the "gentle giant" were tearing around Peter Holmes' (CAN) 1.50m jump-off track. Utilizing an enormous stride, the pair bested a 10-horse jump-off and recorded the first international win of their short partnership, having just teamed up in June.
The winning time was 36.24 seconds. In the closest of finishes, John Perez (COL) finished second with GigiCarmen (Bacardi VDL x Oklund) in 36.25s, followed Tiffany Foster (CAN) and Battlecry (Vigo d'Arsouilles x Latano) in 36.59s.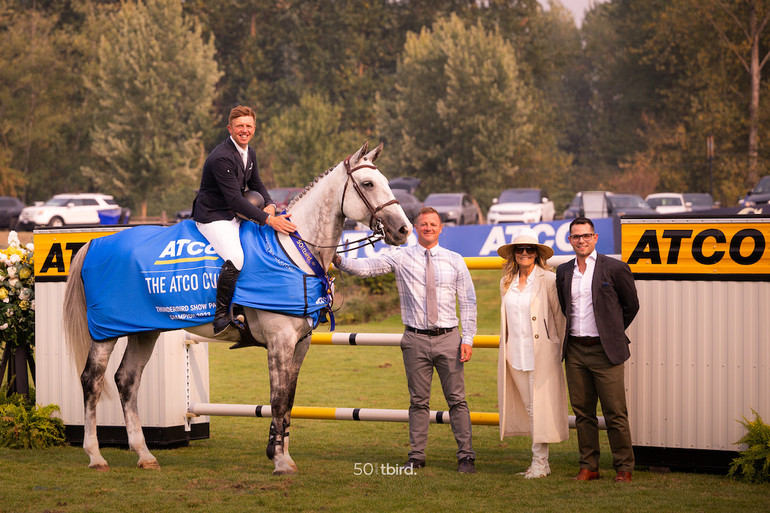 Matthew Sampson and Equine America Ivanhoe GPH stand for their winner's presentation. Photo ©tbird/Kim Gaudry.
"Parts of the jump-off suited me and parts of it didn't. One to two for me was a really short five, and it wasn't a four, especially at the start. Then it looked like I could get nine to the double and then I could get eight across the middle. That suited him really well," Sampson detailed. "I gave him a little bit of extra time to the last fence and, and luckily that paid off. John was very fast. I think that's where he caught up to me. Luckily it was my day."
It was by chance that Sampson got the ride on "Ivan" this summer from the horse's owner, Ellen Whitaker, who is Sampson's neighbor in England. Sampson and Ivan are now jumping clear at a 56 percent clip across all heights, according to Jumpr App.
"He's owned by a friend, Ellen Whitaker, whom I live very close to at home. I got him in Spruce," Sampson said. "Originally I had him just to look after him for a week, and then he was meant to travel back to Europe, but he couldn't go. So I started riding him. It worked out amazing."
Sampson will now return to Spruce with the grey gelding for the CSI5* Masters Tournament—but Ivan is also for sale. "We're really just developing him," he said. "He'll make anybody a lovely horse. He's the type of horse that he's got no bad [bone] in his body."