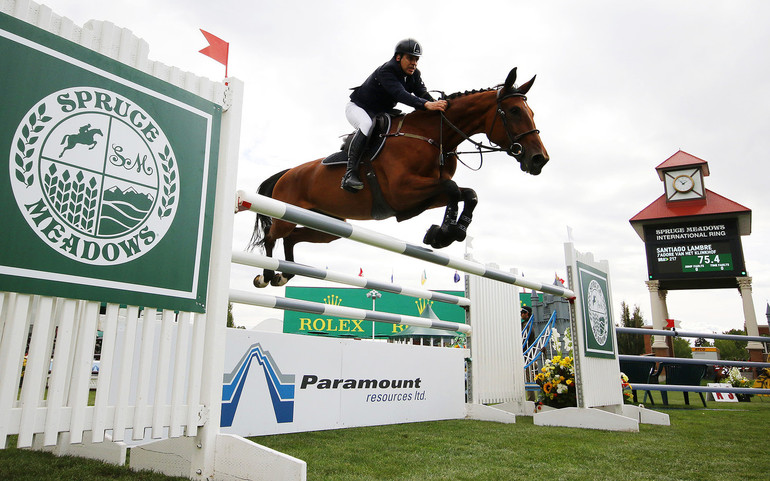 Santiago Lambre and J'Adore Van Het Klinkhof, winners of the Paramount Resource CSI2* Grand Prix at the Spruce Meadows 'Masters'. Photo © Spruce Meadows Media/Dave Chidley.
Edited press release from Spruce Meadows
---
The Paramount Resources CSI2* 1.45m Grand Prix was the first competition on the International Ring on Friday of the 2023 Spruce Meadows 'Masters'. The top 2* riders from throughout the week now moved from the All Canada Ring to step through the iconic Clock Tower.
Only two riders were able to navigate the first-round track set by Leopoldo Palacios (VEN) and finish without faults: Santiago Lambre (BRA) and J'Adore van het Klinkhof (Thunder vd Zuuthoeve x Alcatzar) as well as Bretton Chad (CAN) aboard Grandeur WP (Whistler x Vainqueur) advanced to the jump-off.
Lambre was first into the ring for the jump-off and laid down a quick clear round with a time of 39.56s. Chad wasn't fast enough to catch Lambre as she posted a time of 40.66s and had to settle for the runner-up spot behind Lambre, while Matthew Sampson and Curraghgraigue Obos Flight (Obos Quality 004 x Errigal Flight) placed third as the fastest four-faulter from round one.