Press release from Traverse City Horse Shows
---
Santiago Lambre (BRA) is getting comfortable in the winner's circle during the Tournament of Champions. Continuing his championship streak, Lambre scored victory for the fourth time in two weeks, this time aboard Casey in Friday's $37,000 CSI3* GGT-Footing Welcome Stake.

Over Olaf Petersen, Jr.'s (GER) first-round course, 14 pairs out of the starting 38 jumped clear rounds, making for a highly competitive jump-off. Roberto Teran (COL) with Trefoil Farm LLC's Babycomeback took the pace up a notch with a blazing fast double-clear round in 35.48 seconds, then shortly after, Samuel Parot (CHI) took over the second-place position with Chrystal Blue in 36.47 seconds, leaving very little room left to sneak a spot atop the podium.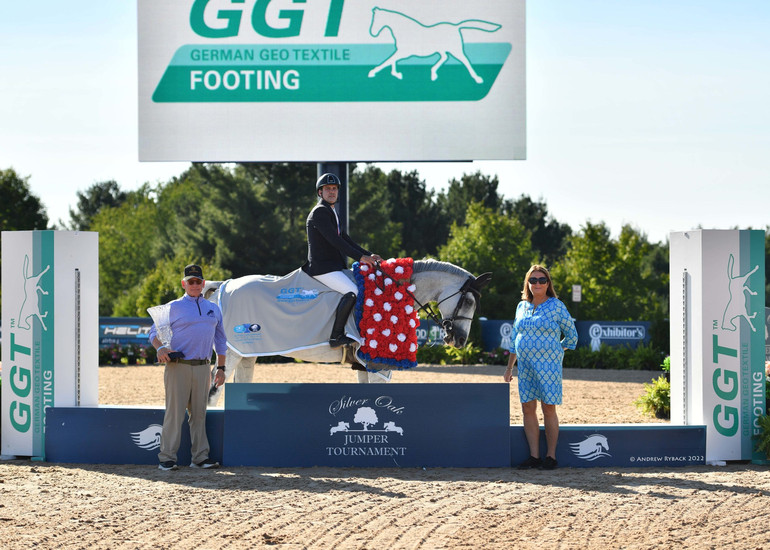 Santiago Lambre and Casey in their winning presentation with Jeff Papows, Chairman and CEO of the Silver Oak Jumper Tournament, and Cynthia Keating of GGT Footing. Photo © Andrew Ryback Photography.
As the second-to-last to jump over the short course, Lambre proved his speed gears were unmatched, racing the 10-year-old Hanoverian mare (Cartani x Grannus) around the short course, omitting strides everywhere possible and taking the speed a second and a half faster in 34.00 seconds. Teran was pushed to second while Parot ended up third.

"Casey came in March for me," Lambre said about his past with the horse. "This was the first FEI [competition] I rode her in. She jumped so well in the National Grand Prix [last week] – clear with one time fault. I had a good feeling. Sunday is going to be her first [FEI] Grand Prix."
Final Results: $37,000 CSI3* GGT Footing Welcome Stake
1. CASEY: 2012 HANN mare by Cartani x Grannus
SANTIAGO LAMBRE (BRA), Mario Onate: 0/0/34.00

2. BABYCOMEBACK: 2011 SF mare by Corofino II x Joyau D'or A
ROBERTO TERAN (COL), Trefoil Farm LLC: 0/0/35.48

3. CHRYSTAL BLUE: 2011 OLDBG gelding by Chacco Blue x Calvaro Z
SAMUEL PAROT (CHI), Ilan Ferder: 0/0/36.47

4. NAMASTE VAN HET EYCKEVELD: 2013 BWP gelding by Elvis Ter Putte x Coriall
SHANE SWEETNAM (IRL), Sweet Oak Farm: 0/0/37.22

5. IVARO N: 2013 KWPN gelding by Elvaro x Celano
LISA GOLDMAN-SMOLEN (USA), Barbara Disko: 0/0/38.14

6. SIERRA: 2010 DWB mare by Stolzenburg x Lambrusco ASK
ELIZA LEHRMAN (USA), Five Way Farm LLC: 0/0/38.68

7. CONDOR DU VALDECIE: 2012 SF gelding by Quite Easy x Quito de Baussy
CHRIS EWANOUSKI (USA), Polo Jump LLC: 0/4/36.73

8. KIRSCHWASSER SCF: 2010 BWP gelding by Amaretto D'Arco x Nabab De Reve
FREDDIE VAZQUEZ (PUR), Freddie Vazquez: 0/4/37.42

9. IMPOSSIBLE DREAM: 2013 KWPN gelding by Cardento x Peter Pan
KELLY ARANI (USA), Marigot Bay Farm, LLC: 0/4/39.10

10. ISAAC 22: 2008 BWP gelding by Nonstop x Darco
VICTORIA KETCHUM (USA), Copperline Farm LLC: 0/8/38.18

11. FAIR FIELD: 2010 KWPN gelding by VDL Zirocco Blue x Chin Chin
CALLIE SCHOTT (USA), Southern Arches LLC: 0/8/38.18

12. MANHATTAN VAN'T LEEUWERIKENHOF: 2012 BWP gelding by Emerald x Kashmir Van Schuttershof
FILIP DE WANDEL (BEL), Five Way Farm LLC: 0/8/41.41