Press release from Wellington International
---
The CHF37,000 Adequan® WEF Challenge Cup Round 1 helped kick off week 1 of the Winter Equestrian Festival (WEF) in the International Arena on Thursday. Ultimately, the duo to beat was Sarah Scheiring (USA) and Margriet de Mariposa over a course set by Nick Granat (USA).
A competitive field of sixty-nine horse-and-rider combinations put forth their best efforts in hopes to jump clear and within the time allowed (70 seconds) over the sixteen-obstacle course and move forward into what proved to be a very exciting jump-off. The first round consisted of a twisty but technically challenging course that left twelve qualifying for the jump-off. After one pair withdrew, eleven faced off.
Scheiring and the ever-impressive 2012 Belgian Sport Horse mare (Nabab de Reve x For Pleasure), owned by Bellwyn Farm LLC, were efficiently smooth in the jump-off. They made it around the course in a time of 37.30 seconds, crossing the timers ahead of current leader Jacob Pope (USA) and Highway FBH, owned by The Highway Group, sitting at 38.29 seconds. Scheiring was all smiles and beyond thrilled with her mare's tremendous show of heart.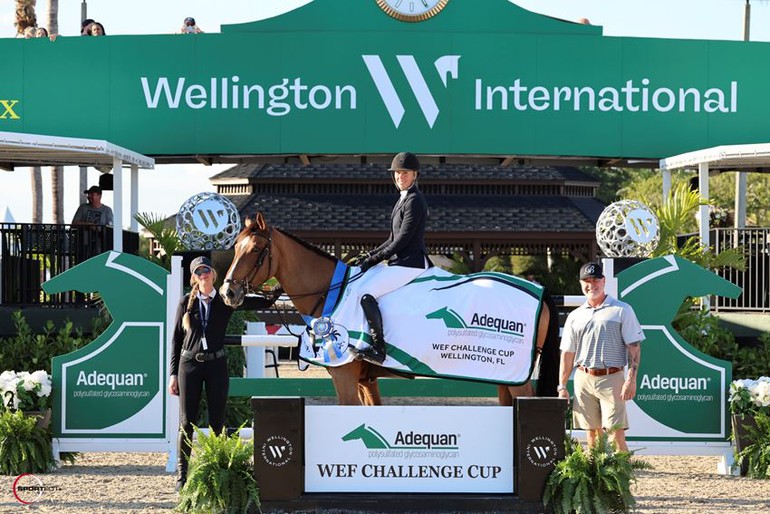 Sarah Scheiring & Margriet de Mariposa presented as winners of the CSI3* WEF Challenge Cup Round 1 with manager Chloe Garrett and owner Andrew Slattery. Photo © Sportfot.
"For my jump-off I had quite a competitive plan," she said. "I had planned on the six, which was the leave out from one to two, and it was a lot further away than I anticipated. Luckily, I have a superstar horse. I know that no matter what she's always going to try her hardest, so I took a shot. It was a fast class; Allison and Jacob really laid it down."
Pope settled for second while Alison Robitaille completed the podium sweep for the U.S. in third riding Oakingham Lira in a jump-off time of 40.25 seconds. The fastest of the four-fault rounds in the jump-off was Ireland's Daniel Coyle, who took fourth aboard Quintin, owned by Ariel Grange.
Scheiring and Margriet de Mariposa showed the bond of a pair that has spent years together, but their partnership only started in September of 2022. "It's a very short history; we went to our first horse show at Tryon in October and the very first week I showed her I jumped the CSI3* under the lights, which is saying that I trust her tremendously," said Scheiring. "It's a different league of animal than anything I have ever experienced. She is all heart, and she tries so hard. I think she got that from her mother, Flora De Mariposa, which was also an unreal horse. I think there's nothing more important than the heart of a horse and she is all of that."
As the season gets underway, Scheiring noted how happy she is to be back among the palms in Florida. "This is my favorite horse show of the year. I come here as quickly as I can after the summer showing and I leave as late as possible. Everything at WEF is perfectly done, and it's the best place to develop horses."