Olympian Sergio Alvarez Moya (ESP) was the big winner in the $500,000 CSI5* Rolex Grand Prix riding Charmeur on Saturday, March 25, at the 2017 Winter Equestrian Festival (WEF) in Wellington, FL. Moya beat out two-time Olympic team gold medalist McLain Ward (USA) aboard veteran partner Rothchild, and young up-and-comer Karen Polle of Japan riding With Wings.
Guilherme Jorge (BRA) set the course for the highlight event of the WEF circuit featuring 40 of the season's top competitors from 17 different countries. Five entries conquered the first round course without fault to jump-off, and only two were clear in the tiebreaker.
Polle and With Wings were first to jump the short course in 39.54 seconds, with one rail down, and ultimately finished third. Moya and Charmeur followed, setting the challenge with a clear round in 37.76 seconds. Beezie Madden (USA) and Abigail Wexner's Coach had one rail in 40.20 seconds to place fifth. Laura Kraut (USA) and St. Bride's Farm's Confu also dropped one rail in 39.81 seconds to take the fourth place prize. Last to go, Ward and Sagamore Farm's Rothchild raced through the course, taking a different inside turn that no one else tried, but still crossed the timers in second place with a time of 38.30 seconds.
"I am super happy. My horse jumped amazing," Moya said of his ten-year-old Dutch Warmblood gelding (Numero Uno x Gelha's VDL Emilion). "I just went as fast as I could. I saw Karen go, and then I knew I had to start fast from jump one, and keep going to the end. My plan was to go one more stride to the combination, but I had a good eight strides, and I just trusted my horse. Then to the next oxer I had a good gap as well, so I could go and keep on pushing. I actually saw one stride less to the next vertical, but I thought that was maybe too much. I don't think I left much room for the others, and it worked out well."
Moya had a fantastic WEF circuit, placing third in week three's $130,000 Adequan® Grand Prix CSI 3* and second in week four's $216,000 Ariat® Grand Prix CSI 4* with G&C Unicstar de l'Aumone, third in week seven's $380,000 Suncast® Grand Prix CSI 5* aboard Arrayan, and again third in week nine's $380,000 Douglas Elliman Grand Prix CSI 5* with Charmeur before taking the biggest prize in week eleven.
Remarking on his success, Moya stated, "For me, this is one of the best shows in the world. Most of the best and most competitive riders in the world are here. I think that to have so many weeks here, and to be so consistent, is a great opportunity to bring a horse up like this. I have had Charmeur since he was six years old, and I just feel very happy and very proud that we got to win a five-star grand prix here. I have a feeling that this is the grand prix that every rider in the circuit wants to win, and I was just lucky that I won this one, and not the others.

"The horse does not have so much experience at this level," Moya continued. "He just got better and better here at this show. I think it is a great place to bring horses up, and obviously to jump such a grand prix they have to be really ready. I think from here on, we can go anywhere in the world."

Saturday night concluded Moya's time in Wellington for the winter circuit. The Olympian, European Championships silver medalist, and reigning Spanish champion is now headed to compete in next week's FEI World Cup™ Jumping Final with top mount Arrayan before continuing his season in Europe.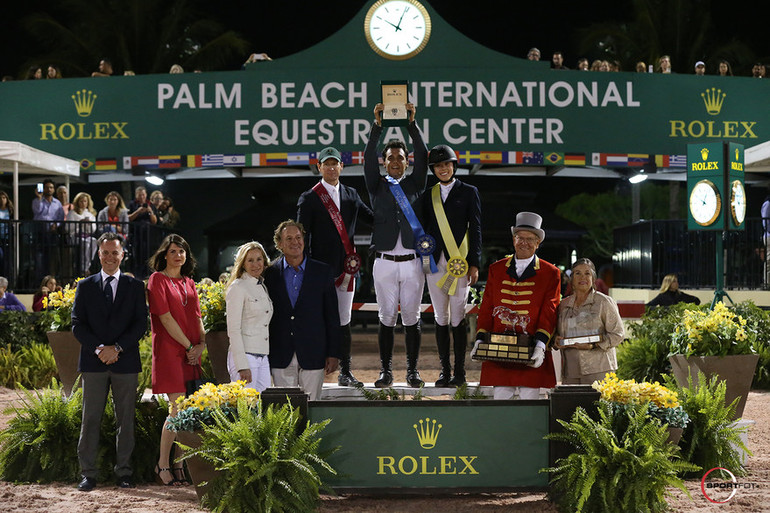 The top three in the $500,000 Rolex CSI5* Grand Prix at the Winter Equestrian Festival. Photo (c) Sportfot.
For Ward and longtime mount Rothchild, the pair gave it their best on Saturday night, but settled for second place. Detailing his round, Ward stated, "I have to watch (Rothchild) a little bit on the slice to the verticals, so the first two jumps were a bit of a challenge for me. I went in and I looked at the cut inside the gazebo, and I decided not to do it. Then when I turned back on the oxer, I kind of saw the line, and I knew I was too slow one to two to have a chance, so I figured at that point it was worth the risk. I thought maybe at that point, the turn did so much that I did not have to go as fast to the last fence. I took a little bit off, but Sergio did not leave much room.

"I'm thrilled with the horse," Ward said of the 16-year-old Belgian Sport Horse gelding (Artos x Elegant de l'Ile). "This is his eighth year jumping grand prixs in Palm Beach. He is just a remarkable animal. I am blessed to have had him, and I am really excited to be able to keep doing it with him."
Polle and her 14-year-old Dutch Warmblood gelding (Larino x L. Ronald) With Wings also finished out an excellent 2017 WEF circuit with their top three finish. The pair earned back to back victories in week nine's $130,000 Ruby et Violette WEF Challenge Cup and $380,000 Douglas Elliman Grand Prix CSI 5*, presented by The Bainbridge Companies, leading up to Saturday night.

"It is definitely a great feeling," Polle noted. "I am really happy that Wings and I are so consistent at this level now, and that we are in these jump-offs. I thought the course tonight was really, really tricky. It was definitely the trickiest grand prix that I have jumped this circuit. It was very big. I had to work hard, but I thought it was very nice to ride."
Equestrian Sport Productions CEO Mark Bellissimo wrapped up a fantastic evening of show jumping with his remarks and congratulated the top riders.

"I think there is consistently great sport at WEF," Bellissimo stated. "The crowd has become a lot more engaged, and you can see the people really following the sport. I think there is top sport here, and we are very excited about it.

"I want to thank Rolex," Bellissimo continued. "This festival went into a different transition when Rolex came on board. We started four five-star events and have some of the best riders in the world competing. I am hopeful that next year will be even more exciting and an even better series of outcomes."
Margie Engle (USA) earned the Leading Lady Rider Award for week 11, presented by Martha Jolicoeur of Douglas Elliman Real Estate.
---
Source: Press release from Equestrian Sport Productions News // Pictures © Sportfot