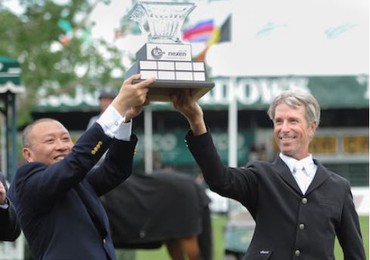 Richard Spooner lifts the Nexen Cup with Mr. Fang Zhi, CEO, Nexen ULC. © Spruce Meadows Media Services.
The 'National' Tournament CSI 5*, presented by Rolex, concluded at Spruce Meadows on Sunday with a clean sweep for USA's Richard Spooner in both of the day's features competitions. Spooner began the day with a win in the $40,000 ATCO Structures & Logistics Cup 1.45m aboard his own Chivas Z and continued on to victory in the $210,000 CNOOC Nexen Cup 1.50m Derby aboard Show Jumping Syndication International's Cristallo.

It was record attendance for derby day at this year's 'National' Tournament, with 41,089 spectators in the stands to witness one of the sport's most exciting events. Venezuela's Leopoldo Palacios designed the derby course for Spruce Meadows eight years ago with a demanding 19 numbered obstacles and 25 jumping efforts. It is an incredible test of endurance and stamina for both horse and rider, including double liverpools, a table bank, a 26-foot, steep derby bank, and the Devil's Dyke.

The course is the same for every derby competition and has only seen three clear entries out 179 starters since it was first set in 2007. Beezie Madden (USA) cleared the course twice aboard Judgement, the first year in 2007 and again in 2008. Pablo Barrios (VEN) went without fault in 2010 with G&C Sinatra. As has happened so many times before, not a single entry out of 25 was able to clear the course without fault on Sunday.

Spooner and Cristallo won on four faults, with one rail down going into the Devil's Dyke and a time of 162.88 seconds. Returning champions, Quentin Judge (USA) and Double H Farm's HH Dark de la Hart, finished second with two rails down in 154.03 seconds. McLain Ward (USA) and Juan Pablo Betancourt's Troya Retiro finished third, also with two rails down, in a time of 162.03 seconds.

Spooner and Cristallo also won the competition in 2012, finishing with an impressive clear jumping effort, but one time fault. This time around, the 17-year-old Holsteiner gelding (Caretino x Cicero) had no problem with the clock.

Speaking about Cristallo's ride, Spooner noted, "He has a lot of experience. He is the oldest horse in the field and he probably has twice as much experience as a lot of the horses out there. He has so much blood that he basically just runs away with me the whole time. The whole time I'm out there, I am begging and pleading for him to slow down, whereas everybody else is having to push and pull, and push and pull. I like to get pulled rather than pushing. I am really fond of the fact that he just kind of gets going and then I ride the wave."

"I do not worry about the faults; it is just holding him that is the problem," Spooner added. "I was working pretty hard out there. I was quite exhausted actually when I came out because he is very, very strong. Every year I think he is going to get a little softer, but that has not happened yet."

At 17 years of age, Cristallo stays in a strict fitness program to remain in shape and burn off some of that excess energy, which also helps with his stamina on the demanding derby course. "He works probably harder now than he did when he was younger," Spooner detailed. "I think it was Jack LaLanne that said, 'As I get twice as old, I have to work twice as hard to stay half as fit.' Cristallo works really heard. He lunges in the morning. He probably lunged for 45 minutes this morning, and he worked hard yesterday and the day before. He is just constantly working and it seems to suit him. He likes it. If I do not work him, he is totally out of his mind."

Commenting on another exciting win, Spooner stated, "I have always enjoyed derbies around the world. The derby is fun because it is exciting and I like feeling the palpable energy that you get from the audience."

Returning as the defending champion, Quentin Judge really wanted a repeat victory, but finished second after rails came down jumping into the Devil's Dyke as well as the second to last fence. Judge explained that his initial plan with trainer McLain Ward was to go clear, but after the first rail came down, he made an error.

"I had a huge mistake," Judge explained. "Last year we jumped off with eight faults and I did not realize that the eight-faulters would jump-off. I thought I would be the fastest with eight faults like a normal class. So last year McLain and I spoke, and he said that if I had one down to go inside to the second to last jump and if I was clear, go around. That was a bit in the back of my head. When I had one down, I thought that I should be faster than Richard to be a fast four-faulter. I thought that just for two seconds, and then I was already turning inside, and then I had the jump down. That was not at all the plan, but that is what happened."

Although it was not what he had planned, Judge still finished out the day with a $30,000 prize for second place, followed by Ward in third for $20,000 in prize money.

As Ward said, "It was not the move we had planned, but you know that is also part of the sport. Quentin had quite a lot of pressure today, going last and as the returning champion. I thought he did a very good job to stay quite composed. He will be beating himself up about it, and he will not make that mistake again, I guarantee it."

Speaking of his own round with Troya Retiro, Ward remarked, "He has not done any derbies before, but we have the benefit of being able to school at Double H Farm, which has a beautiful derby set up. He handled everything really well. He jumped very well on Thursday and then he went for a cruise around the course yesterday to get a look at everything. I thought we had a good prep and I thought he jumped a spectacular round today. You need something to break your way a little bit to win one of these, and I think he had a little bad luck, but I think this horse will hopefully come back and do the next derby well in July."

With a huge list of accomplishments, a derby win at Spruce Meadows has eluded Ward, but he hopes to get it done one of these years and enjoys competing either way. "It is an exciting class," Ward acknowledged. "It is not a class you want to see every day because it takes a lot out of the horses for sure. It is a real stamina test, but it is a skill set and it is part of our sport. I think it is exciting for the athletes, for the fans, and for the media. It is a cool thing to watch, especially when it is done well."

Course designer Leopoldo Palacios was happy with another great derby and spoke of the importance of the skillset for the riders. "I think we had a very good class. For me, a derby is not to make a clean round. Every derby in history only has a few clean rounds. This derby has three cleans in eight years," Palacios pointed out. "I think that a derby is very important for the sport and I think that today, every rider should do the derby. It makes braver riders and this is the nature and the roots of the sport."

Spooner Goes Two For Two

Prior to his derby win, Spooner raced to victory with Chivas Z in the $40,000 ATCO Structures & Logistics Cup, a 1.45m faults converted speed competition. Out of 58 entries, Spooner and Chivas Z finished with a clear round and the fastest time of 70.323 seconds over the Uliano Vezzani (ITA) set course.

Juan Pablo Gaspar Albanez (MEX) jumped Felipe Gaspar's Puertas So What to the second place time of 70.770 seconds. Rodrigo Lambre (BRA) finished third with Mario Onate's Charielle in 74.702 seconds.

Spooner has been riding Chivas Z, a 16-year-old Zangersheide gelding (Cumano x Lord Gotthard), full-time for two years now. He helped rider Ashlee Bond with the horse before that, so he knows the gelding well.

"I think it is coming together," Spooner said of their partnership. "I do not know how much further we are going to go. I think he is doing the 1.50m really well. I would like to see if I can get him in the 1.60m division a little bit and we will see what happens. I will try to pick a few of those out as the circuit goes on."

Commenting on the day's track, Spooner noted, "It was a tricky course. There was a lot of turning and running. It was a bit tough to get back to the one white jump by the gate because it was right next to the liverpools, but my horse was great there. Classically, that is a bit of a struggle for him, but he was quite good today. Once we got past that I was able to just lay the hammer down and keep going."

"I think it was a good course for him," Spooner added. "Basically, the plan was just to go as fast as I possibly could. We had a little bit of a mistake earlier in the week, but I would say it was rider error. Today, I wanted to go out and be very positive with him and get him really going fast in the beginning, and the plan worked out."

Although Spooner did not qualify for Saturday's grand prix this week, he was happy to have the opportunity for another good competition Sunday morning.

"I was disappointed that I did not qualify for the grand prix obviously, but if I had qualified for the grand prix I would not have done this competition, so ultimately you never know where the chips are going to lay," he remarked.

With his derby payday of $60,000 and a $10,000 top prize in the 1.45m as well as a $1,000 tenth place finish in that competition with Zaprilia M, Spooner raked in a grand total of $71,000 in the International Ring on Sunday. He will continue on to compete in the remainder of the Summer Series, which hosts four more weeks of competition through July 12.

Up next is the 'Continental' Tournament CSI 5*, which begins on Thursday, June 11, and continues through Sunday, June 14. Highlights include the $400,000 CP Grand Prix, the $126,000 Scotiabank Cup, the $85,000 Husky Energy Classic, and the $85,000 Repsol Cup. For a complete tournament schedule and full results, please visit www.sprucemeadows.com.

Final Results: $210,000 CNOOC Nexen Cup 1.50m Derby

1. $60,000 CRISTALLO Holstein / G / 17 Caretino x Cicero RICHARD SPOONER (USA) AGUA DULCE, CA Show Jumping Syndication Intl: 4/162.88
2. $30,000 HH DARK DE LA HART Belgian Sport Horse / S / 12 Kashmir van Schuttershof x Non Stop QUENTIN JUDGE (USA) WELLINGTON, FL Double H Farm: 8/154.03
3. $20,000 TROYA RETIRO Warmblood / G / 10 Rockfeller Z x Play Boy MCLAIN WARD (USA) BREWSTER, NY Juan Pablo Betancourt: 8/162.03
4. $15,000 UTOPIA Dutch Warmblood / M / 14 Ircolando x Notaris JOHN PEREZ (COL) BOGOTA John Perez: 11/174.55
5. $10,000 LENNOX LEWIS 2 Oldenburg / G / 16 Loreatus x Weizenkorn LESLIE HOWARD (USA) DARIEN, CT Peter and Leslie Howard: 12/163.63
6. $5,000 MOONDOGGIE Holstein / G / 10 Lord Continuet x South Pacific LESLIE HOWARD (USA) DARIEN, CT Peter and Leslie Howard: 12/164.70
7. $5,000 FANANKA A Belgian Warmblood / M / 10 Chin Chin x Kannan PABLO BARRIOS (VEN) WELLINGTON, FL Emanuel Andrade: 13/167.06
8. $5,000 CLOUWNI Holstein / G / 12 Colman x La Zarras EMANUEL ANDRADE (VEN) WELLINGTON, FL Emanuel Andrade: 15/174.57
9. $5,000 FIFTY FIFTY 111 Belgian Warmblood / M / 10 Action Breaker x Major de la Cour ANDRES RODRIGUEZ (VEN) WELLINGTON, FL Arao Enterprises LLC: 16/153.68
10. $5,000 WRIOMF Dutch Warmblood / M / 12 Tangelo van de Zwthoen x Julius CHRISTIAN SORENSEN (CAN) CALEDON, ON Christian Sorensen: 16/157.09
11. $5,000 TALOUBET Dutch Warmblood / G / 15 Baloubet de Rouet x Quidam de Revel PAULO SANTANA (ESA) WELLINGTON, FL Paulo Sergio Mateo Santana, Filho: 16/162.22
12. $5,000 DOREMI Belgian Warmblood / S / 12 Quidam de Revel x Cento BEN ASSELIN (CAN) CALGARY, AB Linda Southern-Heathcott: 16/164.27

Final Results: $40,000 ATCO Structures & Logistics Cup 1.45m
1. CHIVAS Z Zangersheide / G / 16 Cumano x Lord Gotthard RICHARD SPOONER (USA) AGUA DULCE, CA Richard Spooner: 70.323
2. PUERTAS SO WHAT Dutch Warmblood / G / 11 Quattro x Iroko JUAN PABLO GASPAR ALBANEZ (MEX) ZAPOPAN, JALISCO Felipe Gaspar: 70.770
3. CHARIELLE Oldenburg / M / 9 Chacco Blue x Argentinus RODRIGO LAMBRE (BRA) MONTERREY Mario Onate: 74.702
4. COSMA 20 Hanoverian / M / 12 Couleur Rubin x Stakkato ABIGAIL MCARDLE (USA) WELLINGTON, FL David McArdle: 75.152
5. CHA CHA CHA 7 Oldenburg / M / 10 Chacco Blue x Quick Star KENT FARRINGTON (USA) WELLINGTON, FL Haity McNerney LLC & Amalaya Investments: 75.194
6. H&M HARLEY VD BISSCHOP Belgian Warmblood / G / 8 Dulf Van Den Bisschop x Coronado NICOLA PHILIPPAERTS (BEL) GRUITRODE Ludo Philippaerts: 75.842
7. STAN Hanoverian / G / 9 Stakkato x Sacramento Son JUAN MANUEL LUZARDO (URU) LA MOJONERA, ZAPOPAN Mauricio Guerra Colorado: 75.847
8. AZIBANTOS Warmblood / G / 10 Unknown x Unknown MCLAIN WARD (USA) BREWSTER, NY Group C LLC: 76.197
9. ZARA LEANDRA Dutch Warmblood / M / 11 Metropole x Ahorn PABLO BARRIOS (VEN) WELLINGTON, FL ZL Group Inc: 76.889
10. ZAPRILIA M Dutch Warmblood / S / 11 Chin Chin x Silvio I RICHARD SPOONER (USA) AGUA DULCE, CA Maxine & Robert Jack: 77.330
11. QUITE NICE 5 Warmblood / M / 9 Quality x Landor S GONZALO AZCARRAGA RIVERA TORRES (MEX) MEXICO CITY Jaime Azcarraga: 78.309
12. MELBOURNE Dutch Warmblood / M / 9 Verdi x Zeus RODRIGO LAMBRE (BRA) MONTERREY Mario Onate: 78.492

Source: Press release from Spruce Meadows Media Service.