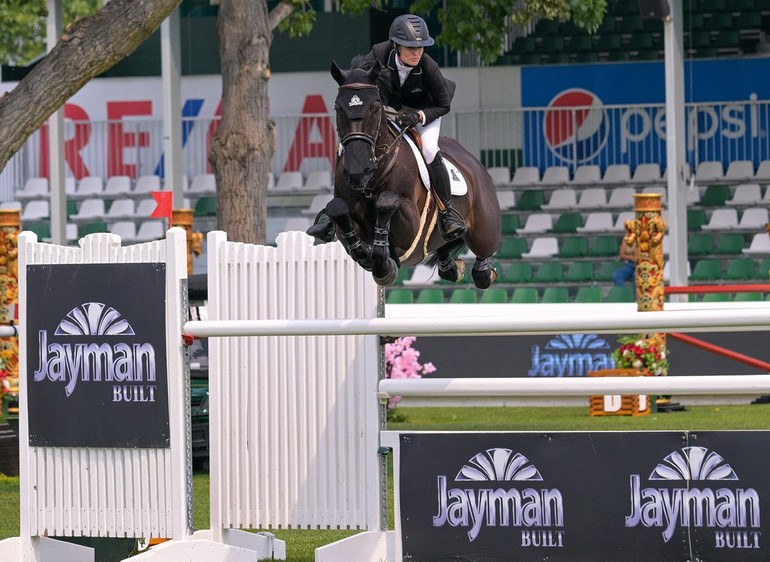 Tiffany Foster and Battlecry, winners of the CSI5* 1.55m Jayman BUILT Cup at Spruce Meadows 'North American' 2023. Photo © © Spruce Meadows Media/Mike Sturk.
Edited press release from Spruce Meadows
---
The CSI5* 1.55m Jayman BUILT Cup was the final qualifier for Saturday's $1,000,000 ATCO Queen Elizabeth II Cup at the Spruce Meadows 'North American' 2023, presented by Rolex. The demanding track designed by Santiago Varela (ESP) counted 13 obstacles and 16 jumping efforts, including a triple and double combination.
Eleven athletes cleared the first round and qualified for the jump-off. Daniel Coyle (IRL) was first into the jump-off, and aboard his first-mount Quintin (Quaprice Bois Margot x Wella I) posted a remarkably fast clear round in a time of 41.23s. Competitors watching the round thought it was unbeatable, but Tiffany Foster (CAN) riding the 9-year old Battlecry (Vigo d'Arsouilles x Latana) stuck to her plan and soared over the final fence in the jump-off with a time of 40.67s – taking the win and leaving Coyle to second with Quitin and third with Ivory TCS (Falaise de Muze x Ukato). Rupert Carl Winkelmann (GER) and Calvados Son (breeding unknown) finished fourth, followed by Hannah Selleck (USA) and Cloud 39 (Clarimo x Quintero) in fifth.
"I brought him (Battlecry) here as an eight year old last year, and it was so lovely; in the Summer Series we were allowed to get up into this main (International) ring and I could feel that he liked it then. And he just loves the International Ring at Spruce Meadows – and it's a good ring to like," Foster said about her winning horse Battlecry.