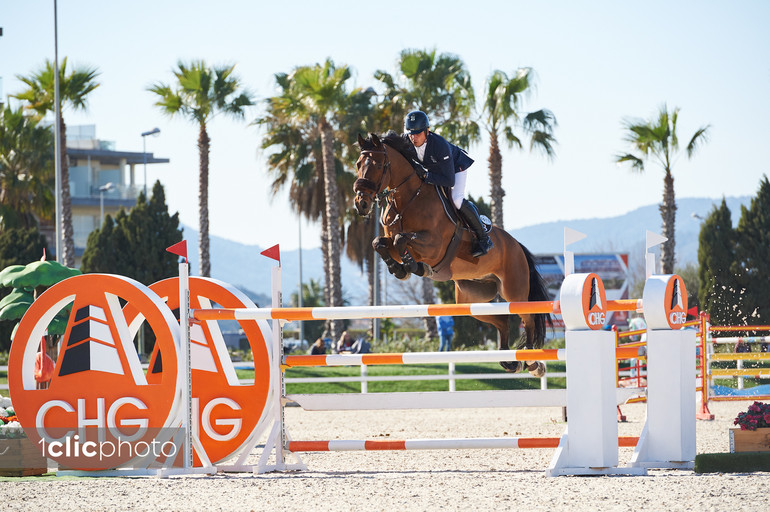 Julien Epaillard and Edesa's Kzoom van de Wittemoere won Sunday's CSI2* Grand Prix presented by CHG at the Spring MET II 2020. Photo © Hervé Bonnaud / www.1clicphoto.com.
Press release from the Mediterranean Equestrian Tour
---
Julien Epaillard has made sure that the La Marseillaise has been played on repeat at the Mediterranean Equestrian Tour since it kicked off in January, and Sunday's CSI2* Grand Prix presented by CHG was no exception. Epaillard has embarked 2020 on a winning streak, and today the French rider took his fifth Grand Prix victory in less than two months.
The Spring MET II has been successful for Epaillard, who today recorded his fourth world ranking win in two weeks. In Sunday's Grand Prix, Epaillard and the 10-year-old gelding Edesa's Kzoom van de Wittemoere (Carabas V/D Wateringhoeve x Upsilonvd Heffinck Z) were up against a big field of competitors – over 70 horse-and-rider combinations in total. With 25 of them managing to answer all the questions asked of course designer Gregory Bodo, the crowds were in for yet another Sunday afternoon treat in Oliva Nova.
Fresh from his victory in Saturday's world ranking class, Epaillard left his competitors no chance in today's 1.45m Grand Prix – beating his compatriot Harold Boisset on Verone de La Rouqe (Kannan x Quick Star) with over two seconds. Third place went to Belgium's Jerome Guery on BCO Milton Z (Mylord Carthago*HN x Sandro Boy) – 2.62 seconds behind the winning time. The French domination continued with Maelle Martin in fourth, while fifth went to Ireland's Clem McMahon.
"Edesa's Kzoom van de Wittemoere is a new horse in my stable, he actually came directly here to Oliva Nova," Epaillard explained. "He has already been successful and winning at CSI3* level, but his owner thinks he is a horse for the 5* as well – that is why he came to me. The Spring MET has been a great way for me to get to know him better," Epaillard commented.
The French rider has had an extremely successful beginning to the year, and is now ranked 12th on the world ranking – his personal best ever. "I have really good horses in my stable, a great team and great owners behind me. We try to make the best plan for each horse, and try not to make mistakes. It has been going really well for now," he said.
After being nearly unbeatable during Spring MET 2020, it maybe counts as good news to some that Epaillard is now heading to other destinations. "Next up in my plans is The Dutch Masters in Den Bosch, and then I will do the Global Champions Tour in Miami and Mexico," the French rider revealed.
In Saturday's Silver Tour Grand Prix, Italy's Francesco Turturiello and Mona Lisa Van Dorperheide (Zilverstar T x Cascavelle) went off with the victory. The pair beat Belgium's Koen Vereecke and Call Me de Muze Z (Clarissimo Z x Ramiro Z) by nearly a second. In third place followed France's Megane Moissonnier on Die Hard of Roses Z (Diamant de Semilly x Cristo).
The Spring MET II 2020 will enter its last week of competition on Tuesday, with the highlights being Wednesday's young horse finals for 5-, 6- and 7-year-old horses as well as Sunday's CSI3* 1.50m Grand Prix.