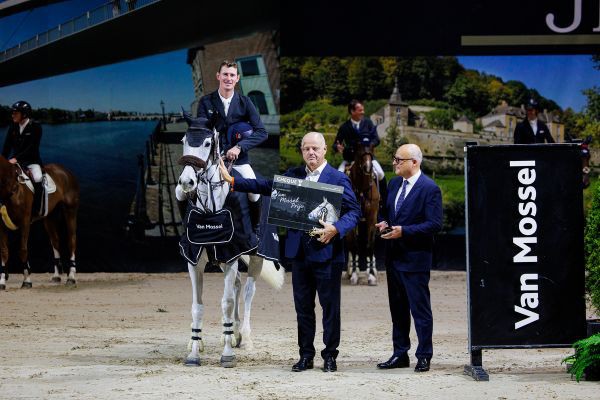 Jos Verlooy and Killossery Konfusion won the CSI4* 1.50m Van Mossel Prize in Maastricht. Photo © Digishots.
Text © World of Showjumping
---
Belgium's Jos Verlooy and FTS Killossery Konfusion (SIEC Livello x Cruising, bred by F. & L. Glynn) won Saturday's feature class at the 2023-edition of Jumping Indoor Maastricht – the CSI4* 1.50m Van Mossel Prize.
With a time of 30.49 in a jump-off between eight horse-and-rider-combinations, Verlooy took the win ahead of the hosts' Marc Houtzager (NED) and Sterrehof's Dante N.O.P. (Canturano x Phin Phin, bred by J.W.J. Soeter) in second in 30.79.
"First of all, it was a tough class today," Verlooy commented to World of Showjumping after his victory. "There were not many clears, all the fences came quick. At the end there were eight clears, but I have a fast horse and I knew that if I do my own round, I could be close to winning. Marc got a very good round as well, so I knew a bit what to do and I am happy it paid off."
The host nation came strong in force in the Van Mossel Prize: Willem Greve (NED) and Pretty Woman van'T Paradijs (Vigo d'Arsouilles x Bamako de Muze, bred by Johan Rooms-Vandenbranden) completed the podium in third, while Harrie Smolders (NED) and Monaco N.O.P. (Cassini II x Contender, bred by Ralf Lütje) finished fourth and Leopold van Asten (NED) aboard VDL Groep Nino du Roton (Iron Man van de Padenborre x Codex, bred by Martine Rolin) fifth.