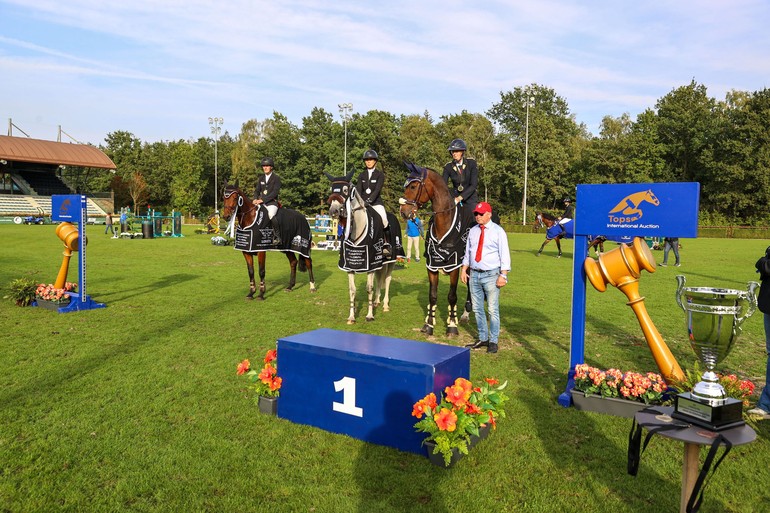 The Westphalian Studbook won the final for the 8-year-old horses at the inagural WBFSH Studbooks Jumping Global Champions Trophy. Photo © Longines Tops International Arena.
Edited press release from Longines Tops International Arena
---
On the penultimate day of the WBFSH Studbooks Jumping Global Champions Trophy, the first final took place and it was the Westphalian Studbook that secured gold in the 8-year-old category. In the final, each studbook put forward three combinations, each team starting on a clean sheet with no drop score – the winning studbook being the team with the least combined faults in the fastest combined time.
The Westphalian Studbook was crowned champion after finishing on a team total of eight faults in 226.04 seconds, just a second faster than Zangersheide in second and the Danish Warmblood in third. The Westphalian Studbook's team consisted of Marie Ligges (GER) and Ballerina 328 (Balous Diamond x Cachas, bred by Ludger Gripshöver and owned by Anke Nettebrock and Kai Ligges), Lara Weber (GER) and Project One (Pilothago x Lamoureux II, bred by Paul Beutelmann and owned by Lara Weber) and Hendrik Dowe (GER) aboard Lajacuma (Lycon x Rockwell, bred by Hannelore Reibke and owned Ursula Rosendahl).
Selle Francais will be the last team to go in Sunday's final for the 7-year-old horses after dominating the two qualifiers. On Saturday, the French team had three clear rounds from Emeric George (FRA) and Gengis Kann de Londe (Kannan x Diamant de Semilly, bred and owned by Mathias Spilmann and Pierre Spilmann), Robin Lesqueren (FRA) and Giorgio d'Ellipse (Prestigio Ls*la Silla x Kannan, bred and owned by S.N.C. Ellipse) and Sara Brionne aboard Grand Duc du Paradiso (Vagabond de la Pomme x Toulon, bred by Jean Marie Lefevre and owned by Alain Leclercq and E.A.R.L. Quibel Stables).
The second qualifier for the 6-year-olds saw Zangersheide on top as Thomas Mertens (BEL) and Cosimo de Leau Z (Cicero Z van Paemel x Mr. Blue, bred by K.I. Hof Ter Leeuwe and owned by Philippe Bormans) took the individual victory. Representing AES, Leo Lamb (GBR) and Chrysler Key SR (Comme Il Faut x Calido I, bred by Keystud and owned by Carron Nicol) followed in second, while Dieter Smitz (GER) and Diabolo 588 (Don Diarado x Grey Top, bred and owned by Eduard Voss) took third for the Hannoveraner Verband.