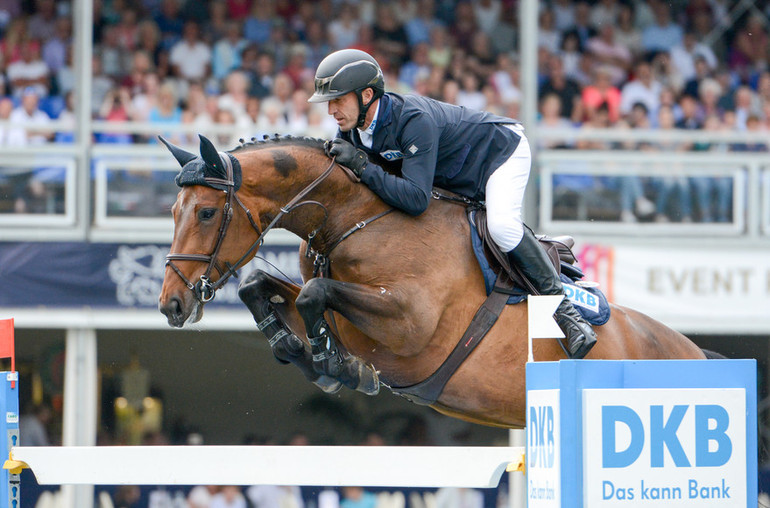 Holger Wulschner and Catch Me T won the CSI4* DKB-Riders Tour Grand Prix of Wiesbaden. Photo (c) Carolin Wortmann / CJW Photography.
Holger Wulschner and the 9-year-old mare Catch Me T (Contiago x Werther) made it a home win in the CSI4* Grand Prix of Wiesbaden, one of the legs of the 2017 DKB-Riders Tour. It was a 1.60m class with winning round and all the clears from the first round as well as one rider with a time penalty and one rider on four faults qualified for the second round.

Tim Rieskamp-Goedeking (GER) started off the winning round after being the fastest four-faulter in round one, riding Quapitola de Beaufour (Diamant de Semilly x Kannan). Also this time around Rieskamp-Goedeking had to see a pole fall.

Eva Bitter (GER) with Conte-Bellini (Cornet Obolensky x Ramiro) was next out after a time fault in the first round. Bitter rode a safe clear round with the very well jumping Conte-Bellini – ending the winning round in 53,60 seconds. Cian O'Connor (IRL) with Good Luck (Canturo x Furioso II) started off quite slow, but put up the pace along the way and went all in on the last fences. O'Connor's efforts put him in the lead with his time of 47,02 seconds.

David Will (GER) and Cento du Rouet (Chintan x Balou du Rouet) really wanted to win, but the risk the German rider took were expensive as he had two fences down. Next out was Markus Beerbaum (GER) with Meredith Michaels-Beerbaum's previous ride Comanche 28 (Coupe de Coeur x Baloubet du Rouet). It all looked promising for Beerbaum, but after getting to close to an oxer half-way in the track he had to add four faults to the result.

Philip Rüping (GER) and Messenger (Montender x Baloubet du Rouet) had a great flow throughout the course and took over the lead with 46,36 seconds. Rüping didn't get to keep it for long though as Holger Wulschner with Catch Me T (Contiago x Werther) was next to go. Wulschner made every turn a bit shorter and went all in to the last fence, stopping the clock at 45,39 seconds which would prove to be the winning time.

Lillie Keenan and her wonderful Super Sox (Salito x Silvio I), winners of Saturday's feature class in Wiesbaden, flew over the fences and took over the third place from her trainer O'Connor with 46,74 seconds. As the last rider in the ring Patrick Stühlmeyer with Lacan 2 (Lando x Contender) gave his best, but couldn't do anything about the leading times and had to settle for 5th place.
---
Text © World of Showjumping // Picture © Carolin Wortmann / CJW Photography