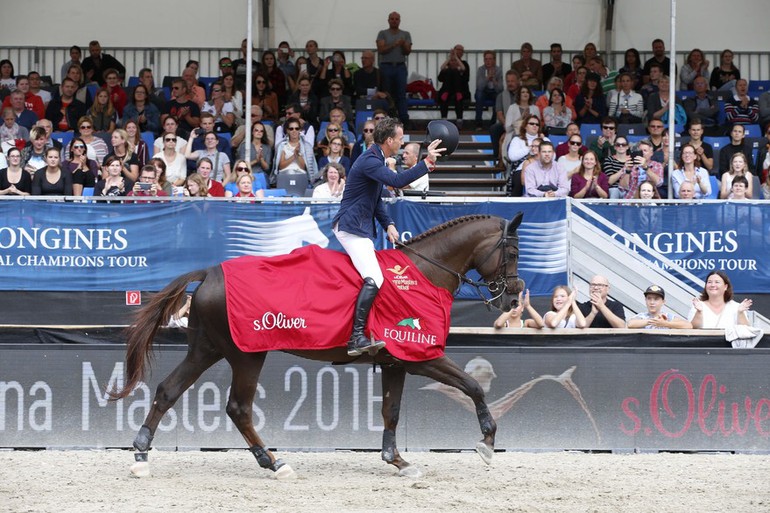 Harrie Smolders and Don VHP Z won the s.Oliver Vienna Masters 2016 - presented by s.Oliver. Photo (c) Stefano Grasso/LGCT.
Harrie Smolders (NED) and the impressive 12-year-old stallion Don VHP Z (Diamant de Semilly x Voltaire) added another serious class victory to their season tally, winning the fast paced CSI5* S.Oliver Vienna Masters in style on the final day of competition in Austria. Fresh from their Longines Global Champions Tour Grand Prix of Rome win last weekend, the combination wiped all opposition aside finishing the second round in 33.71 which was almost a second ahead of the rest of the field.
The 1.55m two round class saw 29 contenders take on the tough Frank Rothenberger course, with many top riders picking up faults all over the track. Legends Ludger Beerbaum (GER) and John Whitaker (GBR) were unable to progress through to the second round, and as the action unfolded it became clear the speed round would be a case of fast pace and scopey accuracy.
A total of eight riders jumped clear, with Daniel Deusser (GER), Bertram Allen (IRL), Andreas Kreuzer (GER), Emanuele Gaudiano (ITA), Danielle Goldstein (ISR) and Marc Houtzager (NED) earning their place in the jump-off like round. Quickest of the field was Denis Lynch (IRL) who blasted round clear in 73.89s, earning himself pole position for the next phase to come.
The second round featured longer distances, encouraging riders to allow the horses to open up between fences. Andreas Kreuzer (GER) put up a strong fight on Stalido (Stakkato x Calido), but had to settle with third overall while Rio Olympic contender Emanuele Gaudiano rode Casper (Casper x Padarco) to runner-up position with a time of 34.20 seconds.
Harrie and Don VHP Z ate up the ground with the large striding stallion able to make short work of the long distances. The combination flew around the track, stopping the clock at an impressive 33.71 seconds to the delight of the crowd. Final rider to enter the ring Denis had two fences down, leaving Harrie with the win which he celebrated in emphatic style.
---
Source: Press release from LGCT / Picture © Stefano Grasso/LGCT