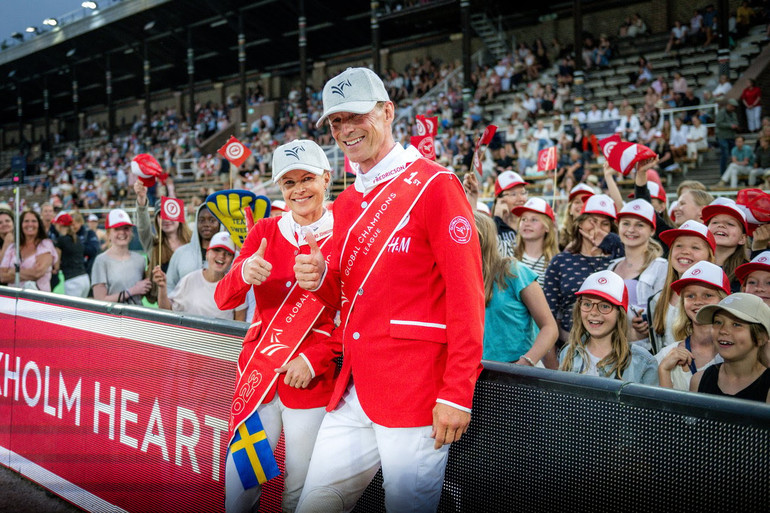 Sweden's Malin Bayard-Johnsson and Peder Fredricson emerged victorious on home soil in front of an electric crowd in Stockholm. Photo © GCL.
Edited press release from Global Champions League
---
Stockholm Hearts powered by H&M We Love Horses triumphed for the second year in a row at GCL Stockholm presented by Fastator, securing back-to-back home victories. Once again, Peder Fredricson and Malin Bayard-Johnsson emerged victorious on home soil with Hansson WL (Hip Hop x Iowa) and H&M Indiana (Kashmir van Schuttershof x Animo's Hallo) in front of an electric crowd.
Held at the iconic Stockholm Olympic Stadium, last to go Stockholm Hearts stood head and shoulders above their competitors as the only clean sheet of the day. Joining them on the podium were the Scandinavian Vikings, with compatriots Henrik von Eckermann on King Edward (Edward x Feo) and Evelina Tovek on Moeboetoe v/d Roshoeve (Der Senaat x Poleander) in second place. Current championship leaders Riesenbeck International powered by Kingsland, extended their lead – picking up valuable ranking points in third place with Philipp Weishaupt aboard Coby 8 (Contagio x Escudo) and the ever-consistent Christian Kukuk on Just Be Gentle (Tyson x Ticallux Verte) on the team.
Speaking on GCTV, an ecstatic hometown hero, Malin Baryard-Johnsson commented on the team's performances in 2023 so far: "We've been struggling a little bit this season, we've been jumping well but we haven't had any podiums. We really needed this, and to do it here on home ground, it's just incredible."
Echoing Malin's sentiments and speaking of his 2023 debut for the team, crowd favourite Peder Fredricson said: "I am really happy to be back, it's been really a great day. The pressure was on and we really wanted to do well – we have all our friends here, our families, owners… It was great to win today."
Riesenbeck International leads the 2023 GCL championship standings after stage 7 with 153 points, followed by Madrid In Motion in second with 134 points and Paris Panthers in third with 128 points.