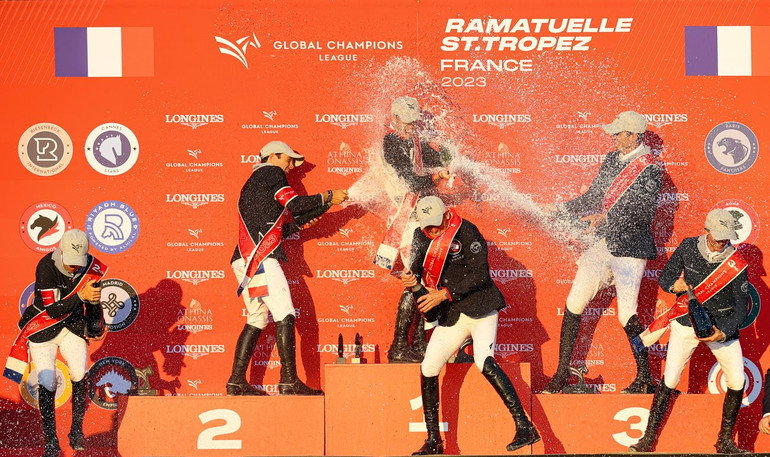 New York Empire's Scott Brash and Spencer Smith won the GCL of St. Tropez. Photo © Global Champions League.
Edited press release from Global Champions League
---
In St. Tropez, the GCL turned it on for the fifth stage of the 2023-season and it was Scott Brash and Spencer Smith of New York Empire powered by Lugano Diamonds who took their first win since 2019.
Strategic changes with horses and riders in between round one and round two resulted in an impressive double clear in the second round for Scott Brash aboard Hello Jefferson (Cooper vd Heffinck x Irco Mena) and Spencer Smith aboard Theodore Manciais (Kashmir van Schuttershof x Power Light), and left them ahead of GCL-championship leads Madrid In Motion's Maikel van der Vleuten and Eduardo Alvarez Aznar – but only separated by the time, as the two Spanish riders also delivered a double clear in the second round with Beauville Z N.O.P. (Bustique x Jumpy des Fontaines) and Bentley de Sury (Sunday de Riverland x Calvaro).
After making his comeback from injury, Ben Maher proved just why he is a crucial member of the Paris Panthers bringing home a clean sheet over the two rounds and securing the Panthers the final spot on the podium with teammate Gregory Wathelet just having a single rail in the first round.
Long-standing New York Empire team member Scott Brash explained: "This is fantastic for the whole team, we are delighted for Georgina [Bloomberg], she's really backed the GCL for many years so it is brilliant to get a win for the New York Empire. It's been a while since our last win. Both rounds were big, and both rounds were tough as we saw with no teams on double clear. "
Team rider and owner Georgina Bloomberg plays a crucial role in the success of New York Empire, Spencer Smith explained: "I think Georgina is the biggest part of our whole team, you know, we are obviously New York Empire for her home town, she's riding on the team, and our last win was with her on the team – she's the one that clutched the win for us there. She's kind of the captain, and just a super person – she adds a lot to it. This is a great win for all of us, we have a top group of guys and girls, and Georgina has really been a great supporter of the team, and rides on it."