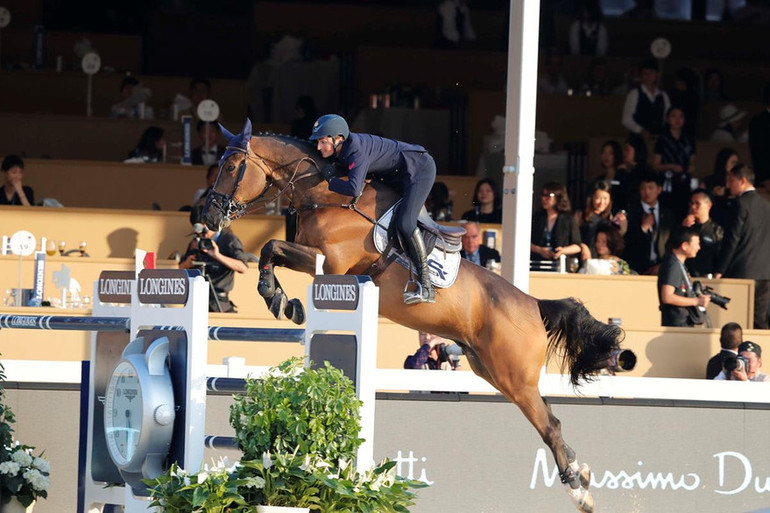 Lorenzo de Luca and Ensor de Litrange LXII won the LGCT of Shanghai. Photo (c) LGCT / Stefano Grasso.
Lorenzo de Luca (ITA) rocketed to the top of the LGCT rankings, after a Grand Prix win at the Shanghai Longines Global Champions Tour today – his debut victory on the Tour.
The Italian star has collected a tally of 100 points overall, knocking Martin Fuchs (SUI) from the lead and revving up the 2017-title fight. Maikel van der Vleuten (NED) has shot up to second, with another podium contributing to his score of 89 points. Scott Brash's (GBR) solid consistency throughout the first three legs of the season was rewarded with a jump up to third place, where he sits on 75 points.
Dynamic Shanghai was again a spectacular stage for showjumping for the fourth year running, growing in popularity with the Chinese audience and developing into a glamorous highlight on the city social calendar.
Course designer Uliano Vezzani put together a true test for the world's best with 25 riders qualified and ready to take on the Grand Prix. The time allowed was tight, with many riders coming in too deep to fences as they picked up a galloping pace, resulting in poles falling all over the field. Favourites such as Bertram Allen (IRL), Marcus Ehning (GER), Ludger Beerbaum (GER), and John Whitaker (GBR) all had fences down, and it looked to be a strong challenge for the whole field.
First to go clear was Lorenzo de Luca (ITA) with the mighty Ensor de Litrange LXII (Nabab de Reve x Mr Blue) who kept the crowd on the edge of their seats as they flew around the arena in a precision perfect round. Gregory Wathelet (BEL) and 11-year-old mare Coree (Cornet Obolensky x Liberty Life) joined him after a stunning clear, meaning there would be a jump-off, with spectators keen to see who would join them.
Italian hopes were doubled as Alberto Zorzi (ITA) put in a foot-perfect round with Fair Light van't Heike (Vigo d'Arsouilles x Darco), and Dutch star Maikel van der Vleuten (NED) also joined the jump-off after his top stallion VDL Groep Verdi TN N.O.P. (Quidam de Revel x Landgraf I) breezed through to the final part of the competition.
First to go in the jump-off was Maikel van der Vleuten. Setting off at a gallop, the Dutchman rode a beautiful clear stopping the clock at 39.36s and throwing down the gauntlet to the rest of the riders to come. Lorenzo de Luca and Ensor de Litrange LXII were next to go, with Lorenzo setting off at a pace with the big striding gelding eating up the ground. Shaving corners and cutting back beautifully to the fences, the pair rocketed to the lead with a time of 38.05s.
Gregory Wathelet and Coree came a little too deep to the Longines double, with the grey mare hanging in the air on the way out of the oxer and dropping a front leg to finish on four faults. But it was last to go, Alberto Zorzi who had all the pressure and the crowd watched to see who would be crowned the victor. The pair set off like a machine, but had the first part of the Longines double down, putting them in third position and meaning compatriot Lorenzo de Luca would take his debut Longines Global Champions Tour Grand Prix win.
"It is my first year on the Global and I have a super group of horses at the moment. They are doing very good. I am really happy to do the Global Champions Tour and Global Champions League, they are fantastic shows. My horse is 13 years old and is fantastic, so [scopey] and so careful and really wants to win when he goes in the ring," Lorenzo de Luca said afterwards.
Maikel van der Vleuten was not too disappointed by ending second. "I have already been a long time together with Verdi for almost 11 years and we have a good time. There are so many good riders it is a strong field here and if you can be second it is great. Congratulations to Alberto and to Lorenzo, he deserved to win."
---
Source: Press release from the LGCT // Picture © Stefano Grasso/LGCT