The 2017 Longines Global Champions Tour season kicked off with a phenomenal victory in Mexico City for the young Swiss star, Martin Fuchs, and his formidable 10-year-old stallion Chaplin (Verdi x Concorde) – for whom this was his first CSI5* outdoor Grand Prix.
A delighted Martin hailed his Grand Prix victory as "amazing" and said: "My horse Chaplin gave his heart for me and I'm very happy."
The 25-year-old rider demonstrated nerves of steel as he powered to a stunning win - his first Longines Global Champions Tour Grand Prix triumph - in Mexico City giving him a great advantage at the top of the new ranking for 2017. It was a successful weekend for the young star, with the rider collecting over €175,000 through the Longines Global Champions Tour and Global Champions League competitions.
He revealed he had talked tactics with his GCL Chantilly Pegasus team mate Nicola Phillippaerts before the jump-off and his friend Max Kühner. Fuchs said: "Niels (Bruynseels) is one of the fastest in the world with Gancia, but my horse is also super fast and I took all the risks."
In the jump-off Fuchs was quick to the double combination and slightly ahead of Niels Bruynseels at the penultimate fence before he flew to the last obstacle to secure a superb win in 37.07s.
Passionate fans lined the vast grass arena cheering wildly as the world's top riders went into battle in Mexico City. The event receives strong support from the Mexico Government and is an important demonstration of the City's ability to stage high level sports events. The show was even more popular in its second year attracting a big crowd, thrilled to watch top-level equestrian sport. Mexican dancers added a colourful national flourish to the vibrant event with great entertainment and corporate hospitality.
The 125m x 75m arena was a grand stage for the Longines Global Champions Tour Grand Prix of Mexico City and the high energy shorter format was popular with fans. Niels Bruynseels (BEL) came close to the biggest win of his career as he finished second just half a second behind Martin with Gancia de Muze (Malito de Reve x Nimmerdor). Fourth to go in the jump-off the talented Belgian rider, who had been knocking on the door of victory all week, meant business from the start, taking an astounding two seconds off the previous quickest time which had been posted by four-faulter Bertram Allen (IRL) and Hector van D'Abdijhoeve (Cabrio van de Heffinck x Utrillo van de Heffinck), eventual fifth.
Maikel van der Vleuten (NED) and VDL Groep Arera C (Indoctro x Voltaire) claimed third, just ahead of Lorenzo de Luca (ITA), who opted for a slow and steady clear with Armitages Boy (Armitage x Feo). Six of the 25 starters progressed to the jump-off in what was a nail-biting climax to an exhilarating afternoon of showjumping.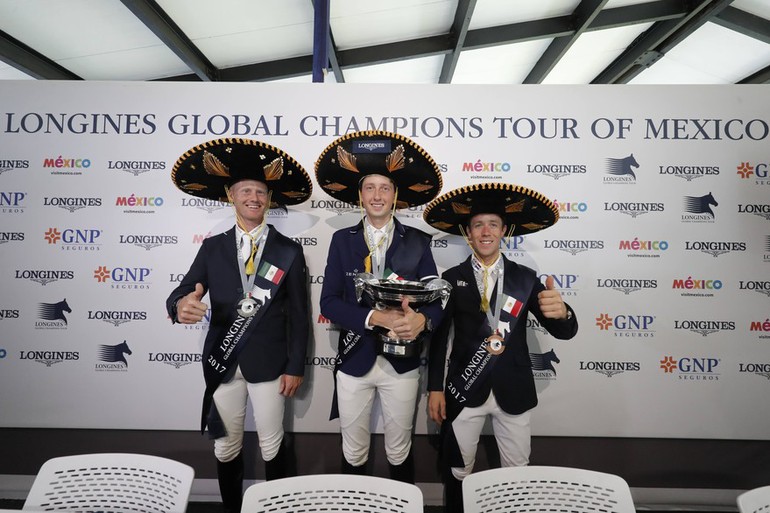 The top three in Mexico: Martin Fuchs, Niels Bruynseels and Maikel van der Vleuten. Photo (c) Stefano Grasso/LGCT.
"It's my first time here in Mexico and I really enjoyed my time already before today when I didn't win anything," said Fuchs. "It's a great show, great people. The emotions were so high, people cheering, it felt like we were in a really nice atmosphere. I'm delighted. My horse Chaplin jumped very well. Every round he got better. I knew I could win if I ride fast and showed him the way to go."
"I was quite sure that I was a bit ahead of Niels and then when I looked up at the time and I was half a second faster it was an amazing feeling - it's hard to describe," Fuchs continued. "Nicola Philippaerts and Max Kühner were helping me making the plan for the jump-off. I started off with the same amount of strides as Niels and then I took a real risk at oxer number three, went fast at the combination and then the next vertical which was a tight turn it was everything or nothing. I took all the risks there and then I knew to the last jump I could save a little bit and don't take the craziest risk."
"My horse is very fast and super careful. He has a big heart and he gave it all to me today. He never did a 5* Grand Prix till now. He did it in the indoor but to come out here and do his first outdoor 5* Grand Prix with two clear rounds he really showed that he is one of the best horses," the winner concluded.
Niels Bruynseels was not too dissapointed about being second. "I'm very happy with this result. It's the best horses and best riders in the world. What an amazing show here, everything is perfect organised. I have an amazing horse that jumped every round that gave the last of herself every round. I knew they could go faster but in the position I rode in the jump-off today I didn't want to take the last risk, I wanted to stay clear. Congratulations to Martin but I am very happy with my second place."
"I can be very proud of this third place," said Maikel van der Vleuten. "My mare showed again a great performance. She has maybe not the best technique that we all like to see but I ride her already since she was six years old and she always gives everything to make a clear round."
Jan Tops, Founder and President of the Longines Global Champions Tour, also commented: "Everyone thought at the beginning of the week it [the course] was a bit difficult. At the beginning of the week the riders were surprised about how spooky it was but you saw today, which is the quality of the course builder and the footing, every horse was jumping better and better. Even though the good riders had one down and were not even qualified for the Grand Prix so you could see how high the level was and how good the horses were jumping. That's very important for me."
"He's [Martin] always been a great rider. At the end of the day he had to win, he had to beat the best in the world and he did it today. He has always been a great competitor. It's nice to see our young riders like Martin and Bertram going and winning these big events."
---
Source: Press release from LGCT // Pictures © Stefano Grasso/LGCT