Edited press release from GCL
---
Team Riesenbeck International powered by Kingsland Equestrian emerged victorious in Riyadh, snatching the 2023 GCL Championship from the Paris Panthers.

In Riyadh, Philipp Weishaupt aboard Zineday (Zinedine x Polydor) and Eoin McMahon with Mila (Monte Bellini x Linton) stole the show, shouldering the responsibility for their team by delivering an impressive performance under immense pressure. Guided by team owner and manager Ludger Beerbaum, the team led from the very first event of the year in Doha, and finally secured the top spot on the podium and earned the coveted title for a second year running in Riyadh.

His Highness Prince Abdullah Bin Fahad Bin Abdullah, President of the Saudi Arabian Equestrian Federation, and Jan Tops, Founder and president of the GCL, presented awards to the grooms of the winning team, Lisa Fundis and Heather Field.

"The team from Riesenbeck, Ludger as team manager, and all the riders around him, they really deserved to win," Jan Tops said.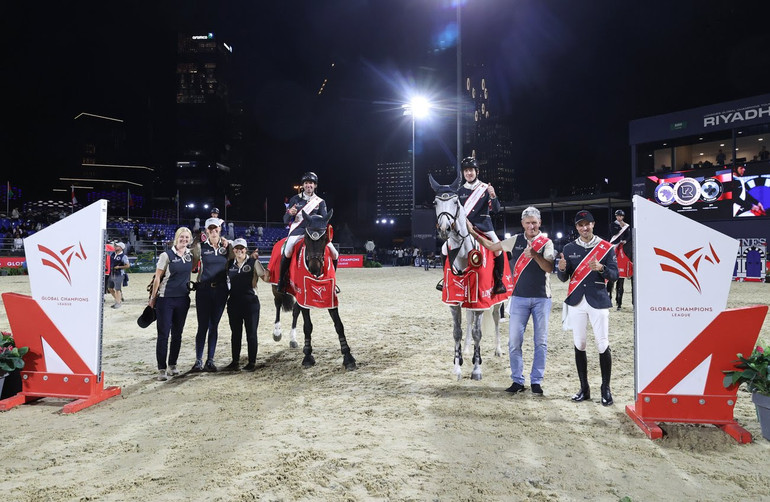 Team Riesenbeck International: Sofie Karlsson, Lisa Fundis and Heather Field, Philipp Weishaupt, Eoin McMahon, Ludger Beerbaum and Christian Kukuk. Photo © GCL.
Speaking after the win, a self-proclaimed 'happy but tired' Weishaupt spoke of the teams' immense relief to have secured the title. "When the pressure falls off, you feel drained, all our energy was on the round, and full of concentration for the day, or the whole year more or less," he said. "It is finally over and we couldn't be more happy with how it worked out and how the whole day went today."

Sitting alongside his team and colleagues, team manager and owner, Ludger Beerbaum, aptly told the Riesenbeck International powered by Kingsland Equestrian's championship storyline. "It is six wins, with leading the overall from the first competition to the last, most of the time with a comfortable margin with 20 to 30 points, it got tight at the end and Paris Panthers made it really exciting, but we've never had a team dominating the season more than we did this year," Beerbaum said. He then took a moment to turn to Weishaupt, Kukuk and McMahon, in a mark of respect to express his true gratitude: "I am extremely, extremely proud of the guys here, I want to underline this - thank you guys, the class and the way of the performance throughout the whole season - it's just outstanding. Thank you very much."

Rounding off the championship podium for the 2023-season was Madrid In Motion. The top four teams in the GCL 2023 standings - Riesenbeck International, Paris Panthers, Madrid In Motion and Stockholm Hearts - earned direct entry to the Semi-Finals of the GCL Super Cup at the GC Prague Playoffs.