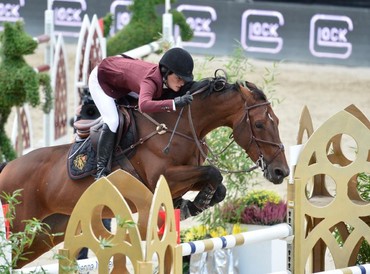 Jessica Springsteen en route to victory in Vienna on Davendy S. Photo (c) © Stefano Secchi.
The Gaston Glock's Grand Prix Vienna Masters 2015 was won by USA's Jessica Springsteen on Davendy S (Kashmir van Schuttershof x Pachat II). Thirty-nine riders had lined up to compete in the concluding 1.55 class at the LGCT event, that saw ten riders proceed on to round two.
It was home hero Thomas Frühmann that set the target time on the now 19-year-old The Sixth Sense (Zorro T x Grannus-Granit), and his efforts stopped the clock on 36,21 to standing ovation from the crowds.
A much younger competitor stole the show though, as 23-year-old Jessica Springsteen put a stop to the hopes of a home win. An incredible fast round with the tightest of turns on Davendy S brought the time down to 35,19 seconds, and that was the winning round of the Gaston Glock's Grand Prix Vienna Masters 2015.
"I am so happy to be here. My horse jumped outstanding, and this show in Vienna is one of the most beautiful in the world. To win was something special," said Springsteen after her victory.
Third place went to Turkey's Omer Karavelli on Dadjak Ter Puttenen (Toulon x Vanitas), who had the final clear in round two.
Source: Press release from EQWO.net / DFG Event GmbH