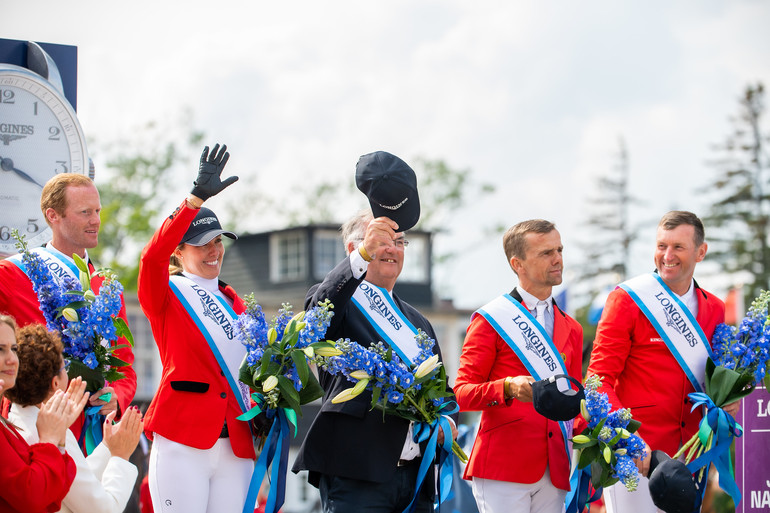 Team Belgium won the Longines FEI Jumping Nations Cup in Sopot, Poland: Niels Bruynseels, Gudrun Patteet, Chef d'Equipe Peter Weinberg, Wilm Vermeir and Koen Vereecke. Photo © FEI / Lukasz Kowalski.
Edited press release from FEI by Louise Parkes
---
Peter Weinberg was showered with champagne when Team Belgium came out on top in the gripping second leg of the Longines FEI Jumping Nations Cup™ Europe Division 1 2023 series in Sopot, Poland today.
Weinberg, the Chef d'Equipe who led his country to victory at last year's series Final in Barcelona (ESP), where they also picked up a qualifying spot for the Paris 2024 Olympic Games, said his whole team handled the pressure really well on an afternoon when it was impossible to predict the outcome until the very end.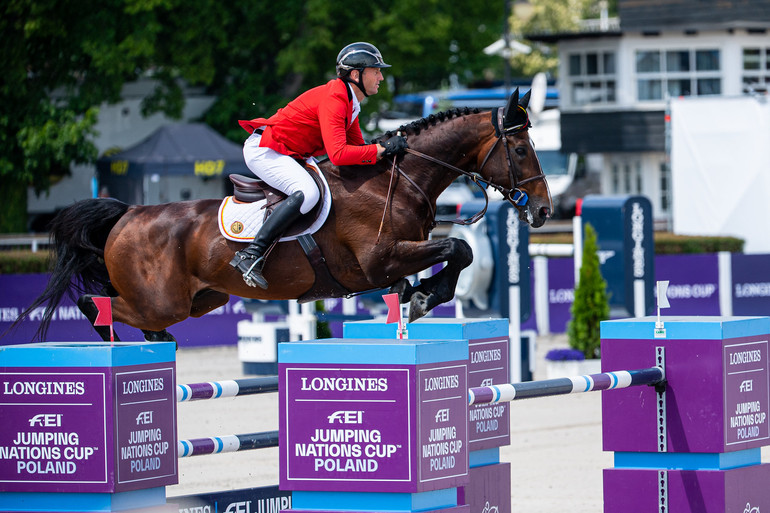 Koen Vereecke and Lector vd Bisschop were double clear, to help the Belgian team to the win. Photo © FEI / Lukasz Kowalski.
"The most nervous of all today was me - they kept their nerve and produced one brilliant round after another and that's how we won!" Weinberg said after double-clears from both pathfinder Koen Vereecke partnering Lector vd Bisschop (Bamako de Muze x For Pleasure) and third-line rider Gudrun Patteet with Sea Coast Enjoy Z (Emerald x Parco) were supported by Niels Bruynseels and Matador (Emerald x Laredo) and anchorman Wilm Vermeir riding Crescendo MB Z (Clinton x Jodokus) for a final scoreline of eight faults.
However, it was a narrow victory, with the first-round leaders from Argentina finishing a close second with nine faults ahead of Germany and Switzerland in third and fourth when posting 12 faults apiece and separated only by time.
Sensational
The Argentinians were sensational in round one, heading the leaderboard with a zero scoreline after faultless runs from Matias Albarracin and Full Option van't Zand (Flamingo K x Lord Z), Matias Larocca and BM Gran Fantasia (AS Fe Grande x Rye Grass Shaky) as well as his father José Maria Larocca and Finn Lente (Gaillard de la Pomme x Colandro), so that the five faults picked up by Mariano Ossa and Elton van het Exelhof Z (Elvis ter Putte x Cassicor) was their drop-score. It was a really big day out for the Larocca-family as they owned all four horses on the Argentinian team.
Belgium, Switzerland and Ireland were lying equal-second with four faults each at the halfway stage while Germany - hoping to record their third successive Sopot win - already had eight on the board. Meanwhile Poland, Italy and Hungary went into round two carrying 13, 16 and 25 faults respectively.
Argentina's advantage began to be compromised however when pathfinder Albarracin missed his distance to the double at fence five second time out, landing in the oxer second element and taking a tumble for elimination. Polish course designer Szymon Tarant had set a track with plenty of twists and turns that required accuracy and control every inch of the way especially through the last line of three fences, while the time-allowed of 77 seconds played its part too.
"When you got to the last line you started thinking about the time, the white gate vertical (fence 10 of 12) was delicate and you had to take care there, and then there was still a triple combination with a plank coming out which is not easy, and I think also there were a few faults on the last fence (oxer). The most difficult part of the triple was coming out over the plank, it was very easy to make a fault there", Belgium's Gudrun Patteet pointed out afterwards.
Compatriot
Her compatriot Vereecke, winner of Friday's Longines Grand Prix with the same horse, Lector vd Bisschop, set Belgium up nicely with his second-round clear but eight from Bruynseels ensured the pressure was still full on, especially when Matias Larocca produced another fabulous and faultless round from the 15-year-old stallion BM Gran Fantasia to bring Argentina back into contention.
Meanwhile although the Irish were slipping behind, the Swiss were still in the frame thanks to a brilliant double-clear from Bryan Balsiger and Chelsea Z (Chellano Alpha Z x Cicero Z). And even when Steve Guerdat made it all the way to the very last fence with Is-Minka (Mylord Carthago x Flyinge Quite Easy) before putting that on the floor they were still in with a chance if Martin Fuchs could stay clear when last to go for his side with Commissar Pezi (Commissario x Böckmann's Lord Pezi).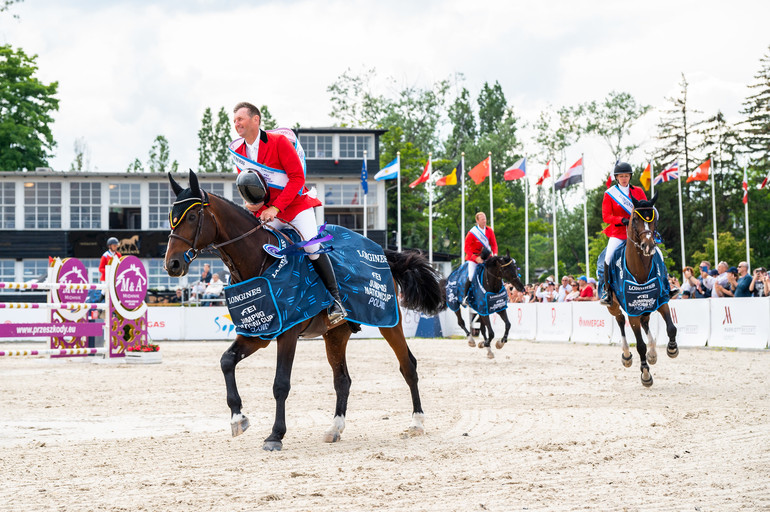 Koen Vereecke and Lector vd Bisschop leading the way for Belgium in the lap of honour in Sopot. Photo © FEI / Lukasz Kowalski.
Patteet's second clear piled all the pressure on Argentina's penultimate partnership and when Ossa's horse lowered both the plank at fence 10 and the first element of the triple combination that followed while also adding a time fault then those nine faults would have to be counted. So now it was up to Switzerland's Fuchs to leave all the poles in place and pile the pressure back onto Belgian shoulders.
And it looked like the 2019 European champion and 2022 Longines FEI Jumping World Cup™ champion was about to do it until he ran out of room at the final element of the triple combination for four faults which ensured the final Swiss tally of 12.
So when anchor Vermeir clipped just one along the way the Belgian victory was already assured. It may not have been Argentina's day in the end, but they had plenty to be proud of, especially when José Larocca brought the competition to a close with a second foot-perfect performance.
Ambitions
Earlier in the day his Chef d'Equipe, Enrique Solari, talked about Argentinian ambitions right now. "There is a chance (of Olympic qualification) with one spot at the Nations Cup Final in Barcelona which we are shooting for of course, and then if not there are three spots at the Pan-American Games in November in Chile. We are very focused on that, it is our goal to get to Paris in 2024!", he explained. Having finished second at their last outing in the EEF series in The Netherlands last month and again today things are looking positive.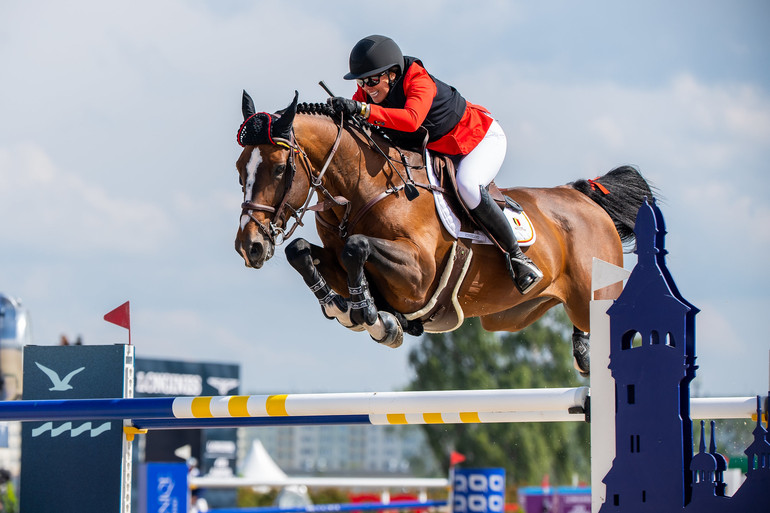 Gudrun Patteet and Sea Coast Enjoy Z were double clear for the Belgian team. Photo © FEI / Lukasz Kowalski.
For today's winners however it was all about the Europe Division 1 series of the Longines FEI Jumping Nations Cup™ 2023. The teams chasing points were Belgium, Germany, Ireland, Italy and Switzerland and the win has moved Belgium into third on the league leaderboard - behind Germany and Switzerland - ahead of round three in Rotterdam, The Netherlands next Friday where they have also opted to compete. The series consists of six legs in total and moves on to Falsterbo (SWE) and Hickstead (GBR) in July, and to Dublin (IRL) for the last qualifier in August.
The Longines FEI Jumping Nations Cup™ Final 2023 will be staged in Barcelona (ESP) from 28 September to 1 October.
Mentally strong
Asked how her team managed to pull off the win today, Belgium's Gudrun Patteet said: "We had four mentally very strong riders so I was quite confident that we would not do worse in the second round and I had a good feeling about it!"
She was delighted with the performance of her lovely nine-year-old stallion Sea Coast Enjoy Z. "He has done one Nations Cup in the second league at Gorla Minore (ITA) where he was also double-clear and this is only his second Nations Cup and the second time he jumped 1.60m. I've always believed in him and now he is confirming my expectations!", she said of the horse she bought as a four-year-old and which she has slowly been building up to the top level.
"My chef really believes in this horse, he says he's a championship horse but of course he's still very young. So we will try to give him more experience so he is important to the Belgian team in the future. He maybe goes to Falsterbo and to Dublin but we have to wait and see what our chef says first….", she added.