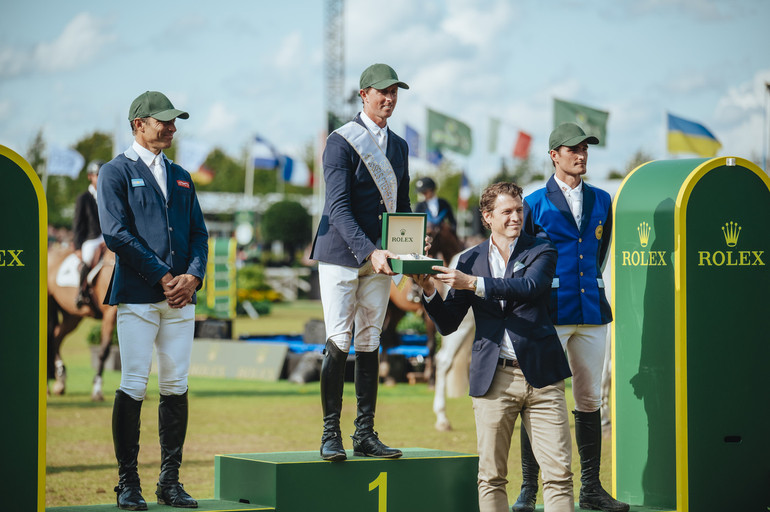 The top three in Sunday's Rolex Grand Prix presented by Audi at the Brussels Stephex Masters: Jose Maria Larocca, Ben Maher and Olivier Philippaerts. Photo © Eliott Abrahams for the Brussels Stephex Masters.
Text © World of Showjumping
---
Reigning Olympic Champion Ben Maher (GBR) and the 10-year-old Dallas Vegas Batilly (Cap Kennedy x L'Arc de Triomphe Bois Margot) won Sunday's CSIO5* 1.60m Rolex Grand Prix presented by Audi at the 2023-edition of Brussels Stephex Masters.
Gregory Bodo's 1.60m track counted 14 obstacles and 17 efforts in round one, starting with an oxer-liverpool double early on at fence number four, followed by a related distance to a wide oxer at fence number five, an oxer-vertical-vertical triple combination at 8abc and concluding with a black plank as the penultimate fence before a massive oxer as the finish.
With the rain pouring down, the time allowed was extended from 78 to 80 seconds after the first pairs struggled to stay within the time frame. It was Wilm Vermeir (BEL) and Joyride S (Toulon x Pachat II) that were the first pair to stay clear on fences – however, they saw two penalties added for exceeding the extended time allowed. It wasn't until Peder Fredricson (SWE) and Catch Me Not S (Cardento 933 x Ramiro's Son) – the title defenders – entered the ring as number ten out that the first clear was delivered.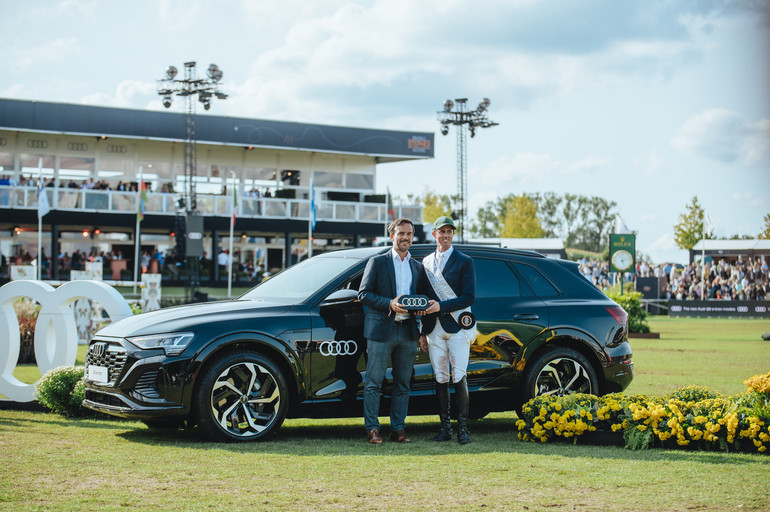 Reigning Olympic Champion Ben Maher won the Rolex Grand Prix presented by Audi at the Brussels Stephex Masters 2023. Photo © Eliott Abrahams for the Brussels Stephex Masters.
As number 17 in the ring, 25-year-old Gilles Thomas (BEL) and Luna van het Dennehof (Prince van de Wolfsakker x Quidam de Revel) stayed just inside the time, delivering the second clear of the day and three more faultless performances followed from Niels Bruynseels (BEL) and Origi vd Vosberg (Echo van'T Spielveld x Clinton), Jose Maria Larocca (ARG) and Finn Lente (Gaillard de La Pomme x Colandro) as well as Jeanne Sadran (FRA) and Dexter de Kerglenn (Mylord Carthago x Diamant de Semilly).
With the twelve best moving on to the second round, there were only five clears halfway through round one. As starter number 35, current world number three Harrie Smolders (NED) and Bingo du Parc (Mylord Carthago x Diamant de Semilly) jumped a clear. Getting lucky at the last fence, Daniel Deusser (GER) and Killer Queen VDM (Eldorado vd Zeshoek x For Pleasure) delivered as well. Olivier Philipparts (BEL) and H&M Legend of Love (Landzauber x Corgraf) knocked down a pole, but the fault was afterwards put on the account of a flying horse shoe and not the horse itself – leaving the two with a clear round. Ben Maher (GBR) and Dallas Vegas Batilly as well as Kevin Staut (FRA) aboard his new ride DMS Enkidu (Ensor vdh Pleville x Quidam de Revel) also left the fences intact, joining the group of ten pairs that moved on to the deciding second round on a score of zero. They got company from Vermeir with his two faults, and Christian Ahlmann (GER) with Mandato van de Neerheide (Emerald x Pommeau du Heup) as the quickest four-faulters, that concluded the top twelve.
Over the shortened course in the second round, Maher and Dallas Vegas Batilly were the first to deliver a double clear and took the lead in 39.93 – a time that in the end proved unbeatable. Only one more combination produced another double clear performance: Larocca and Finn Lente, who slotted into second when they stopped the clock on 41.49 with the fences intact. With a time of 40.63, Philippaerts and H&M Legend of Love were the fastest four-faulters in round two to take third behind Maher and Larocca. Deusser and Killer Queen VDM finished fourth with a fence down in 41.56, followed byFredricson in fifth with four faults in 41.82 aboard Catch Me Not S.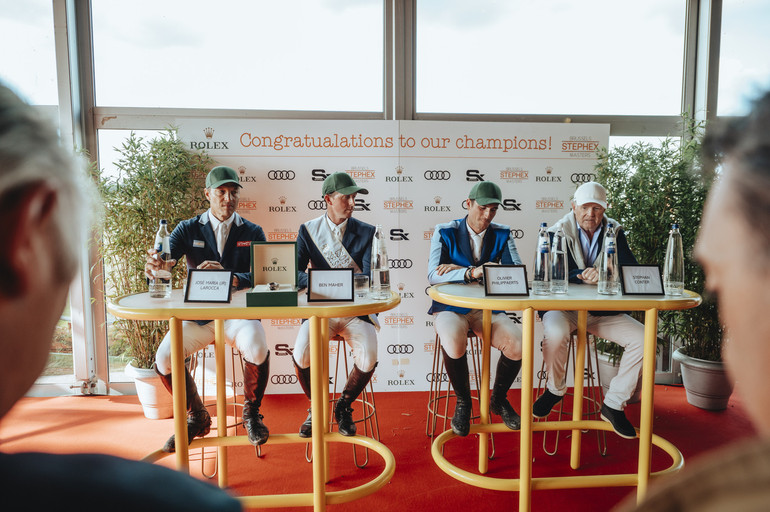 Jose Maria Larocca, Ben Maher and Olivier Philippaerts with Stephan Conter. Photo © Eliott Abrahams for the Brussels Stephex Masters.
"Dallas Vegas Batilly once again performed fantastically for me," Maher said in a press release from Brussels Stephex Masters. "She has a huge stride. Until today, she wasn't the fastest horse, but we worked on it gradually, and it really paid off. In the second round, I decided to take fewer strides between the jumps. That made it difficult for anybody else to catch up. I slipped a bit on the way to the final jump, and oddly enough, that helped me to get to the last fence quicker. I'm a happy man. This has been a special week for me. With the upcoming European Championship, I have various teams working for me both here and at home, which is a challenge. Yet, all my horses jumped fantastically here, and I felt incredibly good. I've been traveling the world for years to attend beautifully organized shows, but this one is truly exceptional. I've never seen before how well and quickly an event that faced such downpours could bounce back."
"At first glance, the course appeared quite challenging, and the time allowed was tight," second placed Larocca said. "However, Finn Lente was in excellent form today, so I expected a good result. My horse is highly experienced and incredibly reliable. He isn't easily shaken. Towards the end of October, we'll be heading to the Pan American Games, and I also anticipate a strong performance there."
"It was a unique afternoon for me," third placed Philippaerts said. "I was completely unaware I cleared the course. After I finished my round, I felt disappointed that I couldn't compete in the second one. My horse was even getting a wash when I unexpectedly got the green light to compete again. I honestly wasn't aware of the rule that a fault resulting from a dislodged horseshoe wouldn't be counted. I must commend the judges for their meticulousness."