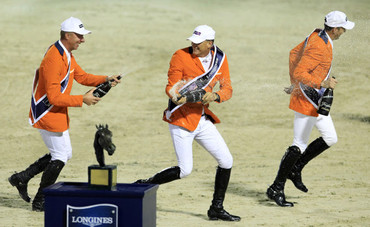 Champagne celebration time for Team Netherlands after winning the Longines FEI Jumping Nations Cup™ Final at the Real Club de Polo in Barcelona (ESP) last September. Photo (c) FEI/Jim Hollander.
Double kick-off
The countdown to the prestigious Longines FEI Jumping Nations Cup™ 2018 - the world's biggest and most historic team jumping series - has started, with a sensational double kick-off in Abu Dhabi (UAE) on Saturday 17 February and Ocala (USA) just 24 hours later.
New title partner
The series' new title partner Longines committed their support to this jewel in the crown of the FEI (Fédération Equestre Internationale), the world governing body for horse sport, in a long-term agreement announced during the Longines FEI European Championships in Gothenburg (SWE) last August.
The Longines FEI Jumping Nations Cup™ is all about national pride, passion, tradition, trust between team mates and their super-talented horses, as well as the unique solidarity among the teams from around the world that are now set to give their all in this series, which celebrates 109 years in 2018.
Juan-Carlos Capelli, Vice President of Longines and Head of International Marketing, said: "It is a real pleasure for us to be part of this amazing series as Title Partner, Official Timekeeper and Watch. We are really proud of the strong partnership we have established with the FEI since 2013 and look forward to sharing again our common passion for equestrian sports through the newly-named Longines FEI Jumping Nations Cup series."
New concept, several innovations
Several innovations will make the Longines FEI Jumping Nations Cup™ extra-special this year, with its 13 qualifiers on three continents - full calendar here.
In Europe Division 1, the number of teams competing has jumped from eight to ten - alongside defending champions from The Netherlands will be France, Germany, Ireland, Italy, Spain, Switzerland and Sweden. They will be joined by Belgium and Great Britain, the two top finishing teams in Division 2 last year.
The majority of the qualifiers will this year take place on Sunday afternoons for maximum audience reach, both onsite and on TV, with Dublin - the last of the eight Europe Division 1 qualifiers - retaining its traditional Friday slot on 10 August.
All Division 1 countries will be allocated five events in 2018 at which they can collect qualifying points for the Final, with all five results counting.
Meanwhile, Europe Division 2 has been divided into four groups. A single qualifier will be staged in Budapest (HUN) on Sunday, 12 August, where a maximum of nine teams will compete for two tickets to the Final. The teams heading to Budapest will be decided by the European Equestrian Federation qualification system, as approved by the FEI, and through the FEI Jumping Nations Cup rankings system - see detailed rules at this link.
This incredible series will culminate in an awe-inspiring Longines FEI Jumping Nations Cup™ 2018 Final at the Real Club de Polo in Barcelona (ESP) this October, where up to 20 of the world's best Jumping teams will go head-to-head.
"Last year's Final was a thriller and, even after all these years, the Longines FEI Jumping Nations Cup continues to be the very best of our sport," said Rob Ehrens, Chef d'Equipe of the Dutch team that claimed the 2017 title.
"The competition is so intense, with every athlete and every round counting so much. It can be so close that whether you win or lose is decided by the very last athlete on your team. You don't find sport like this anywhere else!"
---
Source: Press release from the FEI // Picture © FEI/Jim Hollander