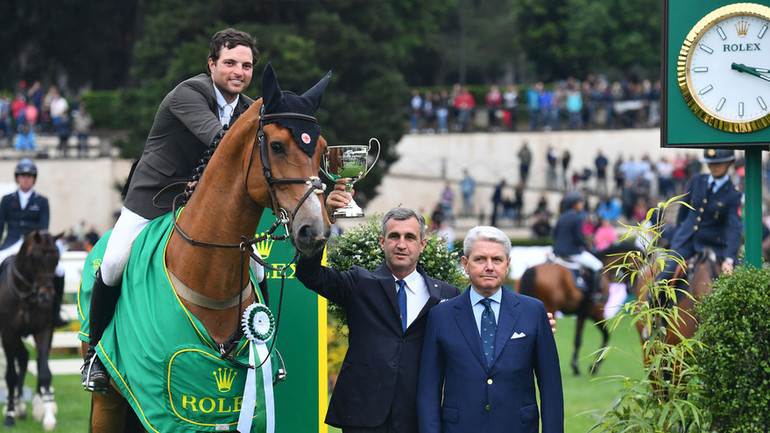 Daniel Bluman, winner of the Rolex Grand Prix at Piazza di Siena in 2019 with Ladriano Z. Photo © Simone Ferraro/CONI.
Edited press release from CSIO Roma Piazza di Siena
---
Switzerland's Steve Guerdat, world no. 1, heads the spectacular line-up for the 88th edition of CSIO Rome at Piazza di Siena which will run from May 26 to 30. And the 2012 Olympic gold medallist and triple World Cup Champion who has dominated the world rankings for the last two years comes to the Italian capital city in flying form.
Guerdat won the first European outdoor CSI5* Grand Prix of 2021 in France earlier this month with a brilliant performance, and he is wearing a permanent smile following the birth of his precious baby daughter Ella in April.
The new dad will be joined in the historic oval arena at the Villa Borghese public park by world no. 2 Daniel Deusser and no. 3 and reigning European Champion Martin Fuchs, and no doubt these three giants of the sport will be eyeing up the honours in the Rolex Grand Prix on the final afternoon of the show when there will be €400,000 up for grabs. However, the Swiss will not be fielding a team for the Intesa Sanpaolo Nations Cup on Friday 28 May.
The flags of 18 nations will be flying at this year's fixture, and 12 of those will compete for the coveted Nations Cup title – Belgium, Brazil, Czech Republic, Egypt, France, Germany, Italy, Ireland, Japan, Mexico, Sweden, USA.
The hosts should be filled with confidence after posting a superb double of victories in 2017 and 2018, but in 2019 it was Team Sweden that came out on top and Rolf-Göran Bengtsson, Douglas Lindelow, Angelie von Essen and Angelica Augustsson Zanotelli will be hoping they also can make it two-in-a-row.
France sends out a strong side consisting of Mathieu Billot, Marc Dilasser, Penelope Leprevost and Kevin Staut, while the German side of Daniel Deusser, Marcus Ehning, Patrick Stuhlmeyer and David Will looks formidable. But the American foursome of Kent Farrington (no. 7 in the latest world rankings), Laura Kraut, Jessica Springsteen and McLain Ward will be super-tough nuts to crack, and Belgium's Jerome Guery, Olivier Philippaerts, Yves Vanderhasselt and Gregory Wathelet will also need to be respected.
The philosophy of the show's Organising Committee, which consists of the Italian Equestrian Sports Federation with Sport e Salute and the Italian National Olympic Committee (CONI), is to follow the Olympic ethic by providing competitive opportunities to a wide range of countries. The inclusion of a rider from Chinese Taipei, Jasmine Shao-Man Chen, is a step in that direction, while the Tokyo 2020 Olympic hosts from Japan are sending a Nations Cup team for the first time in 21 years. Also making a welcome return, after a 53-year absence from CSIO Rome, will be an exciting team from Mexico.
Back in 1930, four riders competed for the former Czechoslovakia, but it will be an historic first when Emma de Moussac, Ales Opatrny, Kamil Papousek and Ondrej Zvara fly the flag of the Czech Republic in Friday's Nations Cup. History is constantly being made and re-made at Piazza di Siena….
Daniel Bluman has already made some of that history. In 2019 he posted Israel's first-ever victory in the Rolex Grand Prix at CSIO Rome Piazza di Siena riding Ladriano Z, thus carving his name onto the prestigious Roll of Honour that dates all the way back to 1926. And he'll be back to try again this year.
Individual entries also include 2000 individual Olympic champion Jeroen Dubbeldam from The Netherlands, 2004 individual Olympic champion Rodrigo Pessoa from Brazil, 2008 Olympic individual champion Eric Lamaze from Canada and 2012 Olympic team gold medallist and world no. 8 Scott Brash from Great Britain. In fact six of the top ten riders in the latest world rankings will be chasing down glory including no. 10 the Irish Darragh Kenny.
Athletes from Brazil, Egypt, Great Britain, Ireland, New Zealand and the United Arab Emirates will also be in action, but the riders under the most pressure of course will be the Italians themselves. The home team for the Intesa Sanpaolo Nations Cup has been named as Giulia Martinengo Marquet, Luca Marziani, Ricardo Pisani and Emanuele Gaudiano.
In total there will be €800,000 on offer over four days of competition which will alternate between the oval at Piazza di Siena and the nearby Galloppatoio arena, with world-famous course designer, Uliano Vezzani, setting all the challenges.
As the Villa Borghese park, in which Piazza di Siena is located, is open to the public there will be plenty of opportunity for the people of Rome to watch so many of the greatest proponents of the sport from the natural amphitheatre that surrounds the arena, paying close attention of course to the public health guidelines of the Italian Government.
There will be no viewing stands however as the show will be a behind closed doors event, but you can watch all the excitement unfold thanks to broad television coverage by RAI 2 and RAI Sport HD, fulltime streamingfrom both arenas and lots of social networking.