Denmark won the fifth leg of the Furusiyya FEI Nations Cup™ Jumping 2015 Europe Division 2 League in Budapest, Hungary today where intense heat, a strong course and a mighty battle for qualifying points provided an afternoon of super sport. Sharing a three-way lead at the halfway stage, the Danes stood firm to finish ahead of the joint-runners-up from Czech Republic and Italy, while.
A total of 13 nations competed, and with 11 chasing points towards the Furusiyya FEI Nations Cup™ Jumping 2015 Final in Barcelona, Spain in September it was never going to be an easy one to win. A brilliant double-clear - one of seven on the day - from second-line rider Rikke Haastrup with Qualico du Bobois, helped anchor Danish chances however and secured the country's first-ever Nations Cup victory at the historic Hungarian venue.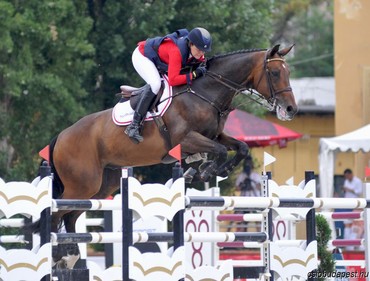 Rikke Haastrup had her first ever double-clear in a Nations Cup in Budapest today. Photo provided by CSIO3* Budapest.
Hungary, Denmark and Italy all led the way into the second round carrying just four faults each and closely followed by Austria with five, Czech Republic, Turkey and Norway with eight apiece and Portugal with nine faults on the board. Only eight teams qualified for round two, so Russia, Slovakia, Greece, Bulgaria and Poland sat it out for the remainder of the competition.
The Hungarians lost their grip on the lead with 16 to add second time out to finish on 20, while the Italians added 12 despite a double-clear from Giovanni Lucchetti (Bella Strade) to bring them on to 16. And the Austrians were unfortunate when they were the only country to produce two double-clears on the day - from Roland Englbrecht (Mevisto's Poorboy) and Max Kuhner (Coeur de Lion) - but obliged to add 13 second-round faults collected by Dieter Kofler (Emir v. Moleneind) when Astrid Kneifel bravely racked up 16 on her second tour of the track, rolling their scoreline onto 18. The Czechs on the other hand were improving all the time despite the second elimination for Augier de Moussac, adding just eight to finish on 16 faults alongside the Italians.
In the end the Danes had a clear-cut victory, fourth-line rider Andreas Schou (Allstar) not required to return to the ring because Soren Pedersen's only mistake of the afternoon with Tailormade Chaloubet was a pole down in the combination, Thomas Sandgaard (Amarone) added just four to his discard eight from the first round and Haastrup was foot-perfect both times out.
Delighted Danish Chef d'Equipe, Lars Pedersen, said afterwards, "this is the first time these four riders have been in a team together but they are all well-experienced and the horses jumped well yesterday as well as today, so I'm very pleased. Following the results of our last Nations Cup we saw what need to be worked on, and it worked out well here" he pointed out. And he was particularly impressed by Haastrup's performance. "Today was the first double-clear for Rikke in a Nations Cup" he said.
Haastrup had every reason to be pleased herself. Talking about her 11-year-old stallion Qualico du Bobois which she has been competing for the last four years, she said, "today has been one of his very best performances, but he has been consistently placed in Grand Prix classes for a long time. He always wants to do the best for his rider, he's clean and he's smart, and he has been placed in about 15 Grand Prix classes because he always tries so hard!"
She said he was very strong in the first round today, "but in the second round he rode much better. We came here with a very good team and the plan was to produce a good result. Yesterday all our horses and riders had a good day in the big class, so that gave us confidence for the team competition today", she added.
After today's winning result, which has promoted Denmark to the top of the Europe Division 2 leaderboard, Chef d'Equipe Lars Pedersen is looking into the future with renewed excitement. "We now have two goals ahead of us" he said this evening, "the Furusiyya 2015 Final and the European Championships at Aachen - we have to find our very best team for these. And we definitely plan to come back to Budapest next year!" he concluded.
Source: Press release by Louise Parkes/FEI.