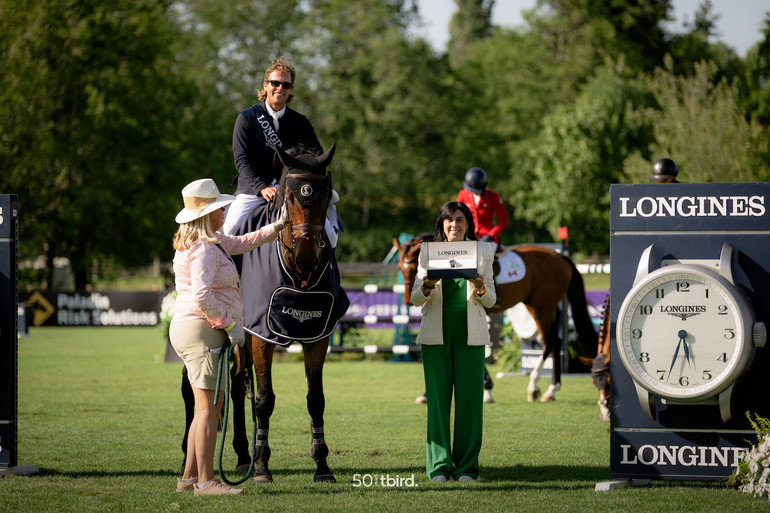 Longines Brand Manager Romina Di Pasquale presents the winner with a Longines watch. Photo ©tbird/Quinn Saunders.
Press release from Thunderbird Show Park
---
The stars aligned for Shawn Casady (USA) Friday afternoon at Thunderbird Show Park, as the 28-year-old recorded the biggest victory of his career with NKH Cento Blue (Centadel x Chacco-Blue) in the CSIO5* Longines Grand Prix.
It took nearly a third of the class for a clean round to materialize over Peter Holmes' (CAN) track, and it was Langley, BC's own Samantha Buirs to lay it down with Chic D Emma Z (Cigaret Jv H Z x Unique Drum van het Juxschot). Once she did, world no. 10 Shane Sweetnam (IRL) followed suit with Out of the Blue SCF (Verdi TN x Cassini I). But a trend it was not.
While fences fell in relatively equal measure, the last fence, the Longines vertical ('unlucky' 13) fell seven times. Just two more clears joined the jump-off: Canada's Kara Chad with Igor GPH (Harley x Crawford) and the last pair in the ring, Casady and Cento Blue.
First to return over the short course, Buirs had an unfortunate refusal, costing her a chance at victory. Sweetnam laid down a clean round to put the pressure on, stopping the timer in 43.05 seconds. Elimination befell Chad and Igor, it was all down to Casady.
According to Jumpr App, Casady and KNH Cento Blue have performed with four faults or less 80% of the time in 2023, so it was only a matter of time before they had their turn in the winner's circle. Today was the day, as they posted a clean round in 42.46 seconds.
"I didn't see Shane's whole jump-off," Casady explained. "[I was] just wanting to be double clear and consistent. For a big horse, he covers so much ground. I think that's kind of where we were. We snuck in."
"I could have been fourth at the worst and it would have been a good day. I was just I was so proud of him," he continued. "We were walking up to the ring together, and he knew we had a big a big day ahead of us."
Casady, who grew up catch-riding ponies, didn't acquire the ride on Cento Blue until his owner, Erin Davis-Heineking had an unfortunate injury, requiring shoulder surgery. She asked Casady to take on the ride and sent her horse to California, where the new partnership immediately started to win. After being named the U.S. team alternate for the Longines FEI Jumping Nations Cup™ of the United States of America, Casady was encouraged to go on to Thunderbird.
For the past two weeks in Langley, Casady has been living and working out of his RV, grooming on his own and enjoying having the time to really get to know Cento Blue.
"He's very food driven. He loves attention. And if you're anywhere in the barn, he has his head out of his stall," Casady described. "Every time you go near where there might be a snack, he looks over and wonders if you're going to grab something for him. But he's polite about it. He knows not to be rude."
Perhaps it was that strengthened bond and more intimate familiarization with his mount that helped propel the pair to their biggest win yet—and inspired Casady to a moment of reflection.
"I know [that] in order to be successful, you have to believe in it and be confident. But I also know to be humble and to make sure I'm, you know, dotting the I's and crossing my T's," Casady said. "I'm really grateful for all the effort that's gone into [the journey] and the people and horses that have believed in me. It's just a really special moment for it all to come together."