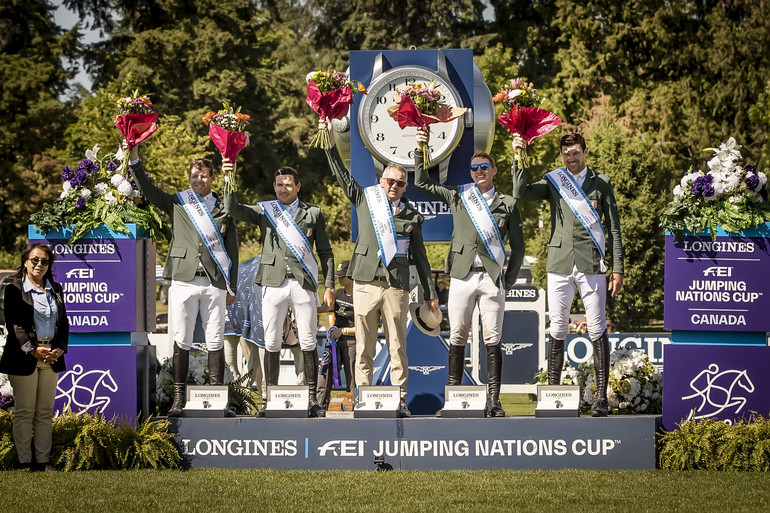 Team Ireland, winner of the CSIO5* Longines FEI Jumping Nations Cup™ of Canada with Shane Sweetnam, Conor Swail, Chef d'Equipe Michael Blake, Daniel Coyle and David Blake. Photo © FEI/Mackenzie Clark.
Edited press release from FEI written by by Catie Staszak
---
Ireland is not a member of the North and Central America division of the Longines FEI Jumping Nations Cup™, but the nation has certainly made its mark on it, especially in Vancouver (CAN). The Irish squad topped the Longines FEI Jumping Nations Cup™ of Canada Sunday afternoon at Thunderbird Show Park; the nation has won three of the last four editions of the event.
Led by Chef d'Equipe Michael Blake, the quartet of Shane Sweetnam and James Kann Cruz (Kannan x Cruising), Daniel Coyle and Gisborne VDL (VDL Zirocco Blue x Goodtimes), David Blake and Claude (Captain Jack x Cefalo) as well as Conor Swail and Nadal Hero & DB (Kannan x Polydor) completed the two rounds of competition over Peter Holmes' (CAN) 1.60m track with just 4 penalties on their scorecard. Canada finished second—just a rail behind them with 8 penalties—followed by the United States on 28 penalties.
"It was sweet victory for us today, because we knew Canada had a really strong team, and we knew we would have to have a really strong team, or else we couldn't beat them. The luck went our way, and it all worked out," Chef d'Equipe Michael Blake said.
It was truly a head-to-head battle between the defending champions and the home nation: Ireland and Canada finished the first round tied for the lead with 4 faults apiece. But in the second round, Ireland was flawless. Sweetnam jumped double-clear aboard the highly regarded 10-year-old, James Kann Cruz, before both Coyle and Blake improved upon their first round scores to come away with clear rounds.
"I guess we were maybe a little casual in the first round. I'm also just getting to know the horse. I have big plans for him in the future. He's a different kind of animal, and I've got to ride him in the way that's best for him," Coyle explained.
"We all walked the course as a team, and the [other] guys' numbers and the numbers in my head were not adding up," he continued. "I thought, 'I'll keep doing the right numbers,' but after I jumped the first round...I said to Michael, 'I need to do different strides here.' He said, 'I don't care how you do the strides. Just get a clear round!'"
With three clear rounds on the scorecard in the second round, Swail did not have to jump again with Nadal Hero & DB, who jumped a clear round of his own in the first round.
"The first round was a very important round, to keep us where we wanted to be," said Swail, the world no. 8. "My horse hasn't actually jumped much this year, so he's had to step up very quickly. I've been very impressed with him."
Sweetnam set the tone for the team and was one of just two combinations to jump double-clear on the day; Canada's Erynn Ballard was also double-clear with her mount from the 2022 FEI World Championships and 2023 Longines FEI Jumping World Cup™ Finals, Gakhir (Spartacus x Indorado).
Conor Swail and Nadal Hero & DB jumped clear in the first round for Ireland. Photo © FEI/Mackenzie Clark.
After Tiffany Foster had a rail with Hamilton (Quadros x Acolord), Mario Deslauriers and Emerson (Eldorado vd Zeshoek x Berlin) kept the home nation on even ground with Ireland after he jumped clear in the second round. That left it up to Amy Millar and Truman (Mylord Carthago x Kolibri) to keep the Canadians in the running, as a clear round would send Canada and Ireland to a jump-off. But Canada's anchor pair saw a the front rail of the oxer fall at fence 6.
"This is tough sport. It's difficult, and you're always putting your best foot forward," Sweetnam said. "You're trying your best for the team. We have great team spirit, and we wanted to win.
"This week I tried [a new bit] and I think it's the best [James Kann Cruz] has jumped this year," he added.
The United States finished its season atop the division standings with 280 points, having won in both San Miguel de Allende (MEX) and San Juan Capistrano (USA). Mexico and Canada finished the season with equal points (240) and finish classifications, so a tiebreaker was necessary to determine the second qualified team for October's Longines FEI Jumping Nations Cup™ Finals (ESP). That tie was broken by the number of clear rounds produced by each nation throughout the series; Mexico had seven clear rounds—one more than Canada—securing its place in Barcelona.