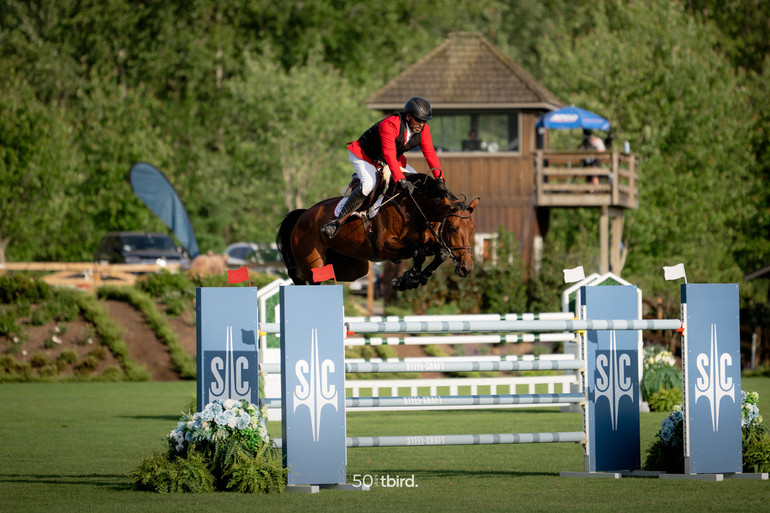 Patricio Pasquel and Chakkalou PS, winners of the CSIO5* 1.50m Nations Welcome at Thunderbird Show Park. Photo ©tbird/Quinn Saunders.
Press release from Thunderbird Show Park
---
A huge week of international showjumping kicked off at the Odlum Brown BC Open on Thursday with speed being the name of the game for CSI2* and CSIO5* competitors all day.
In the feature class of the day, the $38,500 CSIO5* 1.50m Nations Welcome, world no. 8 Conor Swail was third in the ring of the 39-horse starting list and first to post a blazing round with Count Me In (Count Grannus x Sherlock Holmes), stopping the clock in 60.80 seconds.
From there, the rounds were fast and they were clean, but sadly not in combination. America's Shawn Casady came close with NKH Cento Blue (Centadel x Chacco-Blue) in 60.94 seconds and then Swail and his second horse Casturano (Castelan x Canturo) laid down a clear in 61.43 to move into third.
The class seemed all-but over. Then in came Mexico's Patricio Pasquel with nine-year-old stallion Chakkalou PS (Diablo Blanco x Stakkatol) — second to last in the group.
The pair put the pedal to the metal, shaving turns and strides off the Peter Holmes-designed 1.50m course. Stopping the timers in 60.40 seconds, they took over the lead with one to go. When Ireland's Jordan Coyle and For Gold (For Fashion x Heraldik) pulled a rail, it was Mexico's win. Swail would have to settle for second and fourth, pushing Casady into third.
"It's his first 1.50m win," smiled Pasquel, who took over the ride in Chakkalou PS's 7-year-old year. "This is one we've tried to build up his confidence since I've had him and now I feel him ready to move up to the bigger stuff. You have to be patient."
"He's coming along really well. He covers a lot of ground, which helps a lot. He is very fast and, to be honest, I didn't know if I had [Conor] but when I looked and saw I did, I was pretty happy because he's really fast! Any day you beat Conor Swail is a good day!" he laughed.
Show jumping heats up Friday with the CSI2* Friends of tbird at 8:45am, the CSIO5* West Coast Cup at 12:15pm and the marquee event of the day the $235,000 CSIO5* Longines Grand Prix at 4:00pm. Tickets are available on tbird.ca.