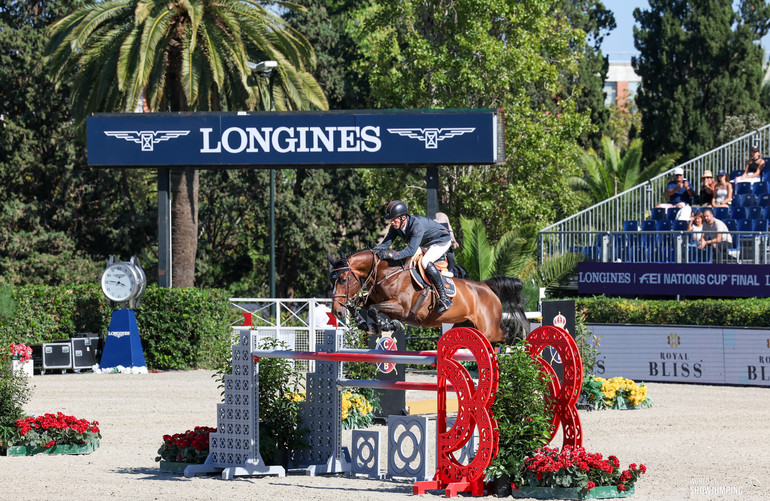 Harrie Smolders and Deesse de Kerglenn, winners of the CSIO5* 1.50m Queens Cup – Segura Viudas Trophy in Barcelona. Photo © Jenny Abrahamsson for World of Showjumping.
Text © World of Showjumping
---
Saturday's CSIO5* 1.50m Queens Cup – Segura Viudas Trophy – counting for the Longines Ranking Group C at the Longines FEI Jumping Nations Cup™ Final 2023 in Barcelona, Spain, went to the Netherland's Harrie Smolders and the 10-year-old Deesse de Kerglenn (Mylord Carthago x Crusador, bred by EARL Alain Richard and owned by Elise Megret and Jean Christophe Lecorneur).
The 1.50m Table A in round one was followed by a winning round open for the twelve best. With twenty horse-and-rider-combinations clear in the first round, it was only the fastest who made the cut to the decisive second round. In the end, there were four double clears, with Smolders – currently ranked seventh on the Longines Ranking – taking the win with a time of 51.38, followed by Italy's Piergiorgio Bucci and Hantano (Quasimodo Z x Numero Uno, bred by N.G.M. Santvoort and owned by Iron Horse Farm) in second in 52.75. France's Olivier Robert and Iglesias D.V. (Quasimodo van de Molendreef x Labor's VDL Indorado, bred by R. de Vries and owned by E.A.R.L. Global Dreams Stables and Jerome Lassime) placed third in 53.30, while Willem Greve (NED) and Candy Luck Z (Comme il Faut x Canturo, bred by Dirk Geerinckx and owned by BVBA De Roock Gilbert) finished fourth in 53.86 and Abdurakhmon Abdullaeav (UZB) aboard Quintair (Quintero x Con Air 7, bred by Torsten Gripp and owned by Abdurakhmon Abdullaev) fifth with one down in 53.44.