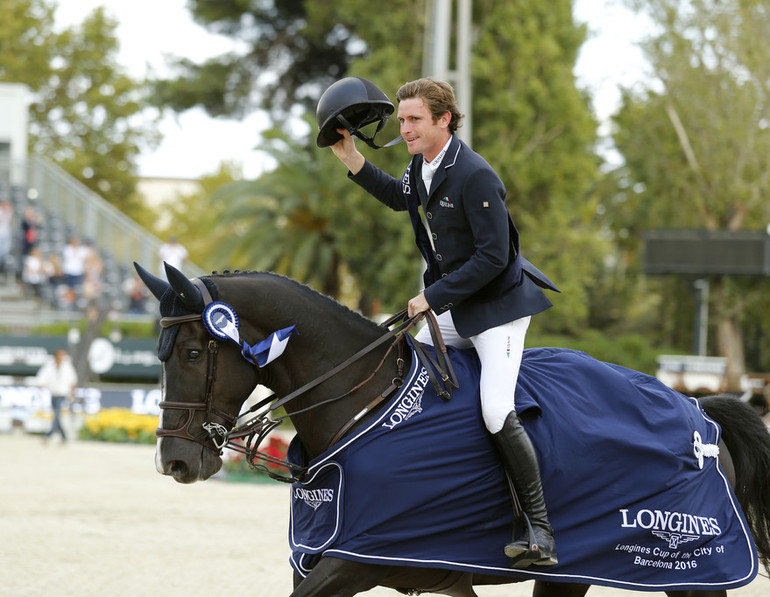 Darragh Kenny and Go Easy de Muze won the CSIO5* Longines Cup of the City of Barcelona. Photo (c) Tiffany Van Halle for World of Showjumping.
The Irish riders dominated Sunday's CSIO5* Longines Cup of the City of Barcelona, with no less than three riders in the top four: Darragh Kenny won – his first five-star Grand Prix victory, Greg Broderick was second and Shane Breen fourth.
The 1.55m competition worth 153.000 Euro saw only six of its nearly sixty competitors go clear over the first round track to move on to the jump-off. Like in today's Challenge Cup there were a lot of mistakes made, and a big amount of riders chose to retire after multiple faults – while one third of the riders finished on five penalties or more.
"It was a tough course today with problems everywhere," commented Darragh Kenny afterwards to World of Showjumping. "I went quite early in the class as number eight, but there were already two clears. After number 11, there were already four clears. But in the end, after fifty more riders, there were only another two clears. It was tough, but I was lucky to have my horse in top form throughout the entire week."
The Irish were definitely not beaten by Santiago Varela's tough track and pulled through with no less than three riders to the jump-off – being unlucky not to have a fourth as well seeing that Denis Lynch only had the penultimate fence down on All Star 5 (Argentinus x Alme).
It was Italy's Juan Carlos Garcia that opened the jump-off on Gitano v. Berkenbroeck (Nabab de Reve x Ti Amo van het Lambroeck), but they hit the front pole of the big blue Caixa Bank oxer set as the third last fence to finish on four faults and eventually sixth place.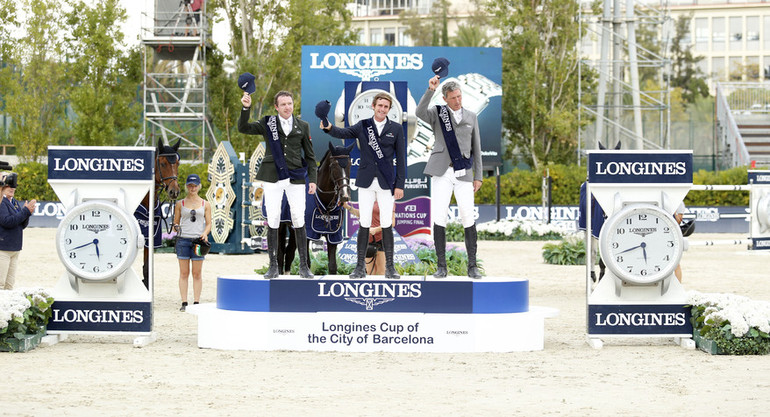 The podium: Darragh Kenny as the winner, with Greg Broderick in second and Ludger Beerbaum in third. Photo (c) Tiffany Van Halle for World of Showjumping.
Shane Breen got the Irish off to a good start with Golden Hawk (Vigo d'Arsouilles x Chin Chin), riding a clear round in 43.67 seconds over the shortened track. It looked possible to beat though, as turns could be tightened both to the combination and the following oxer as well as using the options to push more on the two long stretches to the penultimate vertical and then to the final oxer.
That is exactly what Darragh Kenny did. The big advantage today for the Irish rider was definitely Go Easy de Muze's (Vigo d'Arsouilles x For Pleasure) huge stride, which came to big use on the two last stretches where Kenny just kept on going. Crossing the finish line, the clock showed 41.81 seconds – a very fast time. As next to go, Greg Broderick and MHS Going Global (Quidam Junior I x Cavalier Royale) came very close to Kenny's time, as just 0.17 seconds separated the two – with Broderick slotting into runner-up position ahead of Breen in third.
It would be Germany's Ludger Beerbaum that separated the Irish trio on top as he produced a clear round on Chiara 222 (Contender x Coronado). It was not fast enough for the lead however, as he opted to go around to the Caixa oxer instead of taking the inside turn – going into third with a time of 42.73 seconds. As last to go, Beerbaum's compatriot Janne Friederike Meyer had the chance to secure another big German victory at the Spanish event. Meyer gave it a real go, but in her attempt Goja (Wandor van de Mispelaere x Palestro vd Begijnakker) hit the front pole on the last oxer and the two had to settle for fifth this time around.
"It was quite a special day for me, because this is the first five-star Grand Prix I have ever won," explained Kenny to World of Showjumping about his victory. "My horse jumped incredible in the second round of the Nations Cup yesterday, and today he was really good in both rounds again. I truly think he is going to be a real top horse for the future. I am also very happy for the McCahill-family, who have been so supportive for my career and with this horse."
---
Text © World of Showjumping // Pictures © Tiffany Van Halle for World of Showjumping