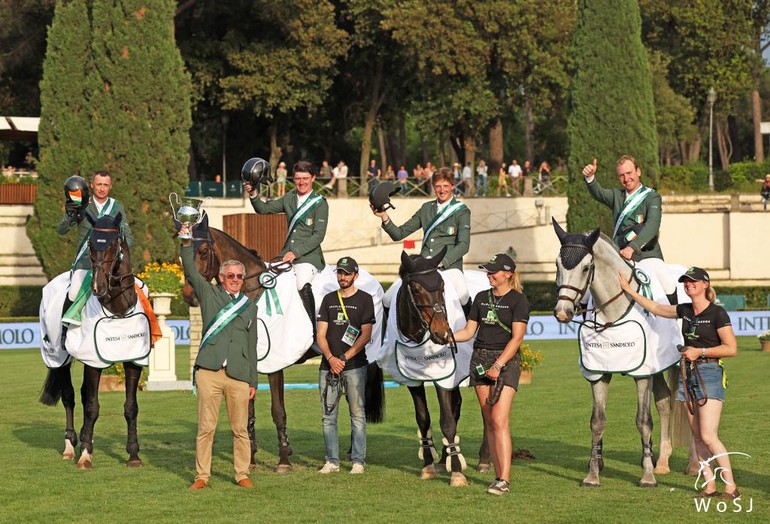 The winning Irish team in Rome: Chef d'Equipe Michael Blake, Denis Lynch on Vistogrand, Michael Pender on HHS Calais, Jack Ryan on BBS McGregor and Michael G Duffy on Clitschko 17. Photo © Jenny Abrahamsson for World of Showjumping.
Edited press release from CSIO Rome Piazza di Siena
---
Team Ireland made history when winning the Intesa Sanpaolo Nations Cup at the CSIO Rome – Piazza di Siena for the very first time, at the 90th anniversary edition. The Rome title is one of the most prestigious and one of the oldest in the world, so it is one the Irish have always wanted but it has evaded them ever since it was first staged back in 1926.
And it could hardly have been more exciting when coming down to a two-way jump-off against the host nation when both sides were tied on eight faults after the first two rounds, with 23-year-old Irishman Mikey Pender pitted against 29-year-old Italian and fellow graduate of the Young Riders Academy, Francesca Ciriesi to decide the result.
Despite his relative youth Pender has a world of experience behind him thanks to his close association with former Irish showjumping star Marion Hughes, her Portuguese husband Miguel Bravo and their talented string of horses at HHS Stud in Ireland.
Pender might have been expected to be nervous going into the hallowed Piazza di Siena oval with all the weight of expectation on his relatively youthful shoulders. But he has long had a reputation for staying ice-cool, so it was no big surprise when he threw down a great clear over the tricky jump-off track in 33.91 seconds when first to go against the clock with HHS Calais (Cavalier Royale x Obos Quality 004). And when Ciriesi's mare Cape Coral (Comme Il Faut 5 x Friedenstraum), clipped the second fence, Team Italy – 29-time winners on their home turf – had to settle for runner-up spot this time around.
Halfway
Michael Pender and HHS Calais, triple clear for the Irish team. Photo © Jenny Abrahamsson for World of Showjumping.
However, the result was far from clear at the halfway stage when France, Italy and Sweden shared the lead with just four faults apiece while Germany, Ireland, Great Britain and The Netherlands carried eight faults each into round two, Brazil and Switzerland failing to make the cut.
But as Italian course designer Uliano Vezzani said at the post-competition press conference "Nations Cup jumping is about two rounds, not just one". And it was all change second time out. France and Sweden added eight faults each to leave them on a final tally of 12 along with Germany and The Netherlands, while Belgium and Great Britain finished with a final tally of 16.
Clears from brothers Antonio and Giampiero Garafolo meant that only the single error by pathfinder Ciriesi was added to the Italian scoreline, and when the Irish produced three clear rounds at their second attempt the two sides were tied on eight faults and set for that third-round face-off.
Pender had already produced one of four double-clears on the day – Giampiero Garafolo and Max van Lentz Schrans (Untouched x Thunder van de Zuuthoeve), Sweden's Wilma Hellström and the wonderful mare Cicci BJN (Ci Ci Senjor Ask x Tornesch 1042) and Britain's John Whitaker and Equine America Unick de Francport (Zandor x Helios de La Cour II) posting the other three – and the young Irishman made it three clears with his final run against the clock to win it.
Irish Chef d'Equipe Michael Blake said; "When we got into a jump-off we knew we had Mikey Pender and it was going to take an amazing round to beat him. We have Denis and three young riders from the Rolex Young Riders Academy which is a fantastic initiative….Ireland takes the Academy really seriously, we value the ongoing support it gives to the riders because you can have talent and you can have horses but you need expertise to put it all together. I'm incredibly proud of them all. It was a game of two halves, and the second half was our half!"
Michael G Duffy and Clitschko (Christian 25 x Check In 2) hit the first element of the double at fence five first time out but were fault free in round two. "I'm really proud of my horse, it was his first Nations Cup and to be part of this team is fantastic. Myself, Mikey and Jack (Ryan) all grew up jumping ponies together and since we've been doing horses Denis has been keeping an eye on us and making sure we're going in the right direction! We had really good team spirit between us and to come away with the win is brilliant!" he said.
Big credit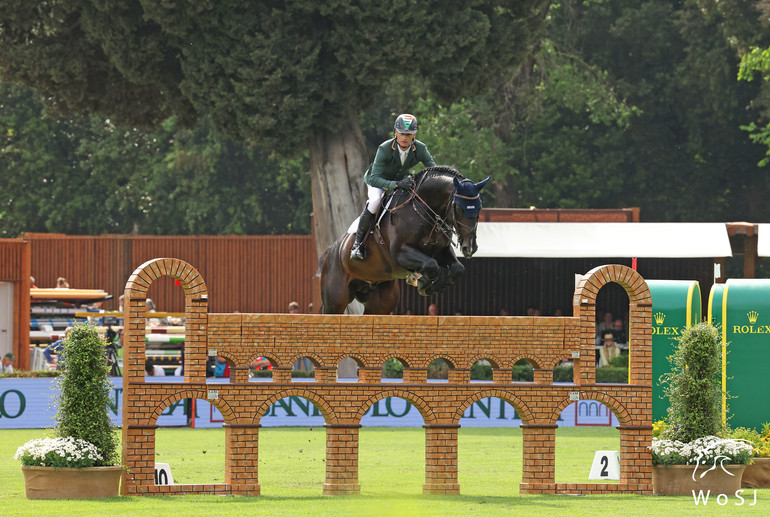 "A lot of people wouldn't know but in 2016 in Dublin Italy beat us in the jump-off so this was a great day for us," Denis Lynch said after the victory in Rome. Photo © Jenny Abrahamsson for World of Showjumping.
Lynch, winner of the 2022 Rolex Grand Prix in Rome, said "big credit to Uliano, I think he built a fantastic course. A lot of people wouldn't know but in 2016 in Dublin Italy beat us in the jump-off so this was a great day for us. We came here with a good plan and I'm very grateful to my horse and to Michael for using me today and it's a great pleasure to ride with these young men who were exceptional today, especially Mikey in the jump-off, he rode it foot-perfect and I think all the horses jumped fantastic. Maybe Jack wasn't happy with his first round but he came out and jumped a great second round and this showed the depth we have in our young riders and occasionally an old guy like me gets to come along too!"
Jack Ryan and BBS McGregor (Cardento 933 x Mark Twain) collected 12 faults in round one but lowered only the planks at nine second time out. "Our first round wasn't to plan but thankfully the lads made up for my mistakes and we jumped better in the second round but the lads put in three fantastic clears," he pointed out.
For Pender today's result confirms the talent that has earned him the nickname "Magical Mikey" at home in Ireland. "I'm very lucky to have such a fantastic horse, he was brilliant in the first two rounds and even better in the jump-off. Thanks to everyone at Hughes Horses for keeping this horse for me, he's been there since he was a three-year-old and been produced all the way. I'm very lucky to be still riding him and big thanks to Michael (Blake) for giving me the opportunity to ride today. Thanks to everyone, and we'll celebrate tonight!"
That seems very likely indeed…