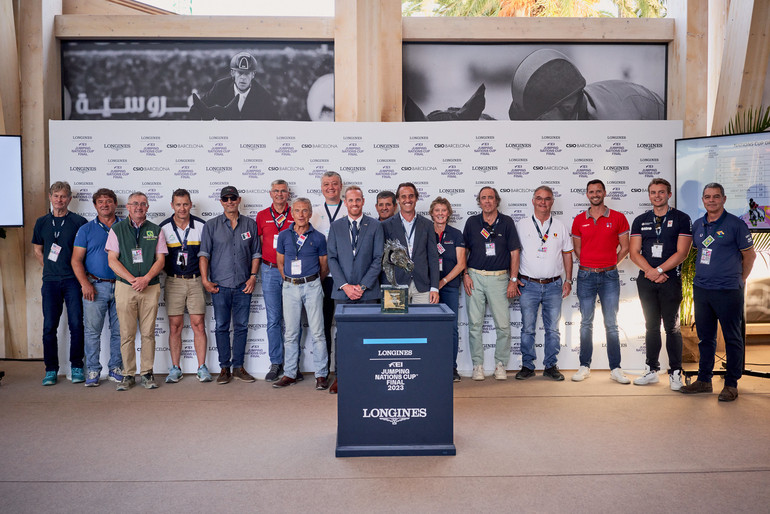 The Chefs d'Equipe pictured with Show Director Daniel Garcia Giro and FEI Jumping Director Todd Hinde following the draw for order-of-go at the Longines FEI Jumping Nations Cup™ Final 2023 which gets underway at the Real Club de Polo in Barcelona, Spain tomorrow afternoon. Photo © FEI/Liz Gregg.
Edited press release from FEI
---
Team Italy will be first into the arena when the Longines FEI Jumping Nations Cup™ Final 2023 gets underway Thursday afternoon in Barcelona, Spain.
The draw, conducted by Show Director Daniel Garcia Giro and FEI Jumping Director Todd Hinde, took place Wednesday evening and the order-of-go for the 15 competing nations is:
1, Italy; 2, Argentina; 3, Uzbekistan; 4, Belgium; 5, Germany; 6, USA; 7, Great Britain; 8, Mexico; 9, Brazil; 10, Australia; 11, The Netherlands; 12, Ireland; 13, Switzerland; 14, Spain; 15, France.
CSIO Barcelona is celebrating its 111th edition of international competition this year and the Real Club de Polo, home to Jumping at the Olympic Games in the Spanish city back in 1992, again provides the perfect back-drop to the season-closer that gathers the world's best teams for one final annual clash.
Winning the coveted Longines trophy is what it is all about, and the Chefs d'Equipe are full of enthusiasm for a great week of sport and filled with praise for the exciting transformation taking place at the Real Club de Polo as it modernises and expands its facilities.
For the teams from Argentina, Brazil, Italy, Mexico, USA and Uzbekistan there is an extra challenge this week as they are all chasing down the single ticket on offer to countries not already qualified for the Paris 2024 Olympic Games.
The defending champions are Team Belgium.
What the team managers had to say…..
Vitor Alves Teixeira, Argentina - "it is great to be here again. This year is very important to us because we try to get a place at the Olympics and it's not going to be easy!"
Stephen Lamb, Australia - "we are also very pleased to be here. Having secured an Olympic berth it's important for us to compete as a team, we don't get the opportunity very often. We have only three riders here but we look forward to the opportunity!"
Peter Weinberg, Belgium - "we will try to do our best - last year we were very good but every team is going to be trying very hard and I wish them all good luck, but for us the best of luck!"
Pedro Paulo Lacerda, Brazil - "we are very happy to be here again and this is a very important week for us, fighting to get a place at the Olympic Games."
Carolo Lopez-Quesada, Spain - "Barcelona is a nice place and we think there will be a perfect ambience for this week. I'd like to say that Daniel and his team did a great job to be here in this moment so congratulations and good luck to everybody!"
Henk Nooren, France - "it always feels good to come back to Barcelona, we have to congratulate the organisation for this beautiful new building. Thank goodness we do not have this pressure of qualifying because we invited ourselves to the Games in Paris next year! Let the best team win!"
Di Lampard, Great Britain - "it's always wonderful to bring a team back to Barcelona. Congratulations on this wonderful new building! I'm very pleased with the draw, number seven. We have brought a team that's getting experience as they go, and a team of 10-year-old horses as well. We are looking forward to the competition as always here!"
Otto Becker, Germany - "it was a nice surprise today to come here and see all the improvements. This is the best Nations Cup series for me and this is the best place for the Final. Our whole team and I are very pleased and happy to be here!"
Michael Blake, Ireland - "it's great to see the improvements here and as Otto said it's great to be back in Barcelona. It's such a wonderful city and the people here are so welcoming to us and we love being here. We are hopeful of a good result, we've had a good year and we'd like it to continue."
Speaking on behalf of Marco Porro, Italy - "it is a big pleasure for Italy to be here again. This is the last chance for us to get to get to Paris so we will try to do our very best. Good luck to everyone!"
Mark Laskin, Mexico - "it's wonderful to be back in Barcelona. For sure it's one of our favourite stops on the showjumping calendar. Thank you to Daniel and his team for all their hard work and hospitality as usual. I feel I have a fairly decent team here. Last year we won the consolation final (The Challenge Cup) and it is our intention to improve on that this year."
Peter van der Waaij, assistant to Jos Lansink, The Netherlands - "for The Netherlands Barcelona has a special place in our hearts since of course here in 1992 the Dutch became Olympic champions! The four riders we brought are all former winners here at the Nations Cup Final so we are very, very motivated to close off the season and delighted to be back here!"
Michel Sorg, Switzerland - "thank you to Daniel and whole team, it's always a pleasure to be here. It's an amazing venue and it's so impressive to see this new building today. We are really looking forward to a great show once again. Switzerland has never won (the FEI Jumping Nations Cup Final) so maybe this year! All the best to all the teams, we will have great sport and good luck!"
Robert Ridland, USA - "we are delighted to be back and as everyone has said Daniel, it's just impressive, not just this building but how you have reconfigured the entire arena - it just looks spectacular! We brought a strong team here because like many we are trying to qualify for the Olympic Games. Most of the riders on our team are the ones that qualified us to get here and we are delighted to be back!"
Nodribek Ibragimov, Uzbekistan - "thank you to the organisers, the venue and facilities are very good and Barcelona treats us so well! Our riders and our horses have worked hard to get here and we wish all the finalists the best of luck".
Qualifying round
The action gets underway Thursday with the first qualifying round which is open to all 15 nations and begins at 14.00 local time. The best eight teams from this round will go through to Sunday's title-decider while the remaining nations will battle it out in the Challenge Cup which will take place in an electric atmosphere under lights on Saturday night.
The Final is guaranteed to be gripping from the get-go, with the single qualifying spot on offer for the Paris 2024 Olympic Games giving it an even sharper edge.