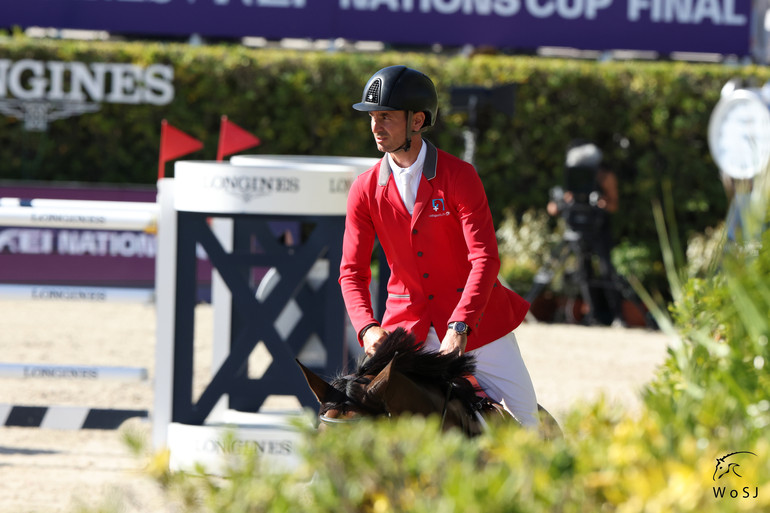 Steve Guerdat, freshly crowned European Champion, will be competing in Barcelona. Photo © Jenny Abrahamsson for World of Showjumping.
This week, it is time for the CSIO5* Longines FEI Jumping Nations Cup Final in Barcelona, Spain. Argentina, Australia, Belgium, Brazil, France, Great Britain, Germany, Ireland, Italy, Mexico, Netherlands, Spain, Switzerland, USA and Uzbekistan will all be fielding teams at the Real Club de Polo de Barcelona.
In addition to the 2023-title and trophy, the final offers the possibility for Olympic qualification as the highest placed team of those not already qualified will get a ticket to Paris 2024. In Barcelona, it will be Argentina, Brazil, Italy, Mexico, USA and Uzbekistan going head to head as teams not yet qualified.
For the North and South American nations there will be one last chance to qualify for the Olympics, at the Pan-American Games in November where the final three Olympic tickets will be decided. However, for Italy – who failed to qualify for this year's final through the Europe Division 1 series, but that still get to compete because the Asia/Australasia region was unable to fill its quota – as well as for Uzbekistan, Barcelona offers the very last chance to qualify.
On the list of riders are seven out of the current Top 10, with Sweden's Henrik von Eckermann, France's Julien Epaillard, Switzerland's Steve Guerdat and Martin Fuchs, as well as USA's McLain Ward, the Netherland's Harrie Smolders and France's Simon Delestre all entered to compete in Barcelona.
The event kicks off with the first horse inspection on Wednesday, followed by a training session and a draw for the starting order. The competitions will begin on Thursday when all 15 nations will compete. The top eight will go through to Sunday's €1,250,000 final round to decide the title, while the remaining nations will compete in Saturday night's €300,000 Challenge Cup.