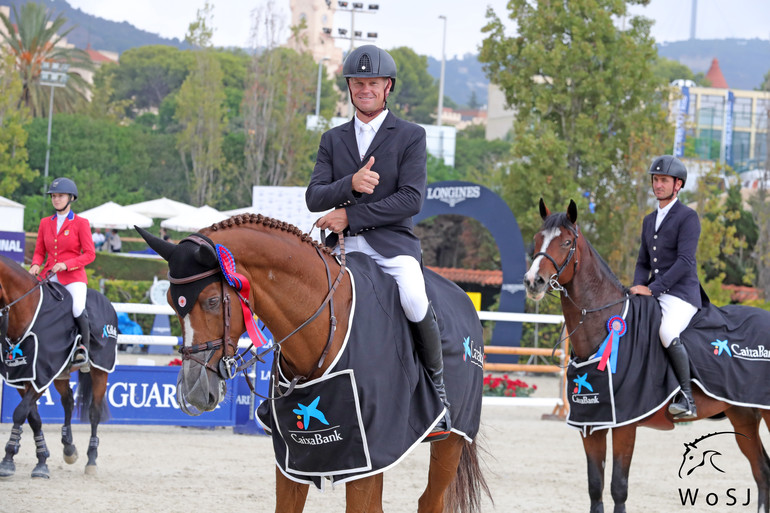 Jerome Guery and Eras Ste Hermelle won the 1.45m CaixaBank Trophy at CSIO Barcelona. Photo © Jenny Abrahamsson for World of Showjumping.
Text © World of Showjumping
---
The first class on the last day of CSIO Barcelona was the 1.45m CaixaBank Trophy, a competition with a winning round.
Ten of the forty horse-and-rider combinations moved on to compete against the clock, where Belgium's Jerome Guery was the fastest aboard the 11-year-old stallion Eras Ste Hermelle (Vargas de Ste Hermelle x Andiamo) with a time of 51.63 seconds. With only four to come behind him, Guery shaved off 1.79 seconds on Steve Guerdat's time with Dynamix de Belheme (Snaike de Blondel x Cornet Obolensky) – pushing the Swiss rider down to a temporary second place. USA's Lille Keenan gave the time to beat a good shot with the lovely stallion Agana van het Gerenndal Z (Aganix du Seigneur x Topas), and with a time of 53.14 seconds she squeezed in between Guery and Guerdat – with the latter dropping into third.
None of the remaining riders could catch Guery, although Switzerland's Bryan Balsiger managed to bring the time down to 50.91 seconds – however, the risk came on the expense of a rail down on the last oxer which dropped him down to 7th.
Ireland's Denis Lynch finished fourth with Visa Z (Vigo D Arsouilles STX x Quidam de Revel), and Italy's Francesca Ciriesi fifth with Cape Coral (Comme Il Faut 5 x Friedenstraum).