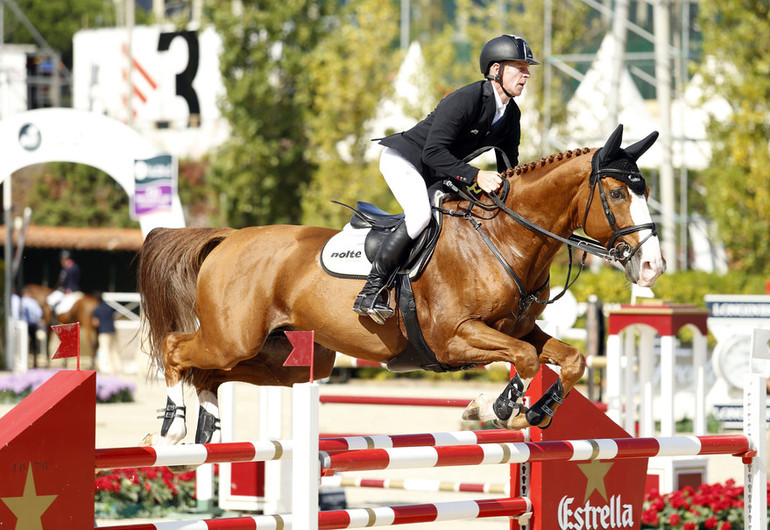 Marcus Ehning and Funky Fred on their way to victory in Barcelona. Photo (c) Tiffany Van Halle for World of Showjumping.
Marcus Ehning is on a winning streak, and today the German rider went to the top of the CSIO5* Queen's Cup Segura Viudas Trophy in Barcelona.
With victories from the CSI3* Grand Prix of Paderborn and the CSI5* LGCT Grand Prix of Vienna under his belt as he arrived at the Spanish event, Ehning once again proved his calibre to go off with the victory in the 1.50m competition with a jump-off earning 20 394 Euro aboard his home-bred 111-year-old Funky Fred (For Pleasure x Pilot).
Another man on form is Belgium's Niels Bruynseels, the winner of the Rolex Grand Prix in Brussels earlier this month. Today, Niels finished as runner-up aboard Gancia de Muze (Malito de Reve x Nimmerdor) 0.36 seconds behind Marcus. Third place went to Great Britain's Scott Brash on Hello Guv'Nor (Diamant De Semilly x Papillon Rouge) with a time of 41.70 seconds while Germany's Christian Ahlmann finished fourth on Cornado II (Cornet Obolensky x Acobat). The last double clear in the class belonged to Julia Kasyer, who took fifth place on Sterrehof's Ushi (Vigo d'Arsouilles x Goethe) in this sixteen-rider jump-off.
Earlier in the day, Sweden's Angelie von Essen won the CSIO5* 1.45m Negrita Cup aboard Cream Sheridan (Cappucino x Irco Mena) ahead of France's Matthieu Billot on Radja des Fontaines (Hurlevent de Breka x Arra d'Auzay). Third place went to Ireland's Denis Lynch on Que Sera (Quinar x Landgraf I).
---
Text © World of Showjumping // Picture © Tiffany Van Halle for World of Showjumping