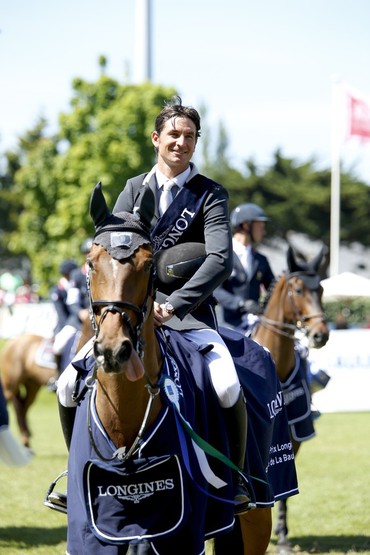 Steve Guerdat and Nino des Buissonnets. Photo (c) World of Showjumping.
Steve Guerdat and Nino des Buissonnets (Kannan x Narcos II) proved that they have not lost their magic powers as they won the Longines Grand Prix in La Baule Sunday afternoon. After a disappointing performance in the Nations Cup Friday the Swiss rider managed to turn things around adding another big win to his wall of fame.
The Grand Prix counted 50 riders and ten of them qualified for the jump-off after a clear first round. With several speedy riders such as Patrice Deleaveau, Kevin Staut and Michael Whitaker it was made to be an exciting jump-off.
The always fast Bertram Allen had won three classes in La Baule already and did his best to make it a fourth. The nineteen year old rider guided the seventeen year old stallion Romanov (Heartbreaker x Fedor) steadily around the grass ring and could add another top result to his successful weekend as runner-up.
Third place in the Longines Grand Prix went to Brazilian rider Marlon Modolo Zanotelli and Rock'n Roll Semilly (by Diamant de Semilly).