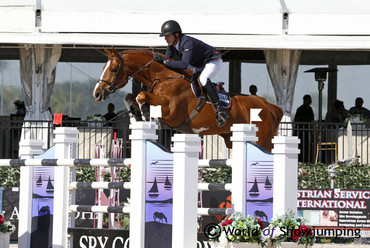 Harrie Smolders and the Dutch team are last to go in La Baule Friday. Photo (c) Jenny Abrahamsson.
The CSIO5* Furusiyya FEI Nations Cup in La Baule will take place tomorrow, Friday 15 May, attracting a field of eight teams. The starting order has been drawn and will be as follows:

1. Ireland
2. France
3. Spain
4. Brazil
5. Switzerland
6. Belgium
7. Great Britain
8. Netherlands

The teams from Netherlands, France, Belgium, Spain and Ireland will be eligible for Furusiyya FEI Nations Cup points. Friday's competition will begin at 02.00 CEST (local time in France, GMT+2 hours) and will be broadcast live on FEI TV, the FEI's official online video platform.
Source: FEI