Edited press release from FEI written by Louise Parkes
---
The defending champions from Brazil threw down the gauntlet on the opening day of jumping at the Pan American Games 2023 in Quillota, Chile on Tuesday. They not only head the leaderboard going into Wednesday's team medal-deciding Nations Cup class, but they also hold the top two places in the individual standings with 2019 individual gold medallist, Marlon Zanotelli, edging team-mate Pedro Veniss for top spot.
In a speed class full of sporting surprises it was Colombia that filled second spot bolstered by a great run from Rene Lopez and Kherox Van't Hoogeinde (Echo van't Spieveld x Darco) who will lie third individually when the action resumes Wednesday morning.
Canada holds third spot in the team rankings, Argentina is in fourth, USA is in fifth and Mexico is in sixth place ahead of the hosts from Chile who are only just over two penalty points further behind. Uruguay and Ecuador hold the final two placings at this early stage.
Target
Veniss set the early target when home and dry with the 12-year-old Nimrod de Muze Z (Nabab de Reve x Tinka's Boy) in 73.40 seconds while second-line Brazilian team member Stephan de Freitas Barcha left the first element of the penultimate double on the floor with Chevaux Primavera Imperio Egipcio (Calvaro F.C. x Haras Montana) to put 80.99 seconds on the board.
Zanotelli's scorching round in 72.87 would be the quickest of the day, and he gave a thumbs-up to the crowd as he left the arena with the 10-year-old mare Deesse de Coquerie (Consul DI Vie Z*Gfe x Papillon Rouge*Normandie) knowing that he had really put it up to the rest of them. Last man in for Brazil was multiple champion Rodrigo Pessoa with his 10-year-old gelding Major Tom (Vagabond de la Pomme x Heartbreaker), and it was looking every inch a clear until they clipped the oxer at fence eight to add four seconds to their time for a total of 81.98.
With scores converted into points, the Brazilians are out in front on 4.32 but with less than a three-point advantage over Colombia on 7.29 while Team Canada is less than another three points further adrift on 9.62.
Argentina put up a great performance to finish with a running tally of 12.01 for fourth place, their pathfinding partnership of Ignacio Maurin and his 10-year-old gelding Chaquitos PS (Chacco-Blue x Conthargos) producing a superb clear in 78.25 seconds which leaves them lying individually eighth.
For Team USA however it was a topsy-turvy afternoon.
Fast
McLain Ward and Contagious (Contagio x For Keeps) led the way and hit the same fence as Pessoa would later in the day to finish fast but penalised by those extra four seconds for every fence down. Then Karl Cook set off with Caracole de la Roque (Zandor Z x Kannan*Gfe) who faulted at the third fence, the beautifully-built Portada de Antofagasta wall which represents a natural arch formation in Chile, but by the time the pair were making the right-handed turn to the Mineria oxer at fence six their lines of communication seemed to have disintegrated.
The horse almost collided with the right wing of the fence and Cook had to hold on tight to stay aboard, but having pulled themselves together they completed with just one more fence down, their finishing time of 111.44 however leaving them with an expensive converted score of 19.28 and leaving it up to the final two team-members to restore the team's equilibrium.
When Kent Farrington and Landon (Comilfo Plus Z x Quadrillo) hit both the first element of the final double and the last fence it became critical for anchor partnership Laura Kraut and Dorado (Tailormade Diarado's Boy x Chacco-Blue) to stem the tide of misfortune. And with the resolve she has shown so many times before she did just that, the 2008 Olympic team gold medallist coming home with a lovely clear in 79.66 seconds. It was slower than she would have liked, but the 10-year-old gelding spent a lot of time in the air demonstrating his jumping expertise.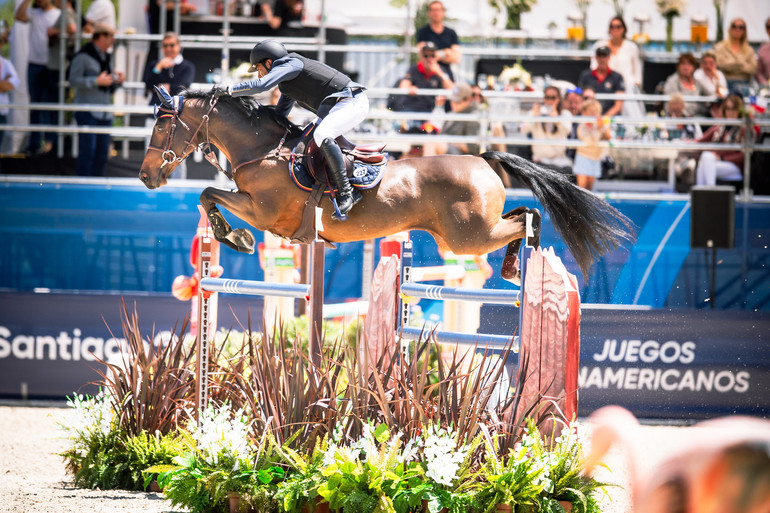 Colombia's Rene Lopez Lizarazo and Kheros Van'T Hoogeinde sit third individually. Photo © FEI/Shannon Brinkman.
"He was on springs - I'm getting used to it but I think that was probably why he was a bit slower than was intended, but he did his job, he was perfect so let's just hope we can go forward tomorrow and do the same!", Kraut said afterwards.
She was under incredible pressure going in. "I didn't check with everybody but I could imagine all four riders were riding my horse around in there today!", she said. "You hate going in with that feeling that you have to have a good round, but I had a lot of confidence in my horse, he's wonderful, even though he's new to the sport he has the best brain!", she added.
Her performance anchored Team USA in that fifth place, and they'll be hoping for a less drama-filled day on Wednesday. Because along with Colombia, Canada and Argentina, Mexico, Chile, Ecuador and Uruguay they are chasing one of the three qualifying spots on offer for the Paris 2024 Olympic Games this week.
Pressure off
With their Olympic qualification already wrapped up following a super performance at the Longines FEI Jumping Nations Cup™ Final 2023 in Barcelona, Spain a few weeks ago the pressure is off the Brazilians to some extent this week, but Pan American medals mean a very great deal to athletes in the region.
"We still came here to defend the Pan American team title, and that's the main focus for us this week, to try and do it well," Marlon Zanotelli said.
"Brazil is in a very good moment with horse power right now, we have very good horses and for some of them this is their first championship so it's a great experience for them towards Paris", he added.
His French-bred mare Deesse de Coquerie hasn't been with him very long "but I believe a lot in her, she's probably one of the most talented horses I ever sat on. She's still very eager and a bit green for her age, she hasn't done that much for a 10-year-old, but she proved today that she is an unbelievable jumper", he pointed out.
He's not sure if she will be the horse he will take to Paris next summer. "I'm very lucky, I have three horses and I can prepare them all because that's definitely the biggest goal for us next year, but you never know. Last year I thought Edgar would be my horse for the World Championships and it ended up I brought Like a Diamond, so I always like to prepare all my horses that I think have potential and see how it goes", he explained.
But for now there is another task ahead. And another few of Marina Azevedo's courses to be jumped over the next few days.
Praised
Zanotelli praised Tuesday's 13-fence track that proved very jumpable for horses and riders at all levels."Marina did a great job there with a lot of options, the roll-backs to the wall (at fence 3) to get the horses sharp on the first turn…..a very delicate line with the liverpool and the vertical (fences 6 and 7), a roll-back again with the closed oxer that caught a few riders - also Rodrigo had the fault there (fence 8).
"She did a fantastic job playing with the balance of the horses, left, right, forward and back and she gave the chance to every horse to do a good round, to be still quick enough. Like Pedro's (Veniss) horse is not the quickest but he's very close to mine (in the scores this evening). We had different plans because our horses are very different, but that just shows that the course gives the chance to the rider to make the slower horse still be quick."
"The course design was nice, the questions were progressive and in a nice way. A lot happens because of the rider's nerves as well - I think she did a great job for the first day!", the defending double-champion concluded.
Wednesday's two-round team medal-decider begins at 11.00 local time.