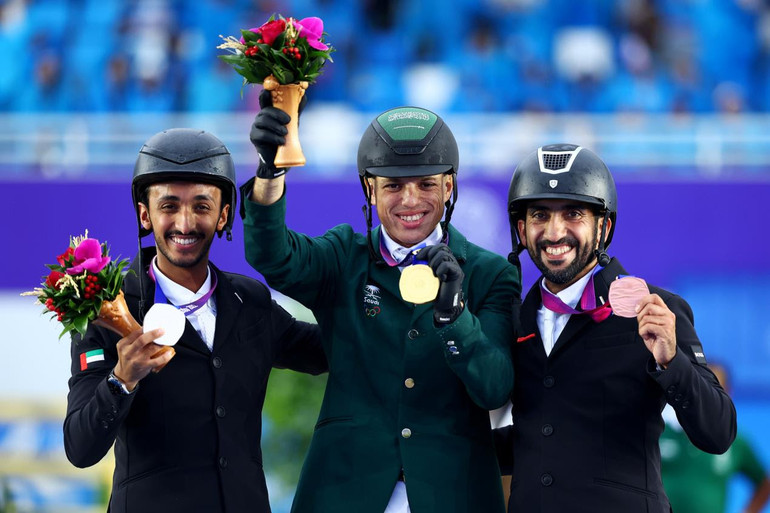 The top three from left to right: Omar Aljneibi, Abdullah Alsharbatly and Abdulla Al Marri. Photo ©FEI/Yong Teck Lim.
Edited press release from FEI written by Rhea Freeman
---
Saudi Arabia's Abdullah Alsharbatly and the 12-year-old stallion Skorphults Baloutendro (Contendros 2 x Balou du Rouet) took the individual gold at the 2023 Asian Games in Hangzhou, China, while UAE's Omar Aljneibi and Dalida Van de Zuuthoeve (Thunder van de Zuuthoeve x Sir Lui) claimed silver and Abdulla Al Marri aboard James V.D Oude Heihoef (Douglas x Action-Breaker) bronze.
The first round saw 39 horse-and-rider-combinations tackle the 13 obstacle course, designed by Australia's John Vallance, which was made up of 15 individual jumps, had a maximum time of 84 seconds and a height of 150cm. Eight athletes from UAE, Syria, Saudi Arabia, Qatar, and the Islamic Republic of Iran moved through to round two on zero penalties, with Alsharbatly recording the fastest time at 77.95. In all, 25 pairs moved through to the second round of the competition, with only two combinations per team allowed to compete.
The second round tested the athletes with a 12 obstacle, 14 jump course and a time allowed of 80 seconds. The running order was reversed based on performance from the first round. Due to the top five riders producing faultless rounds at this stage, a jump-off was required to crown the winner.
Alsharbatly, Aljneibi and Al Marri were joined by Thailand's Janakabhorn Karunayadhaj with Maxwin Kinmar Agalux (Aganix du Seigneur Z x Lux Z) and Syria's Amre Hamcho with Vagabon Des Forets (Corofino 2 x Richebourg) for the final tie breaker. Due to Alsharbatly posting the fastest time in round two, he was the last to go and after completing the jump-off in 39.68 on a score of zero penalties he claimed the gold medal ahead of Aljneibi and Al Marri who recorded times of 42.31 and 42.45 respectively. Both Karunayadhaj and Hamcho picked up four faults each to finish fourth and fifth respectively.