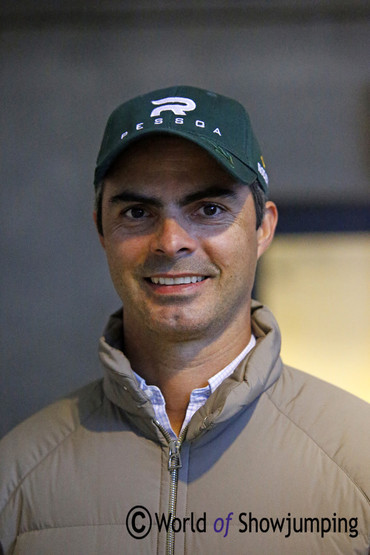 Rodrigo Pessoa comments on the Europeans for WoSJ. Photo (c) Jenny Abrahamsson.
This week WoSJ has no other than Rodrigo Pessoa as our guest commentator from the European Championships in Herning. Below Rodrigo speaks about tonight's very exciting team final here in Herning;
"Ben was perfect for Great Britain – I must say he has a great moral and rode really well. William Funnell did a really nice comeback after yesterday's three down, and Michael Whitaker you can always rely on to stay cool. Scott Brash was really under pressure, and it's always difficult to have a rail like he did and still bring it home – he did a great job! It was a great team effort!
Germany really needed the clears, and pulled everything together today. Sweden had a super comeback; what Angelica did today was amazing. What a comeback she had after the last two days! On Tuesday she had a really bad day, yesterday she had one down and today she was clear. Jens also had a bad day yesterday, and bounced back today with his clear! Rolf is always really solid, and they all showed some fighting spirits today.
It was really exciting today, until the very last rider – any time fault and any mistake were really expensive. In general we saw a great competition and great sport. Today the course was a lot tougher than the other days – but this what to be expected. The track was bigger, there were technical questions, but I still think it was more delicate than big and massive – and the fences were placed at the perfect places and the time was calculated perfectly. But Frank is one of the best course designers in the world, so this is to be expected.
I am really looking forward to the individual final on Saturday! It's still very much open, it's very close. Again, on Saturday every time fault and every mistake is going to cost the riders. We will see two difficult rounds – and it looks promising for some exciting sport!"
No reproduction without permission/copyright worldofshowjumping.com