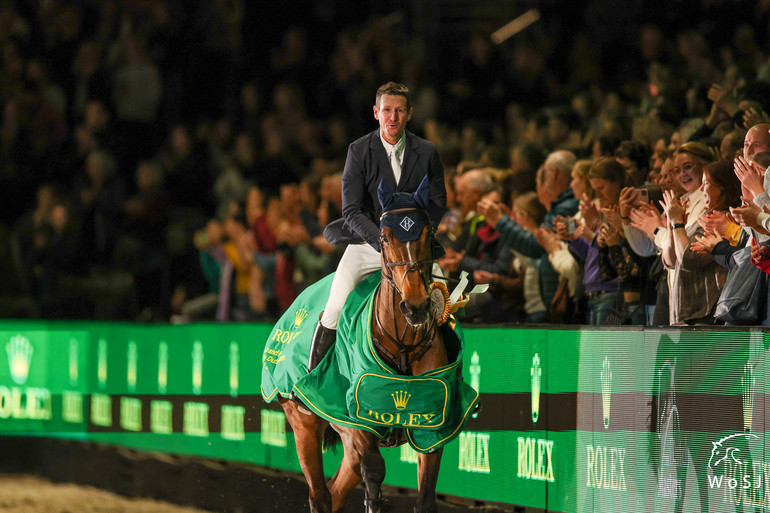 They did it again: Mclain Ward and HH Azur won the Rolex Grand Prix at The Dutch Masters, three months after their victory in Geneva. Photo © Jenny Abrahamsson for World of Showjumping.
Text © World of Showjumping
---
Mclain Ward (USA) and the 17-year-old mare HH Azur (Thunder v. Zuuthoeve x Sir Lui v. Zuuthoeve) arrived at The Dutch Masters as Live Contenders in the Rolex Grand Slam of Show Jumping, and leave with their eyes set on the coveted Grand Slam Trophy ahead of the next stop of the series at CHIO Aachen – after taking the top honours in today's Rolex Grand Prix of 's-Hertogenbosch. "I thought a lot of things would have to come together today to pull this off, but I have an incredible team and this mare is something from a dream," Ward said after taking back-to-back Major wins in the Rolex Grand Slam-series.
Following the pair's victory in the Rolex Grand Prix of Geneva in December, Ward was in contention of a €500,000 bonus at The Dutch Masters could he win today's 1.60m Grand Prix worth a staggering €1,000,000 – and the American ace did not disappoint, besting a world-class field of 35 horse-and-rider combinations after what will go into the history books as one of the fastest jump-offs of the Grand Slam-series. After pocketing both the first prize of €330,000, as well as the bonus, Ward now has the chance to write more history in Aachen; if he can win the prestigious Grand Prix at the holy grail of show jumping, he will take home an additional €1,000,000 bonus as well as the coveted Rolex Grand Slam-title, only won once before by Scott Brash (GBR) in 2015.
"I'm always optimistic, I would not have come all this way if I did not think we had a chance," Ward said about arriving at The Dutch Masters as Live Contender. "But you know, when you are someone who wants to succeed to the degree that I do, you are always questioning – it's never the confidence that you would think from the outside. Do you have it right? Is the horse right? Is everything set up well? And then, you throw into the mix that we have been competing outdoors, even myself, in the big arenas to a very tiny indoor ring like this with the jumps coming fast – are you personally prepared for it? So, you know, all those are questions that go through your brain and challenge you, but we answered them today at least."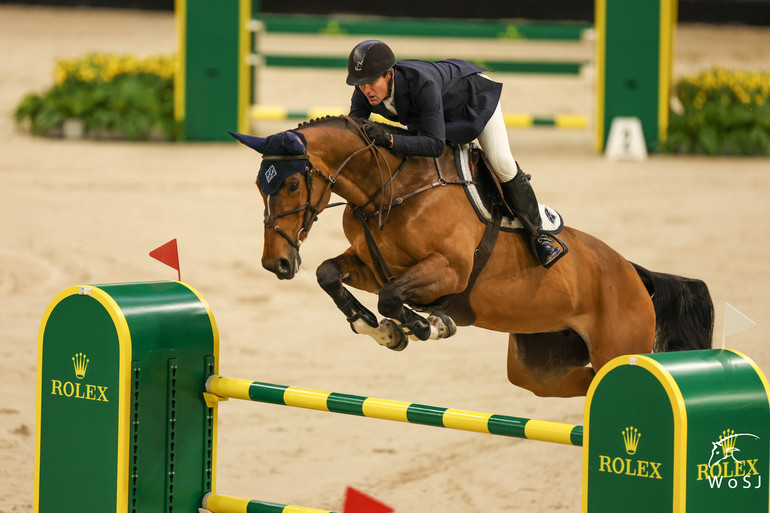 Mclain Ward and HH Azur took their second consecutive Rolex Grand Slam win, today, at The Dutch Masters. Photo © Jenny Abrahamsson for World of Showjumping.
Louis Konickx's thirteen-fence track looked like a hard nut to crack as the Rolex Grand Prix got underway in a packed Brabanthallen – host to the first Major of the 2023-season. As first to go, Daniel Deusser (GER) – last year's winner in Den Bosch – retired after a hard landing on the back bar of the c-element of the triple combination, while Scott Brash had to see two poles fall to the ground.
However, it did not take too long for the first clear to be posted and it came from world no. one Henrik von Eckermann (SWE) and his incredible double world champion Kind Edward (Edward 28 x Feo). As next in the ring, Julien Epaillard (FRA) – world no. three – secured a jump-off when delivering a fantastic clear on his home-bred Donatello d'Auge (Jarnac x Hello Pierville), soon to be joined by Martin Fuchs (SUI) – world no. two – and his wonderful Leone Jei (Baltic VDL x Corland).
Two riders later, it was time for Ward and his amazing HH Azur. The pair made light work of the course, and the jump-off now counted four horse-and-rider combinations. With an extremely strong field of horses and riders, another twelve managed to answer all the questions asked by Konickx – despite the course being more than challenging. Eventually, Gerrit Nieberg (GER) – winner of the 2022 Rolex Grand Prix of Aachen – and Blues d'Aveline CH (Baloussini x Coriall 2) joined in, as did Willem Greve (NED) and Grandorado TN N.O.P. (Eldorado v. Zeshoek x Carolus II), Janne Friederike Meyer-Zimmermann (GER) and Messi van't Ruytershof (Plot Blue x For Pleasure), Steve Guerdat (SUI) and Dynamix de Belheme (Snaike de Blondel x Cornet Obolensky), Marc Houtzager (NED) and Holy Moley (Verdi TN x Warrant), Harry Charles (GBR) and Balou du Reventon (Cornet Obolensky x Continue), Joe Stockdale (GBR) and Equine America Cacharel (Cachas x Quinar Z), Peder Fredricson (SWE) and Catch Me Not S (Cardento 933 x Ramiro's Son), Kevin Staut (FRA) and Scuderia 1918 Viking d'La Rousserie (Quaprice Bois Margot x Apache d'Adriers), Simon Delestre (FRA) and Cayman Jolly Jumper (Hickstead x Quaprice Bois Margot), Marcus Ehning (GER) and Priam du Roset (Plot Blue x Tanael du Serein), as well as Lars Kersten (NED) and Hallilea (VDL Zirocco Blue x Larome).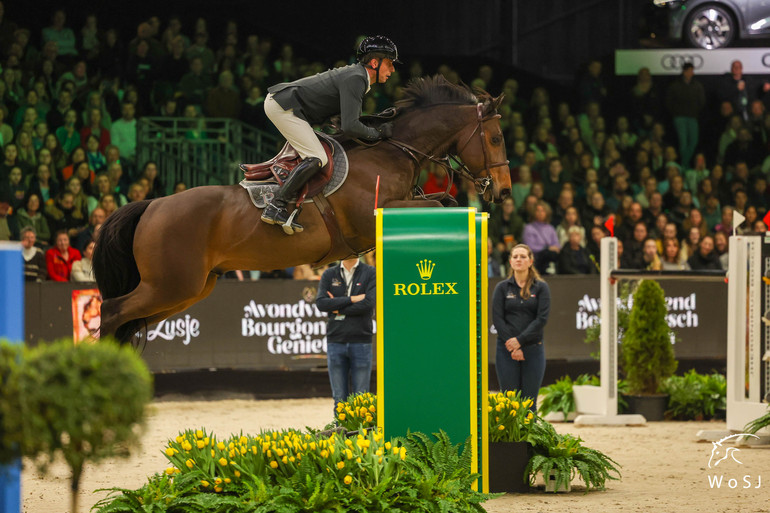 Runners-up: Julien Epaillard and Donatello d'Auge. Photo © Jenny Abrahamsson for World of Showjumping.
First out in the jump-off, von Eckermann had no choice but to risk it all. With four long stretches and two roll-backs waiting, a horse with absolutely everything was needed – and several of the horses in the jump-off were capable of getting the job done. However, going flat out on the opening, very long, stretch from the first to the second fence in the jump-off, sent von Eckermann too far off into the corner in the landing and he lost time already in the roll-back to the combination that followed next. Crossing the finish line, the clock showed 38.52 seconds and the look on von Eckermann's face as he left the ring clearly showed that he knew that he had left the door open.
As next to go, Epaillard delivered a breath-taking jump-off – lightning fast on the long stretches, but yet super smooth in his roll-backs, and wasting no time in the air. Cheered on to the last Rolex oxer, Donatello d'Auge flew over, and looking up to the screen the clock showed 38.06 – there was a new time to beat.
Epaillard's lead was short-lived though. Following Fuchs, who clocked a time of 38.79, Ward was next in the ring and up for the seemingly impossible tasks of both catching Epaillard and take back-to-back Rolex Major wins. A bit behind on the clock half-way, Ward then found an extra gear and raced down from the VDL oxer to the Rolex upright before making one of his trademark roll-backs to the Audi vertical and then again taking advantage of Azur's huge stride to the last Rolex oxer at the other end of the arena. Crossing the finish line, Ward had done what few believed would be possible – he had taken the lead, pushing the time down to a mind-blowing 37.86 seconds.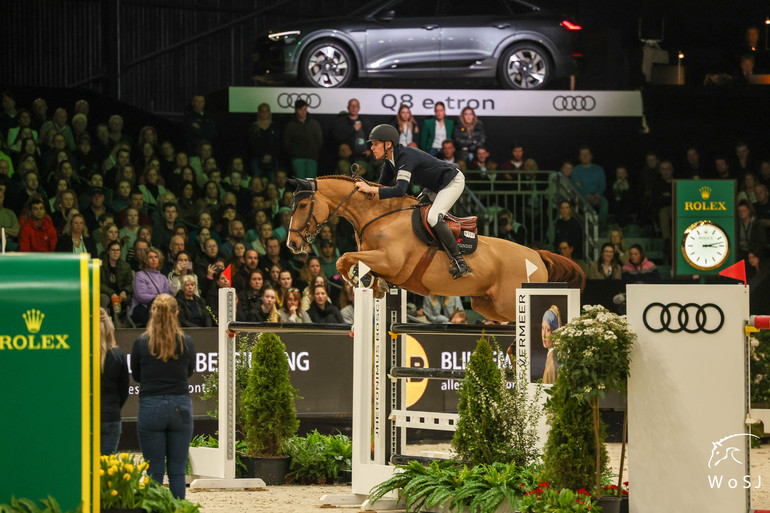 Henrik von Eckermann and King Edward finished third. Photo © Jenny Abrahamsson for World of Showjumping.
The remaining twelve riders stood no chance against the top three. Closest came Steve Guerdat and his wonderful 10-year-old mare, that looks set to become the Swiss rider's next big super-star, who after stopping the clock on 38.53 seconds slotted into fourth place – pushing his compatriot and friend Fuchs to fifth. As third last to go, Delestre gave Ward a run for the money with his wizard Cayman Jolly Jumper but the risk came on the expense of a rail on the very last oxer – dropping the French rider to 10th, however with the fastest time of the jump-off in 37.77 seconds.
As usual, Ward was quick to credit his team for his success. "We have the best team. It starts with the professionals – the blacksmiths and veterinarians, all of these people, then obviously Virginie who has been with us for six-seven years – she is just spectacular at what she does, and of course Lee who has been with me for thirty-four years now. I think it's a beautiful story – these horses are our life, it's our passion – and they deserve the credit for the success as much as I do."
About the management of his 17-year-old mare, who shows no sign of her age, Ward said: "We don't show her very often, she only did one show in between Geneva and Den Bosch. She really knows the game, and we try to keep her fit and really healthy. Also, I try to be honest with myself; does she feel good enough to keep asking this test at this age? And obviously she keeps answering with a resounding yes, but she has a pretty light jumping schedule and very light show schedule. We stay on her fitness though, and we also try to change it a little bit, that she stays interested and engaged. She goes out in the trails a lot, not just going to the ring every day and work."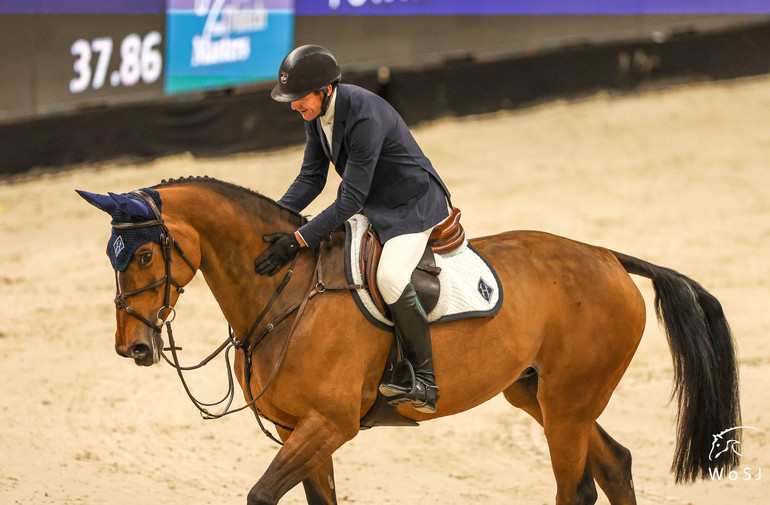 "This mare is something from a dream," Ward said of HH Azur. Photo © Jenny Abrahamsson for World of Showjumping.
Coming to The Dutch Master as the Live Contender, Ward felt the pressure. "It's something I have worked really hard on managing my whole life, and sometimes I manage it better than others – nerves and the pressure to do well is always something that weighs on me, but to be successful at something where you have to perform you have to learn to channel that energy," he said.
On his winning jump-off, Ward detailed: "The last fence has been a bit of an issue in the last Grand Prixs; at Geneva I got away with it, in Aachen I didn't, but the nine strides was a little bit more reasonable so I thought I could get there and stay on it and she turned herself inside out. It was on the right side today for me."
Ward now looks towards CHIO Aachen and the second Major of the year, and said: "This series of Majors that Rolex and these great events have created has really risen the level of the sport tremendously in the last years, it's an incredibly challenging task to win one, two, three – and four has never been done. It's a huge challenge, and I think for me personally I would love to take Azur to Aachen as the next step and then hopefully on to Calgary, but as I said in Geneva, we're going to leave here, we're going to assess how she is – she is 17 years old now and I take nothing for granted, I'm always grateful for every great competition she gives me."
12.3.2023 No reproduction of any of the content in this article will be accepted without a written permission, all rights reserved © World of Showjumping.com. If copyright violations occur, a penalty fee will apply.