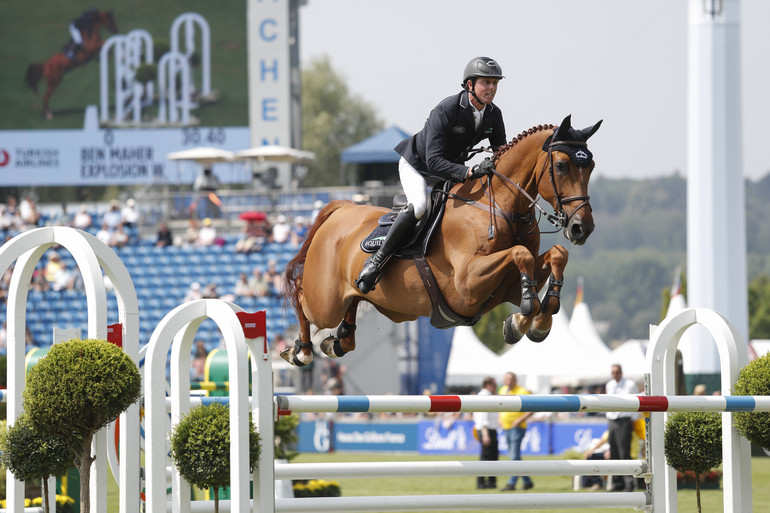 "The sport needs horses like him," Ben Maher said about Explosion W after winning the Turkish Airlines-Prize of Europe at CHIO Aachen. Photo © Tiffany Van Halle.
Text © World of Showjumping
---
The formidable duo of Ben Maher (GBR) and the 10-year-old gelding Explosion W (Chacco-Blue x Baloubet du Rouet) could not be beaten in Wednesday's 1.60m Turkish Airlines-Prize of Europe at CHIO Aachen.
"Explosion is a very sensitive horse and very aware of his surroundings, but he is the friendliest. He deserves to come out and win some things with a lot of people watching, because the sport needs horses like him," Maher smiled after his victory when speaking about his incredible partner.
As expected, the 1.60m Grand Prix qualifier was a tough one – and as usual in Aachen it was the Liverpool double at jump nine that caused the most trouble for horses and riders. While the majority of the horses jumped the double, it caused elimination for some of the riders – and several had either the a- or b-element down. The triple combination at 6abc was also a tricky part of the thirteen-fence course build by Frank Rothenberger (GER), and many horses struggled reaching out over the two last oxers. Worst it went for Lucia Le Jeune Vizzini (ITA) who hit the ground here, and who had to see Loro Piana Filou de Muze (Stakkato x Rubens du Ry d'Asse) take his time discovering the main ring at Soers before finally being caught.
"It was a big course, and now we know a little bit about what is to come on Sunday," Maher said about the challenging track for the Turkish Airlines-Prize of Europe.
Eventually, eleven horse-and-rider combinations managed to clear the tricky track to move on to the jump-off. Beezie Madden (USA) chose not to return, so ten were left to battle it out for the top honours.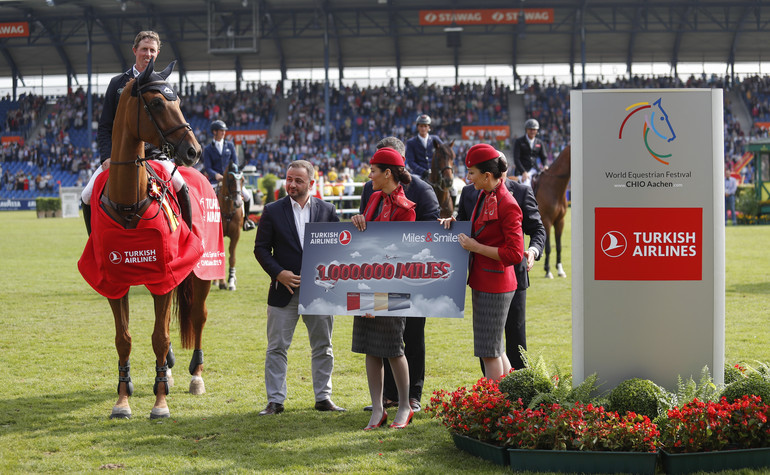 Ben Maher and Explosion W, winners of the Turkish Airlines-Prize of Europe at CHIO Aachen. Photo © Tiffany Van Halle.
Marc Houtzager (NED) and Sterrehof's Dante (Canturano x Phin Phin) were first to set a clear round in the jump-off with a time of 50.13 seconds but were quickly overtaken by home hero Daniel Deusser (GER) on Scuderia 1918 Tobago Z (Tangelo vd Zuuthoeve x Mr Blue) who made the crowds ecstatic when going into the lead in 47.71 seconds.
As next to go, Ben Maher and the impressive Explosion W delivered an incredible round to bring the time down to 46.28 – it looked nearly impossible to beat. The following riders all tried, closest came Eduardo Alvarez Aznar (ESP) and Rokfeller de Pleville Bois Margot (l´Arc de Triomphe x Apache d´Adriers) – but they were still almost a second off the leading time and slotted into runner-up position pushing Deusser down to third.
The jump-off took a dramatic turn when Laura Kraut (USA) and Fleurette (Verdi TN x Concorde) had a fall at the last oxer, but luckily both horse and rider left the ring on their feet.
As last to go, Oliver Philippaerts (BEL) and H&M Extra (Berlin x Heartbreaker) delivered a clear round – but were too far away from the top three in 49.81 seconds taking the fourth place.
"Explosion is naturally a very fast horse. I watched the other riders, but I tried to make my own plan," Maher commented on his strategy for the jump-off. "Twice I got caught a little bit without the first distance, which kept him jumping good but I felt that I left a small margin for somebody to take. Fortunately for me, one or two things did not go right for other riders in the jump-off."
"Explosion feels in great form," Maher continued. "I was a little nervous, he does not know this sport very well – he has been brought up a little bit in the other side of it. But, he jumped the double of ditches extremely well – I actually did a mistake by coming in a bit too fast but still the feeling was good. Now I have to make a plan, but I hope to be able to save him just for the Rolex Grand Prix on Sunday," Maher concluded.