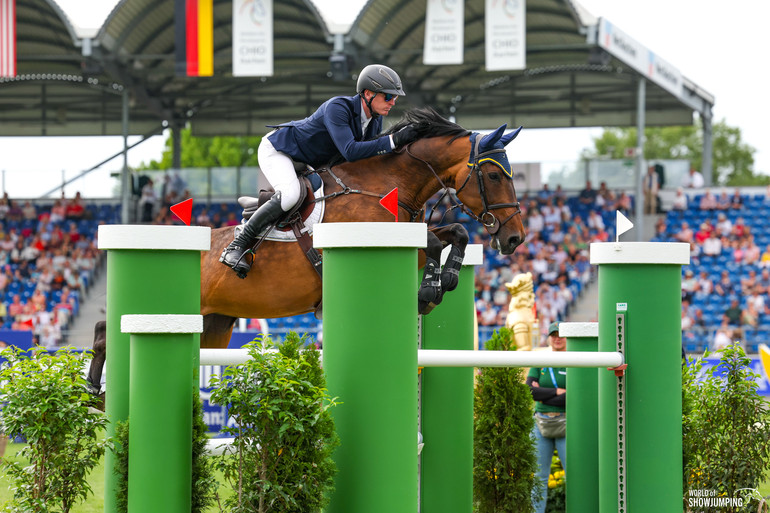 Daniel Coyle and Legacy won Wednesday's 1.50m Prize of StädteRegion Aachen in memory of Landrat Hermann-Josef Pütz. Photo © Jenny Abrahamsson for World of Showjumping.
Text © World of Showjumping
---
Ireland's Daniel Coyle and the 13-year-old mare Legacy (Chippendale Z x Bon Ami) galloped to the win in Wednesday afternoon's CSIO5* 1.50m two-phase Prize of StädteRegion Aachen in memory of Landrat Hermann-Josef Pütz at the 2023-edition of CHIO Aachen. "It is a good start to the weekend. It is my first time here in Aachen – my first time ever; I was never even here to watch. Everyone says it is something special and it sure is!" said the happy winner.
As second in the ring at Soers, it was Wilm Vermeir (BEL) who set the time to beat to 31.76 seconds aboard Crescendo MB Z (Clinton x Jodokus). Ten riders later, Shane Sweetnam (IRL) and Out Of The Blue SCF (Verdi TN x Cassini I) brought the time down to 31.38, but it only took three more trips before Simon Delestre (FRA) blazed around the vast grass ring with I Amelusina R 51(Dexter R x Chin Chin) to take over the lead with a lightning-fast performance in 30.14 seconds. Those who came after all attempted to catch the French rider, but neither Jana Wargers (GER) and Chacco's Lady 2 (Chacco-Blue x Indoctro) nor Roberto Teran Tafur (COL) and BP Wakita (Pacino x Cruising) could match his speed and precision – slotting into a preliminary third and second with times of 30.84 and 30.74 respectively. While Rodrigo Pessoa's (BRA) Quick Step (Quintender 2 x Calido I) lived up to his name with a fast time in the second phase, he was not quick enough this time around and finished 0.02 behind Wargers.
However, with only six to go, Daniel Coyle (IRL) used Legacy's (Chippendale Z x Bon Ami) huge stride to his advantage and managed to shave off 0.61 seconds on Delestre's time to snatch the victory from the French rider – pushing him down to second, followed by Teran Tafur in third, Wargers in fourth and Pessoa in fifth.
"I have taken a lot of shortcuts and not won recently," Coyle laughed after his victory, referring to his second-place finishes in Rotterdam last weekend. "In the second phase, there was an option on the first line, you could do seven or eight strides, the second line also had an option, eight or nine, and the third line as well, seven or eight. Basically, every line had an option, and there was a roll-back where many others did nine strides, but I planned to do seven. Usually, a two-phase class sees the times really close, because everyone does the same strides in the same pace, I just got over the finish line quickest this time."
"Legacy has been an amazing horse for me," Coyle said about his winning partner. "Ariel Grange bought her as an 8-year-old and even before we got her, she was quite special, but for her to come to this level is amazing. She was second last week in the five-star Grand Prix in Rotterdam and I have planned to do my newer horse this week in the Grand Prix here and that is why I was a little more competitive today than you would be if you were to jump the Grand Prix with her. She is thirteen now and she knows most of the tracks in the books, so classes like this are slightly easier for her than they are for younger horses that are still moving up. I knew I had a good shot, if I just didn't mess it up!"