Henrik von Eckermann and King Edward win the Rolex IJRC Top 10 Final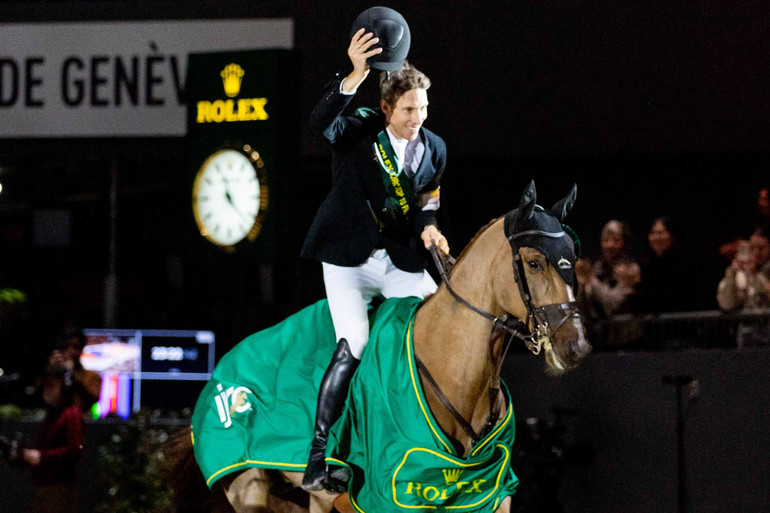 Henrik von Eckermann and King Edward won the 2022-edition of the Rolex IJRC Top 10 Final in Geneva. Photo © Rolex Grand Slam / Peggy Schröder.
Press release from the Rolex Grand Slam of Show Jumping
---
A capacity crowd in the Palexpo's Geneva Arena watched on in anticipation, as 10 of the world's very best show jumpers and their equine partners battled it out for the honour to be crowned the 2022 Rolex IJRC Top 10 Final champion. Having qualified for this esteemed class, based on November's FEI jumping rankings, the truly international line-up, comprising riders representing France, Sweden, Great Britain, The Netherlands, Switzerland, The USA and Brazil, would undoubtedly produce unrivalled levels of show jumping.
Just four riders managed to complete the first round of the Gerard Lachat-designed course without picking up a fault, including Thursday night's winner of the Trophée de Genève, Marlon Modolo Zanotelli, current world number one, Henrik von Eckermann, and in-form riders, Simon Delestre and McLain Ward, with the Frenchman ultimately setting the fastest fault-free time of 65.90 seconds. While those with first round faults still found themselves in contention – particularly Peder Fredricson from Sweden with just one time penalty and Dutchman Harrie Smolders with one down – unfortunately, Ben Maher and Exit Remo had a night to forget, after the pair accrued 31 penalties.
On to the second round and everything was to play for. First to go, Great Britain's Ben Maher found a small consolation after he and his 13-year-old bay gelding went clear. Local hero Martin Fuchs and Conner Jei were unable to apply any pressure after accruing 12 penalties, while Julien Epaillard and McLain Ward both put one down. Swede Peder Fredricson was able to set the early pace after going clear, thereby finishing with one point; however, his teammate, the inimitable Henrik von Eckermann, went one better, thereby becoming the first rider to go double clear with his superstar gelding, King Edward. The final two riders to go, Marlon Modolo Zanotelli and Simon Delestre, were determined to go one better still. But it wasn't to be after the Brazilian's mare hesitated and put the penultimate fence down and the Frenchman, while going double clear, just couldn't find enough pace, crossing the line over nine tenths slower than von Eckermann, who was ultimately crowned champion of the 21st edition of this revered class, much to his delight.
Thrilled after going one better than last year and achieving a bucket list goal, Henrik von Eckermann, commented: "Yes, definitely – it was one of my focuses after the World Championships when I gave King Edward a bit of a rest, and wanted to build up slowly again, and this was one of the targets, absolutely. It has been a target for many years. Like I said when we had the Rolex IJRC Top 10 Final in Stockholm when Daniel Deusser won it; I walked the course and spoke to Eleonora [Ottaviani] and said one day I would like to win this one, so it's a very special moment for me."
In your opinion, what makes CHI Geneva such a special competition?
The particular layout of the event makes CHI Geneva special; everything is under the same roof, which makes the riders' accessibility easier. The show jumpers do not have to go outside, and they have easy access to their hotel nearby. This easy accessibility makes the riders value the competition in terms of logistics. As this is the Rolex Grand Slam, there are some amazing courses, and classes filled with ambitious riders, which raises the competition level. Due to the event being linked with Rolex, the event's atmosphere becomes naturally prestigious. It is clear that there is a lot of money behind the event, and this adds to the riders' motivation to take part.
What kind of course have you prepared for the Rolex Grand Prix on Sunday?
It is a fairly long course, similar to last year with 14 obstacles, including two doubles and a triple, making it a real Grand Prix course. We have created the CHI Geneva course differently compared to the Rolex Grand Slam courses in Aachen and Calgary, as for those there are two rounds and a jump-off. In Geneva, we do not make riders do two rounds, so it allows the course to be extended, to be slightly more difficult and to include a jump-off.
How many clear rounds are you expecting?
It's always more or less the same, we try to have eight or 10 without mistakes. If we have 12, it means that there are too many – if this does occur, it will be less than ideal. In general, we always try to have fewer than 12 but we are aiming for eight clears. This is the ideal number, but if there are six or even 10 then these would be fine, as well.
When did you design your first course as head course designer?
Unfortunately, I do not remember my very first course well, but I am certain that it was a small course. I would say it was around a 1,00m or a 1,10m event. However, I remember the first big competition I designed was in St. Gallen – all the pressure was on me. Unfortunately, we experienced terrible weather that weekend so only two events took place. A few weeks later, I gained some more experience and responsibility at CHI Geneva and it went relatively well.
As Sport Director at CHI Geneva, please tell us about your role and your team?
I have been Sport Director at CHI Geneva for the past 30 years. Before that, I was involved in the commentary team and did some other little jobs at the show. My role involves being responsible of both the sport, as well as the entertainment – this includes attractions, displays and the whole spectacle of the show. We have an incredible team – Sophie [Mottu Morel], Michel [Sorg] and I, we are great trio, and we discuss all of our ideas together. I pitch new ideas and how to fund them, then if we are happy we will present the ideas to the whole committee.
The committee is made up of 25 people, and then there is a sub-committee that is made up of 10 people, who are focused on equestrianism. The other 15 members are non-equestrians and are, for example, architects, finance or security specialists, who ensure the show is a success and runs as smoothly as possible.
The sub-committee meets regularly, and we all share our thoughts and opinions of the different concepts. It is a very democratic process, and we ensure that the majority agrees with the ideas before we implement them.
During the show, we have extra support from other people, such as Philippe Guerdat, who is the father of Steve. Philippe stopped his jumping career in 1996 and since then he has helped me behind-the-scenes at CHI Geneva. He speaks with the riders about the ground, their wishes and how we can improve things. There are so many people who help to make this show the success that it is today.
We heard you love your statistics – which are your favourite statistics from the last 30 years?
Yes, I love statistics and facts – I spend a lot of time collating them, especially historical facts and looking back at all of the different generations of the sport. For my magazine [Le Cavalier Romand], I have collated the medallists of all the different championships since 1912, as well as the winners of all the major Grands Prix of the last century. Ludger Beerbaum has won the most, with John Whitaker second, Rodrigo Pessoa third, Steve Guerdat fourth and Hans-Günter Winkler fifth – it is very interesting to compare and contrast different generations.
About the Rolex Grand Slam of Show Jumping
The Rolex Grand Slam is considered by the sport to be the ultimate equestrian challenge, primarily due to the sporting prowess required to achieve this feat. It is a quest taken on by the world's top riders, vying to secure the legendary status associated with winning the Rolex Grand Slam of Show Jumping.
The format of the Rolex Grand Slam of Show Jumping is simple: anyone who wins three Majors in a row receives the Rolex Grand Slam trophy and a €1 million bonus on top of the class's prize-money. If that same rider then continues their success by winning a fourth Major in succession, they will be rewarded with an additional €1million bonus. If two shows are won in succession, the bonus is €500,000 or if an athlete wins only 2 majors in a period of four successive shows, the bonus is €250,000.