The Rolex Grand Slam of Show Jumping goes inside CHIO Aachen 2023, meeting with Scott Brash's groom David Honnet, Turkish Airlines-Prize of Europe winner Yuri Mansur and CHIO Aachen's General Manager Michael Mronz.
Interview with Scott Brash's groom David Honnet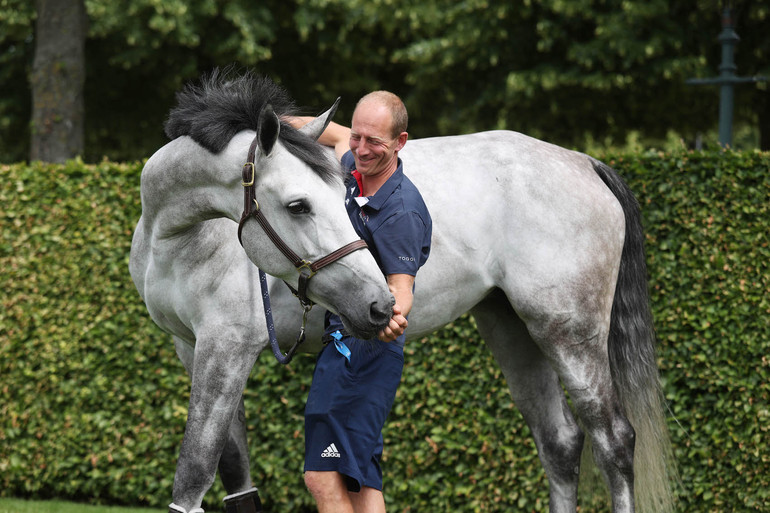 David Honnet with Hello Valentino. Photo © Tiffany Van Halle.
Can you introduce yourself, tell us who you work for, and what your role is?
I'm David Honnet, I'm 35-years-old, and I have worked for Scott Brash for seven years now – previously I was the groom for Cameron Hanley. I arrived here on Sunday with Scott's horses, I am going to be taking care of them all week, and hopefully we will have a good week!
Tell us a little a bit about your journey to CHIO Aachen…
I travelled with the horses on Sunday morning, we left the yard and took the ferry – in total it was a 10-hour trip. The trip went well, but since Brexit, everything takes a bit longer with the paperwork and checks. I got here to Aachen pretty late, and the show vets were really helpful. All the horses travelled well, they are all really used to it. Hello Jefferson has been everywhere in the world, so it was no problem for him. Hello Mango is also a very good traveller, she was in Spain for the beginning of the year, so she has done a few long trips. Hello Valentino is also a very good traveller.
If there is a horse that doesn't like to travel, what can you do to help it?
Break it down, don't do big days. Only do small journeys, never more than 600 kilometres at a time if the horse is bad at travelling. If possible, I would advise that you travel through the night, it is always quicker and smoother. You usually do not experience as much traffic or get stuck on the roads, so if it suits your plan and the person driving is able to drive through the night, I would definitely recommend travelling through the night.
Can you tell us about the horses that you have brought with you and what their characters are like?
Hello Jefferson, who is in really good shape, will be competing in the Rolex Grand Prix. He was very successful here last year, finishing second, so we hope to do just a bit better here this year! The Rolex Grand Prix is a tough test, but it is such an amazing experience to jump in it.
Turkish Airlines-Prize of Europe winner: Yuri Mansur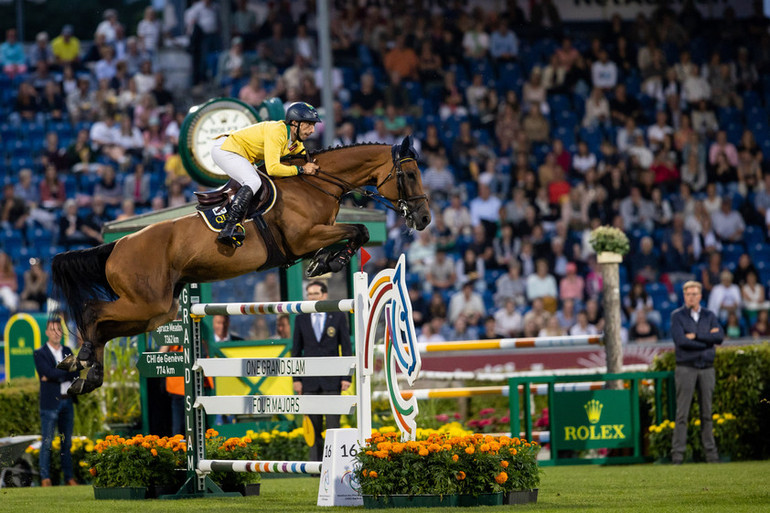 Yuri Mansur and Miss Blue-Saint Blue, winners of the Turkish Airlines-Prize of Europe. Photo © Rolex Grand Slam/Ashley Neuhof.
Under the dazzling lights of CHIO Aachen's iconic Hauptstadion, the world's best horse and rider combinations gathered to contest the Turkish Airlines-Prize of Europe. The 1.55m competition was held over two rounds, with all clear rounds proceeding to the jump-off. Attracting 53 riders, including the reigning individual Olympic gold medallist Ben Maher, and the current world no.5, Martin Fuchs, the competition was set to be fierce.
The Frank Rothenberger-designed course consisted of 14 fences in the first round and eight in the second, and provided a suitable challenge for the riders, all of whom had their sights set on early qualification for Sunday's prestigious Rolex Grand Prix class.
Dutch rider, Marc Houtzager, was first to clear the obstacles, but heartbreak came when he collected just two-time faults. It was, however, the young Swiss rider Edouard Schmitz, who was eighth to canter into the historic arena, who mastered the technical course aboard the impressive 11-year-old gelding Gamin Van't Naastveldhof. Faults came throughout the course, but much to the delight and cheers of the German crowd, three German riders produced faultless rounds including last year's Rolex Grand Prix winner Gerrit Nieberg.
Of the initial 53 riders, only seven proceeded to the jump-off. Riders returned to the arena in the same order as the first round, so it was Schmitz once again who set the standard for those who followed, with a clear round in a time of 42.43 seconds. However, his lead was quickly usurped by the Brazilian Yuri Mansur, who crossed the line less than two-tenths of a second faster. The German crowd held their breath as their three representatives entered the arena one after another, but neither Richard Vogel, Philipp Weishaupt nor Gerrit Nieberg could produce the rounds that they may have hoped for, with all three riders accumulating penalties for knocked fences. Mansur's lead could now only be beaten by one combination, the in-form Martin Fuchs and Conner Jei, but after a slight slip to the second fence, the former FEI Jumping World Cup™ Final winner could not make up the time to secure the win, resulting in the Brazilian claiming his first CHIO Aachen victory...
Interview with General Manager at CHIO Aachen Michael Mronz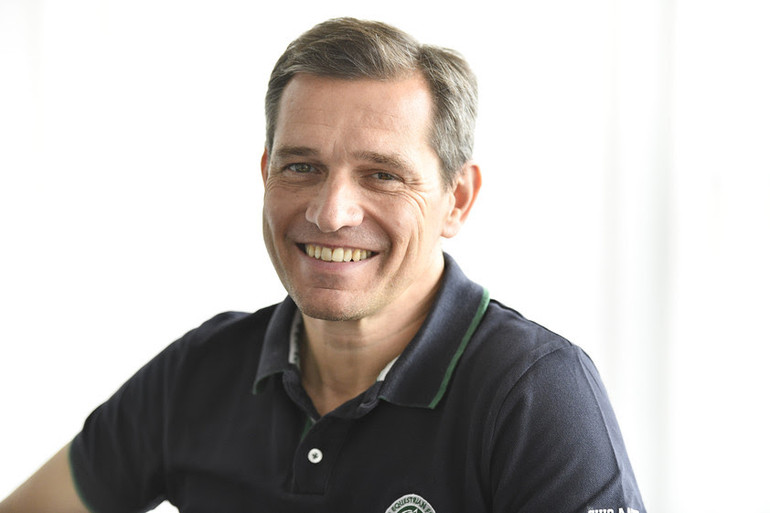 Michael Mronz. Photo © Rolex Grand Slam / Kit Houghton.
How has planning been going for this year's event?
We are looking forward to it, I think it is going to be a great show and we have a fantastic partner country this year, Great Britain. We are delighted that Her Royal Highness The Princess Royal joined us for the opening ceremony, I think that it was very important for the sport, as well as the fans from Aachen, Europe and around the world – we are incredibly excited about the upcoming days.
This year CHIO Aachen is partnered with Great Britian, can you tell us about this relationship and what spectators can expect to see.
It was always a dream for us to have Great Britain as a partner country – they have a tremendous relationship with horses, especially the Royal family. The Musical Ride of the Household Cavalry performed in the opening ceremony, and we asked spectators to dress themselves in the 'British way'. We also included a number of the fantastic British riders in the opening ceremony, including Nick Skelton, the first winner of a Rolex Grand Slam of Show Jumping Major in Aachen ten years ago. We are also delighted that a very strong dressage team from Great Britain will be competing here including Charlotte Dujardin and current FEI World Champion Lottie Fry – it is going to be a great week.
Is there anything new that CHIO Aachen has introduced this year? Will you be doing anything special to mark the 10th anniversary of the Rolex Grand Slam of Show Jumping?
This year, the Rolex Grand Slam of Show Jumping will celebrate its 10-year anniversary, and there is a chance that McLain Ward will win the Rolex Grand Slam and become only the second rider to achieve this feat after Scott Brash in 2015. It would be unbelievable for this to happen on the 10th anniversary – if you were to write a story, you would write it like this. There will of course be a very strong field of competitors, on one hand the riders want him [McLain Ward] to win, but on the other hand the riders want to win themselves. There will be some very competitive classes, especially on Sunday with the Rolex Grand Prix.
The Rolex Grand Slam is considered by the sport to be the ultimate equestrian challenge, primarily due to the sporting prowess required to achieve this feat. It is a quest taken on by the world's top riders, vying to secure the legendary status associated with winning the Rolex Grand Slam of Show Jumping.
The format of the Rolex Grand Slam of Show Jumping is simple: anyone who wins three Majors in a row receives the Rolex Grand Slam trophy and a €1 million bonus on top of the class's classes' prize-money. If that same rider then continues their success by winning a fourth Major in succession, they will be rewarded with an additional €1 million bonus. If two shows are won in succession, the bonus is €500,000 or if an athlete wins two majors in a period of four successive shows, the bonus is €250,000.