Steve Guerdat and Venard de Cerisy win the CP 'International', presented by Rolex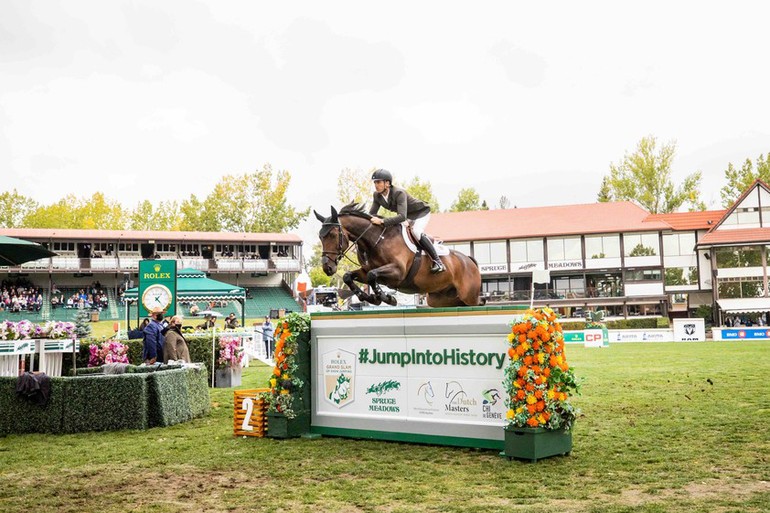 Steve Guerdat and Venard de Cerisy. Photo © Rolex Grand Slam / Ashley Neuhof.
Press release from The Rolex Grand Slam of Show Jumping
---
2021's edition of the CSIO Spruce Meadows 'Masters' culminated with the week's pinnacle class, the CP 'International', presented by Rolex. The second Major of the year, as part of the revered Rolex Grand Slam of Show Jumping, welcomed 28 horse and rider combinations, who would go head-to-head in their individual quests to become the Rolex Grand Slam Live Contender. Austrian Max Kühner had his sights set on retaining his Live Contender status after winning the Rolex Grand Prix at The Dutch Masters in April.
The ultimate show jumping test for horse and rider, the Leopoldo Palacios-designed course would be contested over 14 demanding obstacles within the confines of Spruce Meadows' imposing International Ring. With the competition watched on by 2,000 excited and knowledgeable spectators – the maximum allowed under COVID-19 restrictions – and with just 12 pairings progressing to round 2, the stakes were high, with the riders all too aware that there was very little margin for error.
Australian Rowan Willis, a familiar face at Spruce Meadows, set the early round 1 pace with his 15-year-old mare, Blue Movie, jumping fault-free in 80.99s. Home favourite Mario Deslauriers confidently progressed to round 2 with his 12-year-old mare, Bardolina 2, crossing the line in 83.00s without a penalty. Swiss Steve Guerdat and Australian Hilary Scott were the only other riders to navigate the round 1 course without picking up any penalties. The eight riders also advancing to round 2, included Egypt's Nayel Nassar, Canadian Erynn Ballard, Kent Farrington, McLain Ward, Will Simpson and Natalie Dean from America, Mexico's Carlos Hank Guerreiro, and Briton Scott Brash.
In a change of fortunes, American duo, Kent Farrington and McLain Ward, faultlessly steered their equestrian partners around the second round course, after each put a fence down in the first. Hot on the American pair's heels was reigning Rolex Grand Slam champion, Scott Brash, who added just four penalty points to his first round score. However, it was former world number one, Steve Guerdat who was to assume top spot after he effortlessly guided his prodigious 12-year-old gelding, Venard de Cerisy, around the 14-fence course. Following Guerdat's performance, the final two riders to go were Deslauriers and Willis; however, neither were able to match their first round scores, meaning the three-time World Cup winner (2015, 2016, 2019) and 2012 Olympic individual jumping champion won the CP 'International', presented by Rolex, and in doing so was crowned the Rolex Grand Slam of Show Live Contender.
The only rider to compete at each of the Majors since the inception of the Rolex Grand Slam of Show Jumping, Guerdat, commented: "I've been dreaming of winning these classes since I've been a little kid. Since I can remember, Calgary and Aachen have always been the shows that I want to win. I've been lucky enough to win Geneva a couple of times, but Aachen and Calgary have been missing. I'm not going to quit until I win them – I have one of them now, and I'm going to aim for the other one very soon. This is what drives us riders, I guess.
"Venard is a very strong, brave and powerful horse. He has a lot of blood and energy in his jump. He doesn't have the best of techniques, but because of his power and will to do good all the time, we've had the chance to understand each other over the years. He's a very sensitive horse – he's very difficult to get on and off, you can't move him, and he's a little bit shy with everything. But once he sees a jump, he just wants to jump it."
About the Rolex Grand Slam of Show Jumping
The Rolex Grand Slam is considered by the sport to be the ultimate equestrian challenge, primarily due to the sporting prowess required to achieve this feat. It is a quest taken on by the world's top riders, vying to secure the legendary status associated with winning the Rolex Grand Slam of Show Jumping.

The format of the Rolex Grand Slam of Show Jumping is simple: anyone who wins three Majors in a row receives the Rolex Grand Slam trophy and a €1 million bonus on top of the class's prize-money. If that same rider then continues their success by winning a fourth Major in succession, they will be rewarded with an additional €1million bonus. If two shows are won in succession, the bonus is €500,000 or if an athlete wins only 2 majors in a period of four successive shows, the bonus is €250,000.